printer friendly version
Applications are limited only by imagination
November 2000
Sensors & Transducers
In these days of most often dealing with faceless large conglomerates, it is a pleasant surprise to find that the smaller family-run business, where the customer really is king, is still alive and well. One such business is Gail Norton Instrumentation (also known as Telco SA) which was started by Gail Norton and is still run today by her in association with her son Byron and daughter Bronwyn. Byron is a qualified mechanical engineer and specialises in the technical side of the business, while Bronwyn, who spent some time with the corporate division of ABSA, looks after all financial affairs and runs the Durban head office. Gail herself is well known in the instrumentation industry and achieved the distinction of becoming Businesswoman of the Year in 1997.
In addition to the Durban office, which handles the KwaZulu-Natal region including the industrial growth point of Richards Bay, the company operates offices in Cape Town and Bloemfontein, with other regions being serviced through a distribution network. Beyond South Africa's borders a distributor is active in Zimbabwe, while new business in Mozambique is handled through Durban.
Gail claims that her business started virtually by chance, but it is clear that it is her own enthusiasm and personality which has driven the success. It all began in 1986 when the Danish photoelectric sensor company Telco, itself then only a few years old (founded in 1982), decided the time was right to expand into the international market and, in particular, into South Africa. What was fortuitous was that the Telco Sales Director had some personal friends who lived in Durban, and it was there he decided to initiate his 'cold' search for a representative, rather than Gauteng. In those days of course Telco itself was virtually an unknown, and existing distributors showed little or no interest in this 'arrogant' upstart. What must have been galling for them was that Telco won the international technology award at the Hannover Fair in the following year for their range of sensors.

Gail doing what she loves
During a visit by the Sales Director to paper giant Mondi they were asked to recommend a suitable representative and the name of Gail Norton was raised. Approached by Telco, she grabbed the opportunity with open arms, being impressed with the innovative product line. Before the ink was dry on the contract Gail closed two deals for Telco with Felixstone Sugar Mills and the Richards Bay Coal Terminal. Obviously Gail remembers that first sale to the sugar industry vividly, but what was remarkable was that by making use of the new technology sensors that Telco was offering the customer, almost R150 000 was saved (and those were the days before the exponential depreciation of our currency) when compared to the microwave devices being considered.
Telco takes a team approach with its distributors, who today can be found in 65 countries around the world. Each year every distributor agrees with its parent on a new (always higher) sales target, and they are carefully monitored against this. The entire distribution team meets together with Telco each year at the Hannover Fair in Germany, where ideas and new applications are exchanged during an intensive two day interaction. Towards the end of this period, and immediately prior to a grand party hosted by Telco, the winners of the sales awards are announced. These awards are based on achievement (or exceeding) of the targets, and there is fierce but friendly competition between representatives for such recognition. It is interesting to note that Gail Norton came in as number three in the world in 1987 and the business has been in the top ten ever since, despite the well-known fluctuations in industrial development in this country.

Gail Norton with Jim Jensen, Chairman of Telco in 1993
Gail is by now well informed as to how Telco devices can be employed to solve the more unusual sensing problems, and one of her own efforts received some notoriety in the international sensing community during 1997 under the headline of 'mothproofing!' This was where ordinary photoelectric sensors at Tongaat Hulett Sugar were rendered ineffective through moths settling on the lenses of the light emitters. With the Telco sensor the moths were invisible at the longer wavelength and had no effect on sensitivity.
Another more recent success was the installation of a 'flap detector' on the coal conveyor belts at the Richards Bay Coal Terminal. This simple device informs operators timeously of a tear in the rubber belt, which can then be stopped and repaired (or replaced) before further expensive damage and nonscheduled downtime. Applications are as varied as industry itself and Telco sensors are being used by both Clover and Dairybelle to count ice cream cartons as they come out of a freezer. Once again normal optical sensors proved useless as the lenses became coated with ice. Telco sensors will in fact operate down to -25°, while at the other extreme they are often used in conjunction with industrial ovens. In this case the sensor would be located outside the oven and sees through either glass or plastic windows.
The transmission of the longer wavelength radiation has found other novel applications, one of these being in one of the larger local automotive manufacturers where workers were always tampering with installed devices of another make. This problem was solved by Telco SA by locating the Telco sensor inside an opaque plastic housing so that the workforce could not even see that it was there. The plastic housing did however allow the passage of light of 880 nm wavelength - and operated normally, albeit invisibly.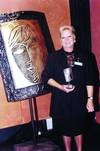 Gail with her 'Businesswoman of the year' award in 1997
By the way, the reliability and ruggedness of the Telco sensor range is second to none and there are many stories also in this regard. In one local case a fire at a large paper plant burned out an entire line and the only devices left working were the Telco sensors. In yet another example a sensor was inadvertently sprayed with paint during renovations. Quite a period was to elapse before the plant engineer discovered the over-enthusiasm of the painter - as the sensor had continued to operate normally.
Applications for Telco photoelectric sensors are virtually limitless and, as their product reviews indicate, are restricted only by the imagination of the application engineer. If any company in South Africa wants to measure paper thickness, check whether thin objects like razor blades are actually inside the paper wrapper, or validate whether chicken eggs are fertilised, they need only contact Telco SA for an immediate solution. If your problem is more unusual, then Gail and Byron will use their own fertile imagination (with the help of the rest of Telco's international team) to come up with an answer as they have done hundreds of times before. Telco prides itself on its solution finding capability and their maxim is that if they do not have what you need, they will always provide their knowledge of what they think would be the second best solution (after Telco).

Gail Norton receiving the Telco top sales award in 1989
Although the local distributor has focused strongly on the Telco product line, the close and trusted relationship with their customer base has led to requests for other sensing devices. Telco SA will always try and assist by putting the company in touch with a competent representative for these products, but a major requirement arose during 1989 for the VEGA range of level measuring sensors. At that time VEGA itself did not have a presence in its own right in this country and Telco SA, after once again proving their mettle, were soon appointed as the distributor for the KwaZulu-Natal region. A major success for both Telco and VEGA was the installation of a large number of their products in the Alusaf Hillside plant. Confirmation of both the quality of the product and service was obtained with Gail Norton Instrumentation becoming a preferred supplier for the new Mozal aluminium smelter.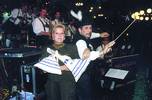 Some fun after the Hannover Show
As for the market sector which Telco serves, Gail finds it hard to define the 'average' customer, as there is virtually no application where a Telco sensor could not be used. However, a major focus must be that Telco photoelectric sensors perform best where other devices fail, and they thrive in the toughest of conditions, working with their usual 100% reliability in wet, dusty, explosive and other aggressive environments.
Credit(s)
Further reading:
Remote monitoring keeps cherries cool
Sensors & Transducers News
The innovative and adaptable nature of the NviroSense system allows for various applications to be added on as per the client's requirements.
Read more...
---
Tiny transmitter for Memosens sensors
Mecosa Sensors & Transducers
In keeping with the use of Memosens sensors in tough environments, the MT201N transmitter is equipped with a sturdy, sealed housing.
Read more...
---
Long-range laser distance sensors
ASSTech Process Electronics + Instrumentation Sensors & Transducers
As a result of intensive R&D, these transit time sensors emit very short light pulses in the nanosecond range, with signals that are statistically evaluated to determine the distance to the object.
Read more...
---
Sensors train many eyes on FMCGs
VEGA Controls SA Editor's Choice Sensors & Transducers
Profit margins on consumer goods are small, which makes it all the more important for producers to have smooth, efficient operating processes.
Read more...
---
Ultrasonic sensors enable automatic stacking turf harvester
Instrotech Sensors & Transducers
The AutoStack, and now the AutoStack II, use an automated Ultra Steer system to guide the harvester with precision while the operator watches over all aspects of the harvesting process.
Read more...
---
Condition monitoring sensor with IO-Link
Turck Banner Sensors & Transducers
Continuously records humidity and temperature in production and storage areas, and outputs the values via IO-Link or as a switching signal.
Read more...
---
Concentration and viscosity measurements from raw materials to finished products
Sensors & Transducers
Learn more about Anton Paar's various solutions through these seven application reports, which cover just a fraction of the company's portfolio.
Read more...
---
2D/3D profile sensor for weld seam tracking
ASSTech Process Electronics + Instrumentation Sensors & Transducers
Supporting software can evaluate two- and three-dimensional data from smart cameras, vision systems, profile sensors and IPCs with profile sensors.
Read more...
---
Fibre-optic position sensor
ifm - South Africa Sensors & Transducers
With ifm's new OCF sensor, fingernails and DIN-rails will remain intact during assembly and disassembly, and screwdrivers can stay in the toolbox.
Read more...
---
Standard-compliant differential current transformer
Beckhoff Automation Sensors & Transducers
The SCT5564 can be used as a residual current monitor and can measure DC and AC residual currents with up to 100 kHz frequency in the 0 to 2 A range.
Read more...
---