printer friendly version
Flame monitor SIL 3 approved
June 2009
Temperature Measurement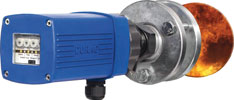 The D-LX 200 compact flame monitor from Durag, is a failsafe, self-monitoring device meeting the highest international safety standards and regulations for continuous operation. Its dual channel design eliminates the need to interrupt the photoelectric current with no need for electrical and mechanical shutters. The D-LX 200 is available with Safety Integrity Level 3 certification.
The monitor reliably detects flames from all fuels, particularly gas, oil, coal and wood in a variety of combustion processes. The large sensitivity and ambient temperature range (-40 to 85°C) enables the units to be used in the diverse environments.
The flame monitor measures the flicker frequency and intensity of the flame; the amplifier gain is automatically adapted to the signal strength, and when harmonic signals are detected a 'FLAME OUT' message appears on the display.
The D-LX 200 has two ranges with selectable parameters. It is possible to switch between these ranges externally so that the flame monitor can easily be adjusted to different combustion conditions. Communication is via Modbus RTU (RS-485) or IrDA (PDA); signals and parameters can also be observed directly on the device during operation via LEDs and switch settings.
All D-LX 200 types are suitable for use with fibre optic systems.
For more information contact Jan Pretorius, OEN Enterprises, +27 (0)11 675 4447, jan@oenenterprises.co.za, www.oenenterprises.co.za
Credit(s)
Further reading:
Profiling in paint cure ovens
April 2020, R&C Instrumentation , Temperature Measurement
Datapaq's solution for monitoring temperatures in furnaces, ovens and dryers.
Read more...
---
New fibre-optic pyrometer
April 2020, R&C Instrumentation , Temperature Measurement
As part of their Endurance range, Raytek and Ircon combined, have introduced the Endurance fibre-optic infrared thermometer. These pyrometers have an external sensor head attached via a fibre-optic 
...
Read more...
---
New temperature transmitters with Bluetooth
April 2020, Endress+Hauser South Africa , Temperature Measurement
High measuring performance and ease of use for all industries.
Read more...
---
Inspection system for coronavirus detection
April 2020, Instrotech , Temperature Measurement
The coronavirus and other diseases are highly infectious and transferred by sick people or contaminated objects. Globally, aircraft are one way that this virus is quickly exported worldwide. China, the 
...
Read more...
---
Temperature measurement on ultra-thin glass
March 2020, Instrotech , Temperature Measurement
Touch displays, such as for smartphones and tablets, use ultra-thin glass that brings special challenges for temperature measurement technology during their manufacturing. For this application, Optris 
...
Read more...
---
Bimetal thermometer with switch contacts
December 2019, WIKA Instruments , Temperature Measurement
WIKA's model TGS55 is a stainless steel bimetal thermometer which offers high reliability and long service life. Wherever the process temperature has to be indicated on-site and, at the same time, circuits 
...
Read more...
---
Infrared monitoring of kiln shells extends refractory life
December 2019 , Temperature Measurement
Extending the life of a kiln refractory as well as preventing disastrous failures requires a good understanding of the condition of the refractory material.
Read more...
---
Thermocouples in gasification reactors
November 2019, WIKA Instruments , Temperature Measurement
Gasification reactors, due to their harsh process conditions, place high demands on the instruments used there. Many manufacturers have reacted to this and adapted their products accordingly, but what 
...
Read more...
---
Thermal profiling can prevent business disasters
November 2019, R&C Instrumentation , Temperature Measurement
Thermal profiling is the term used to describe the process of recording and interpreting the temperatures of products and air as they move through a heat treatment process. In the food, beverage 
...
Read more...
---
Hotspot detection in pressboard manufacturing applications
October 2019, R&C Instrumentation , Temperature Measurement
In the building industry, there is a product used that is commonly referred to as pressboard, also known as chipboard. Sheets of pressboard are typically 1,2 m x 2,4 m in size and are used in the construction 
...
Read more...
---