printer friendly version
Flame monitor SIL 3 approved
June 2009
Temperature Measurement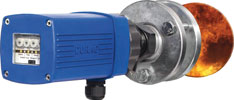 The D-LX 200 compact flame monitor from Durag, is a failsafe, self-monitoring device meeting the highest international safety standards and regulations for continuous operation. Its dual channel design eliminates the need to interrupt the photoelectric current with no need for electrical and mechanical shutters. The D-LX 200 is available with Safety Integrity Level 3 certification.
The monitor reliably detects flames from all fuels, particularly gas, oil, coal and wood in a variety of combustion processes. The large sensitivity and ambient temperature range (-40 to 85°C) enables the units to be used in the diverse environments.
The flame monitor measures the flicker frequency and intensity of the flame; the amplifier gain is automatically adapted to the signal strength, and when harmonic signals are detected a 'FLAME OUT' message appears on the display.
The D-LX 200 has two ranges with selectable parameters. It is possible to switch between these ranges externally so that the flame monitor can easily be adjusted to different combustion conditions. Communication is via Modbus RTU (RS-485) or IrDA (PDA); signals and parameters can also be observed directly on the device during operation via LEDs and switch settings.
All D-LX 200 types are suitable for use with fibre optic systems.
For more information contact Jan Pretorius, OEN Enterprises, +27 (0)11 675 4447, jan@oenenterprises.co.za, www.oenenterprises.co.za
Credit(s)
Further reading:
Thermocouples in gasification reactors
November 2019, WIKA Instruments , Temperature Measurement
Gasification reactors, due to their harsh process conditions, place high demands on the instruments used there. Many manufacturers have reacted to this and adapted their products accordingly, but what 
...
Read more...
---
Hotspot detection in pressboard manufacturing applications
October 2019, R&C Instrumentation , Temperature Measurement
In the building industry, there is a product used that is commonly referred to as pressboard, also known as chipboard. Sheets of pressboard are typically 1,2 m x 2,4 m in size and are used in the construction 
...
Read more...
---
Pair temperature probes with different cable lengths
October 2019, ASSTech Process Electronics + Instrumentation , Temperature Measurement
In heat meters for heating systems, two paired temperature probes are usually used for symmetrical installation. These must have identical cable lengths to comply with the legal regulations. Now, Jumo 
...
Read more...
---
IR thermometers in the steel industry
September 2019, R&C Instrumentation , Temperature Measurement
In many foundry applications, temperature readings show whether processes are operating within their proper ranges, whether a reheater is too cold or too hot, whether a stand needs adjusting, or how much 
...
Read more...
---
Compact IR camera with industrial accessories
September 2019, Comtest , Temperature Measurement
Comtest has announced an addition to the Optris Compact line of IR cameras – Xi 80 and Xi 400 – with new industrial accessories for use in harsh conditions. The range has a modular design and as a result, 
...
Read more...
---
IR measurement optimises plastic stationary and rotary thermoforming
August 2019, R&C Instrumentation , Temperature Measurement
Background
Thermoforming is the process by which a thermoplastic sheet is made soft and pliable by heating, and bi-axially deformed by being forced into a three-dimensional shape. This process may take 
...
Read more...
---
Temperature profiling in aluminium heat treatment
July 2019, R&C Instrumentation , Temperature Measurement
Many high volume production foundries use continuous furnaces for the heat treatment of castings. Cylinder heads, wheels, suspension components and many other aluminium alloy products are placed in wire 
...
Read more...
---
Speeding up the inkjet drying process
July 2019, Temperature Controls , Temperature Measurement
For high speed printing processes, the limiting factor for the productivity of the equipment is usually ink drying time. To maximise printing speed without quality loss, it is important to be able to 
...
Read more...
---
Temperature transmitter family for all industries
June 2019, Endress+Hauser , Temperature Measurement
Endress+Hauser has introduced its first temperature transmitter with Bluetooth (BT) connectivity. This feature is unique because it does not require a BT modem to be able to communicate with the device 
...
Read more...
---
Powder coating cure performance
June 2019, R&C Instrumentation , Temperature Measurement
In any industrial paint or powder coating operation, getting the paint cure correct is critical to both the physical and cosmetic performance of the product. To get the best out of the coating, it is 
...
Read more...
---