printer friendly version
Flame monitor SIL 3 approved
June 2009
Temperature Measurement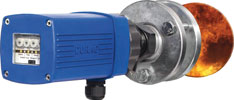 The D-LX 200 compact flame monitor from Durag, is a failsafe, self-monitoring device meeting the highest international safety standards and regulations for continuous operation. Its dual channel design eliminates the need to interrupt the photoelectric current with no need for electrical and mechanical shutters. The D-LX 200 is available with Safety Integrity Level 3 certification.
The monitor reliably detects flames from all fuels, particularly gas, oil, coal and wood in a variety of combustion processes. The large sensitivity and ambient temperature range (-40 to 85°C) enables the units to be used in the diverse environments.
The flame monitor measures the flicker frequency and intensity of the flame; the amplifier gain is automatically adapted to the signal strength, and when harmonic signals are detected a 'FLAME OUT' message appears on the display.
The D-LX 200 has two ranges with selectable parameters. It is possible to switch between these ranges externally so that the flame monitor can easily be adjusted to different combustion conditions. Communication is via Modbus RTU (RS-485) or IrDA (PDA); signals and parameters can also be observed directly on the device during operation via LEDs and switch settings.
All D-LX 200 types are suitable for use with fibre optic systems.
For more information contact Jan Pretorius, OEN Enterprises, +27 (0)11 675 4447, jan@oenenterprises.co.za, www.oenenterprises.co.za
Further reading:
Universal temperature transmitter with drift detection
WIKA Instruments Temperature Measurement
The new model T38 digital temperature transmitter from WIKA enables extremely flexible and stable temperature measurement. The instrument offers a maximum of sensor connection combinations, and a new type of drift detection.
Read more...
---
Temperature monitoring in the metal casting process
Instrotech Temperature Measurement
During metal casting, the liquid material is poured into a mould, and after solidification becomes a solid body. Both too-high and too-low casting temperatures can lead to quality defects. The compact Optris PI 05M infrared thermal imaging camera from Instrotech can monitor the casting process.
Read more...
---
Pyrometer range with enhanced features
Temperature Measurement
AMETEK Land has relaunched its market-leading SPOT pyrometer range with enhanced features and benefits for a wide range of industrial applications. The new SPOT+ family offers a wide range of temperature measurement from 50 to 3500°C, and a choice of different wavelengths for applications including metals, glass, cement and lime kilns, and foundries.
Read more...
---
Versatile thermal imaging camera
Vepac Electronics Temperature Measurement
The PeakTech 5610 B is a versatile thermal imaging camera with a range of -20 to 400°C, and a thermal resolution of 220x160 thermal pixels, which makes temperature differences easily recognisable for every user.
Read more...
---
Infrared measurement technology for scrap recycling
Instrotech Temperature Measurement
Instrotech offers fire protection with infrared cameras and IR measurement technology. One application is a shredding facility in a scrap recycling plant that operates unmanned for an extended period and has known risks for starting a fire.
Read more...
---
Improving safety in glass manufacturing
Temperature Measurement
AMETEK Land has supplied its LWIR-640 thermal imagers and NIR-B-2K-Glass cameras to leading glass manufacturing facility O-I Seville. Together, these instruments provide glass leak detection and furnace 
...
Read more...
---
Smart temperature measurement for foundries
Temperature Measurement
Liquid steel, and metal foundry and tapping operators can now benefit from improved and smart temperature measurements for process control, and product quality improvements with the new smart SPOT Meltmaster (MM) application pyrometer from AMETEK Land.
Read more...
---
Ratio pyrometer for high temperatures
Instrotech Temperature Measurement
Infrared pyrometers must meet high demands, especially in metallurgy, where they are often used under harsh conditions and must deliver reliable results at any time. The new CSvision series from Optris creates an easy-to-use solution.
Read more...
---
Portable flue gas analyser
Temperature Measurement
Ametek Land, a specialist in high accuracy, non-contact temperature measurement systems, has developed a portable flue gas analyser to aid combustion optimisation and gas testing in glass furnaces.
Read more...
---
Dissolved oxygen and temperature measurement
Royce Water Systems Temperature Measurement
Scan sensors and terminals are distributed in over 50 countries to the private and municipal water industries. The oxi::lyser is used in direct contact with water, and measures dissolved oxygen (DO) and temperature.
Read more...
---