printer friendly version
Innovative air shield keeps lenses clean
April 2007
Pneumatics & Hydraulics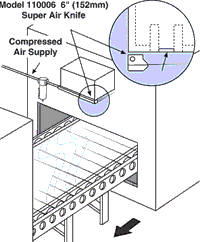 Automotive glass is tempered by subjecting it to a series of heating and quenching operations. To maintain a uniform glass temperature an infrared scanner monitors temperature across the glass surface and sends signals to a PLC, which automatically adjusts conveyor speeds and oven temperatures. Control problems occurred when dust and other airborne particulate coated the sapphire lens of the scanner and caused it to generate false temperature readings. The result was hundreds of metres of rejected glass.
A Model 110006 152 mm Exair super air knife was mounted on one side of the lens, directing a boundary layer of air in front of it. The sheet of air created an invisible barrier that kept contaminants off the surface. Process time was reduced and the waste was eliminated.
The ability to screen the lens without a wiper or other obstruction was the key to success in this application. The uniform airflow produced by the super air knife makes it an ideal way to separate one environment from another. This same arrangement has been used to keep lasers and other lenses clear of smoke and debris. Similar applications include trapping fumes in an open container, retaining heat in an oven or deflecting mist from a machine tool.
For more information contact Rodney Bradley, ETEST, +27 (0)31 702 8302, etest@mweb.co.za, www.etest.co.za
Credit(s)
Further reading:
New IO-Link master future-proofs pneumatic valve systems
Emerson Automation Solutions Editor's Choice Pneumatics & Hydraulics
Emerson has introduced a new Class A IO-Link master that provides customers with a cost-effective solution for smart and analogue sensor connectivity on the AVENTICS Series G3 Fieldbus platform.
Read more...
---
Thor's hammer of pneumatic knockers
Neu Matics SA Editor's Choice Pneumatics & Hydraulics
Neu Matics acts as sole distributor for a range of internationally recognised brands, and one of these is the pneumatic knocker from singold.
Read more...
---
How air leak detection equipment prevents downtime
Comtest Pneumatics & Hydraulics
One of Fluke's customers is a manufacturer that literally helps keep the wheels of commerce moving. As one of the world's foremost aftermarket manufacturers of wheel-services equipment, the company designs, builds and markets products under trusted and distinguished brands. Many of this manufacturer's processes rely on compressed air to run around 400 tools.
Read more...
---
A new electric actuator
SMC Corporation South Africa Pneumatics & Hydraulics
SMC's new EQ electric actuator controls an electric drive in the same way as a pneumatic solenoid valve and the setup is simple and easy to control.
Read more...
---
Moisture measurement in air and oil
ifm - South Africa Pneumatics & Hydraulics
The oil moisture sensor of the LDH series from ifm electronic measures the relative moisture in oil in the range of 0 to 100% by means of a capacitive measuring element.
Read more...
---
MX-System extended with two pneumatic modules
Beckhoff Automation Pneumatics & Hydraulics
Beckhoff has presented a completely new, holistic concept which aims to eliminated control cabinets. The basic concept aims to replace control cabinet wiring with a baseplate that allows a wide range of electronic modules to be automatically interconnected via standardised interfaces.
Read more...
---
Compressed air monitoring reduces power wastage
Artic Driers International Pneumatics & Hydraulics
Air compressors are a major consumer of power, much of which ends up as air leaks in the factory distribution system. Energy is easily wasted by poorly performing air compressors that waste electricity and do not have rated air flow rates. Energy wastage is not sustainable and escalates production costs.
Read more...
---
Innovative solutions to boost energy efficiency and cost savings
Pneumatics & Hydraulics
As a leading manufacturer of high performance cartridge valves and integrated packages, Sun Hydraulics has gathered a collection of innovative solutions proven to significantly boost and improve energy efficiency, reduce fuel consumption, and ultimately provide cost savings for the end-user.
Read more...
---
Solutions for flow control
Pneumatics & Hydraulics
Neu Matics SA specialises in the design and installation of pneumatic control systems, and the manufacture of cylinders and control panels. One of Neu Matics' quality brands that it imports and distributes is SMS Tork.
Read more...
---
Why efficient filtration is critical in hydraulic systems
Bearing Man Group t/a BMG Pneumatics & Hydraulics
Because filtration is the only effective defence against wear and tear when contaminants are present, it is critical that effective filter components are used.
Read more...
---