printer friendly version
Obtaining stranded information and diagnostics
June 2012
Fieldbus & Industrial Networking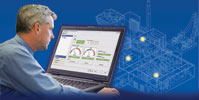 Most plants have hundreds, or even thousands, of HART devices, but not all of these are delivering the full range of process variables, calibration, maintenance and diagnostic data to plant operators and maintenance departments. This is because they have no means of delivering that data to the control room. One reason is that some legacy control systems are analogue, meaning they have no access to the digital HART data thus preventing operators from taking full advantage of the device intelligence. To achieve maximum insight, the existing control system must be upgraded by installing HART I/O interface cards and software modules.
Control systems that are HART compatible will always be able to interpret the primary variable from the HART field device (HART systems will also be able to get digital data and not just primary variable), but analogue systems will not be able to understand the digital data, for example, the device tag and descriptor fields. The analogue systems are unable to read the secondary or tertiary variables from the field device (if it is a multivariable transmitter) or the diagnostic data. To overcome this problem a HART multiplexer can be applied. The multiplexer acts as a gateway, routing communications between the HART field devices and the asset management system without compromising the integrity of the control system. However, installing a multiplexer is not a simple procedure, requiring the rewiring of marshalling cabinets. This can pose a risk to current operations and be both time-consuming and costly. Constraints on capital expenditure can often make this solution cost-prohibitive.
WirelessHART adapters
The availability of WirelessHART adapters, such as Emerson's Smart Wireless THUM adapter, presents a more convenient, lower cost and low risk alternative to installing multiplexers. A WirelessHART adapter is a device that can be retrofitted on any two or four-wire HART instrument, allowing the device to transmit up to four variables and HART status information at a user-configurable update rate. The data is sent wirelessly, via a gateway to an asset management system, whereby the information can be interrogated by operators and maintenance staff. This negates the need for the installation of a multiplexer and is an easy way to access the field intelligence already installed in the plant, or enable new measurements wirelessly.
This functionality is very useful for process level applications. When connected to level devices, the WirelessHART adapter opens up the possibility of transmitting a range of secondary variables in addition to the primary variable: level. The WirelessHART adapter enables users to access the stranded HART measurement and diagnostic information, which can be used to make improvements in quality, safety, availability, operations and enables reductions in maintenance costs.
Scheduling maintenance
Currently there are huge inefficiencies in the way many process level devices are maintained, including routine checks and preventive maintenance on equipment when it is not needed. If the infrastructure is not in place to communicate the digital HART data to the control room or maintenance area, regular trips to the field may be the only option. This not only takes time, but often requires work permits and special personal protective equipment (PPE) for hazardous areas. A WirelessHART adapter enables the process level device to be fully managed and monitored remotely. By gaining real-time access to advanced diagnostics about the health of equipment, it is possible to move from reactive to proactive maintenance, lowering costs and saving time.
Combining a WirelessHART adapter with a process level device enables operators to monitor the additional HART variables that give an insight into process efficiency and the condition of the device. Parameters such as signal strength and signal quality can be transmitted as secondary process variables and these can be used by operators to monitor the health and performance of the process level device, as well as getting insight to their processes. For example, the signal quality metrics function of the Rosemount 5300 guided wave radar can be used to determine when there is build up on the probe and the point at which it needs to be cleaned. When the signal quality falls below preset limits, it is possible to transmit an alarm indicating that maintenance is required.
The WirelessHART adapter also provides information about the performance of a process level device. Emerson's Rosemount 5300 guided wave radar and 5400 non-contacting radar devices can both transmit data to produce an echo curve graphic to any host that supports enhanced EDDLs. The echo curve is an important troubleshooting tool as it provides full insight to the installation echoes and how they behave over time. Knowing how well the device is performing prevents unnecessary trips to the field, allows you to schedule maintenance, and of course ensures that inaccurate measurements are not taking place that could affect the quality of the process.
Enabling new measurement points
It is not just applications involving existing installed process level HART devices that benefit from the availability of a WirelessHART adapter. WirelessHART adapters enable process level devices to be applied to areas of the plant that previously were not possible, such as where no communications cabling is available and the cost of installing new cabling is prohibitive. A particular area where there is a need for additional level devices to meet environmental requirement is within overfill protection applications. Where previously manual checks were sufficient, now automated continuous monitoring is a requirement. Often tanks are located remotely and the cost of installing wired devices is very high. Here, wireless presents the obvious solution.
To eliminate manual measurements, an Emerson customer installed a Smart Wireless THUM adapter on two guided wave radar devices. The existing gauging process was unreliable, leading to a risk of spills. The manual measurement method exposed personnel to the fuel twice per day and climbing the tank to take the measurement was also dangerous. In addition, the customer had no capability to integrate a level signal into the control system at this site. With the THUM adapter in place the customer has access to more frequent and accurate measurements than before and this was accomplished without the need to run new signal wires to the devices.
The ability to transmit multivariable data further broadens the possible process level applications. For example, when a WirelessHART adapter is attached to a guided wave radar device that previously only had an analogue connection to the control system, it is now possible to access both level and interface level measurements. A volume measurement can also be obtained, either calculated based on ideal tank shapes or a customised strapping table. Other variables that can be transmitted include the distance to level, interface distance, and upper layer thickness. Emerson's Rosemount 5300 series in conjunction with a WirelessHART adapter offers the opportunity to transmit all these variables as well as the upper and lower volumes.
Conclusion
Whether users want to install a new measurement point without the high cost of wiring or would like access to stranded diagnostics and device health information from existing HART instruments, the ability to connect IEC 62591 WirelessHART adapters with process level devices is enabling the full range of HART functions to be accessed in a cost-effective way.
For more information contact Mark Tapson, Emerson Process Management, +27 (0)11 451 3700, mark.tapson@emerson.com, www.emersonprocess.com
Credit(s)
Further reading:
Emerson acquires Spence and Nicholson steam technology product lines
November 2019, Emerson Automation Solutions , News
Emerson has announced the acquisition of the Spence and Nicholson product lines from Circor International. The acquisition complements Emerson's broad portfolio of steam system solutions for process industries 
...
Read more...
---
Emerson deepens commitment to manufacturers' top quartile performance
November 2019, Emerson Automation Solutions , News
As leaders across industries work to realise measurable business improvement in today's complex technology environment, global engineering and technology company, Emerson, announced it has established 
...
Read more...
---
Emerson helps complete first Caspian subsea project
October 2019, Emerson Automation Solutions , News
Emerson has completed its $48 million contract for automation systems and cloud engineering software-as-a-service for the Shah Deniz 2 project in Azerbaijan and is fulfilling an ongoing five-year services 
...
Read more...
---
Emerson's Flow Lifecycle Services Centre earns certification
October 2019, Emerson Automation Solutions , News
Emerson's Flow Lifecycle Service Centre, based in Dubai and serving customers in the Middle East and Africa region, has received accreditation for ISO/IEC 17025:2017 from the International Accreditation 
...
Read more...
---
Interference-free Ethernet media converter
October 2019, Phoenix Contact , Fieldbus & Industrial Networking
The new FL MC EF 660 SCRJ media converter from Phoenix Contact enables the connection of cost-effective polymer and HCS/PCF fibre technology. The optical transmission of data via fibre optics is free 
...
Read more...
---
Emerson expands asset management coverage
October 2019, Emerson Automation Solutions , System Integration & Control Systems Design
Emerson has expanded AMS Device Manager with HART-IP support, making it easier to connect with devices and control systems and potentially eliminate hundreds of thousands of dollars in project hardware 
...
Read more...
---
I/O solutions with Profinet redundancy
October 2019, Turck Banner , Fieldbus & Industrial Networking
Turck's Simple IO-Link Device Integration, SIDI for short, simplifies the handling of IO-Link. As its first fieldbus module with Profinet S2 system redundancy, the company has introduced the TBEN-L5-8IOL. 
...
Read more...
---
Rosemount food and beverage leak detection system
October 2019, Emerson Automation Solutions , Sensors & Transducers
In response to industry demand for increased quality in food and beverages at every level, Emerson has introduced the Rosemount CT4215 food and beverage leak detection system. The CT4215 is a quantum 
...
Read more...
---
Tektronix simplifies automotive Ethernet testing with new software
October 2019, Comtest , Fieldbus & Industrial Networking
Tektronix has released two new software packages that greatly simplify Automotive Ethernet testing, debug and protocol decode, for use with its 5 and 6 series mixed-signal oscilloscopes (MSO). Using the 
...
Read more...
---
How fieldbus systems are really selected
September 2019 , Fieldbus & Industrial Networking
The majority of users do not actively select their fieldbus at all – they select the control system vendor and whatever bus system this vendor provides will 'do the job.
Read more...
---