printer friendly version
IS Ethernet applied in coal mining
March 2012
Fieldbus & Industrial Networking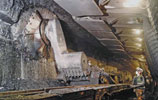 Reliable control and portability are critical requirements for underground coal mining operations. A mine environment is an 'enclosed space' where explosive dust and methane gas can be present, often within areas many kilometres from the nearest exit. In such an environment, an intrinsically safe solution – not only for the 'at-face' mining equipment, but also the associated communications system – can provide significant economic advantage compared with conventional systems using other explosion protection techniques.
Daw Mill Colliery is the flagship deep mine of UK Coal. Set against a background of the earlier wholesale closure of mines and privatisation, UK Coal found that it needed to take a complete review of its control and monitoring to find newer and more supportable technology. Daw Mill decided to use intrinsically safe PLCs and intrinsically safe Ethernet systems on all underground production and conveying.
This environment has to be carefully managed and full control made available to ensure that production is constantly economically viable in the face of imported coal. Safety is paramount, in machine operation, transport, environment, ventilation and gas monitoring. This underground intelligence stems from the use of commercially available real-time scada software to supervise, monitor and attend to alarms. In addition, data is extracted from the mine's equipment that is used to provide real-time information for many management functions. Automation has been fully implemented at the mine with machinery now under the control of the IS PLCs.
Safety in the architecture
The existing systems architecture was inherently slow and prohibited effective control, so the decision was made to use IS PLCs with an IS Ethernet system to add networking communication with the surface. The PLCs are monitored and controlled at the surface control room by use of Wonderware's Intouch scada system and use this to manage the underground logic controllers. High value coal cutting machines and conveyors, as well as the environment underground, were thus brought under proper control. Safety, as already stated, is the primary concern and particular emphasis was placed upon monitoring airflow, methane and carbon monoxide. Alarms are set to shut equipment down at pre-determined levels and also initiate evacuation.
The PLCs control machinery including the coal-face coal shearing machines, ventilation and conveyors. Since the coal face at Daw Mill is currently 10 km from the control room, communication has to be fast and effective – fibre-optic IS Ethernet is being used throughout the mine.
One of the unique differences found in mining, as opposed to manufacturing, is that the plant is under continuous redeployment. When a coal seam reaches a boundary all of the mining equipment may be moved to a position several kilometres away and have totally different operating conditions. It was therefore important to the engineers that the PLCs be capable of easy re-configuration and ongoing development.
Daw Mill has two shafts, one for the miners and one for equipment; but it is in fact a drift mine in that the coal is transferred to the surface by inclined conveyors. The conveyors have powerful motors to cope with the weight and loading changes in operation. These conveyor system motors are also monitored by PLCs.
Within the project period it was noticed that a motor was drawing higher than normal current, but examination of the fine resolution data showed that this was caused by external effects rather than imminent motor failure. The fault proved to be a belt scraper that was pressing on the belt and causing it to slip – thereby explaining the high current.
Benefits
The financial benefit to UK Coal of accurate diagnosis that prevented a shutdown was about £500 000 (calculated from the cost of replacement parts and lost production). The diagnosis allowed the problem to be fixed in five minutes by clearing a blocked air pipe and was made possible by the availability of high resolution archive data that is continually updated from all controllers to the historian server. This example shows an immediate cost savings that was made possible by the system, but the benefits of real-time systems applied at the colliery are felt in day to day running by improved insight to events and ease of access to meaningful and useful information.
The system has become the backbone of the way that the colliery operations communicate; information that is required underground is readily available where and when it is required. This allows manpower to be allocated in an optimum way – with added certainty that the right team is being deployed for the right reasons. When distances underground are measured in kilometres, it is clearly very time consuming to be 'on the wrong mission'.
The IS Ethernet infrastructure allows the options of adding wireless access points to connect to IS mobile computers, cameras for operations, safety and security, RFID for asset and people tracking and VoIP telecommunications in the future.
The use of IS PLCs and an IS Ethernet system has benefited UK Coal by providing advanced features that are easy to assimilate for ongoing benefit. The system is subject to constant change and development according to variable operating conditions and the realisation of solutions that will directly affect productivity and cost – cutting edge technology delivering benefits in the depths.
Network products used
Initially the Daw Mill used the 9260 range of IS Ethernet infrastructure components from MTL, more recent extensions have employed the 9466-ET 5-port IS Ethernet Managed Switch together with the option of Power-over-Ethernet to distribute the DC power.
IS Ethernet cards in PLCs throughout the mine are connected to a 'local' 9466-ET switch together with 9461-ET IS Ethernet serial gateways that are used to communicate with a range of IS serial devices. The 9466-ET switches are all interlinked with lengths of fibre-optic cable via 9465-ET IS Ethernet copper-to-fibre media converters, ultimately reaching the surface to link into the control system servers. The use of multimode fibre-optic Ethernet connections is invaluable for the long distances involved in coal mining, supporting 2 km distances at 100 Mbps or 5 km at 10 Mbps, while IS Ethernet over copper supports the standard 100Tx Ethernet distance of 100 m.
Credit(s)
Further reading:
Interference-free Ethernet media converter
October 2019, Phoenix Contact , Fieldbus & Industrial Networking
The new FL MC EF 660 SCRJ media converter from Phoenix Contact enables the connection of cost-effective polymer and HCS/PCF fibre technology. The optical transmission of data via fibre optics is free 
...
Read more...
---
I/O solutions with Profinet redundancy
October 2019, Turck Banner , Fieldbus & Industrial Networking
Turck's Simple IO-Link Device Integration, SIDI for short, simplifies the handling of IO-Link. As its first fieldbus module with Profinet S2 system redundancy, the company has introduced the TBEN-L5-8IOL. 
...
Read more...
---
Tektronix simplifies automotive Ethernet testing with new software
October 2019, Comtest , Fieldbus & Industrial Networking
Tektronix has released two new software packages that greatly simplify Automotive Ethernet testing, debug and protocol decode, for use with its 5 and 6 series mixed-signal oscilloscopes (MSO). Using the 
...
Read more...
---
How fieldbus systems are really selected
September 2019 , Fieldbus & Industrial Networking
The majority of users do not actively select their fieldbus at all – they select the control system vendor and whatever bus system this vendor provides will 'do the job.
Read more...
---
Fibre optic distributor for network expansion on demand
September 2019, Jasco Trading t/a Webb Industries , Fieldbus & Industrial Networking
Jasco's Webb Industries has introduced Telegärtner's new, modular rail-mount fibre optic distributor, which can be extended according to actual needs. The stackable modules allow quick and easy additions 
...
Read more...
---
Intrinsic safety barcode scanning from Extech Safety Systems
September 2019, Extech Safety Systems , IS & Ex
Extech Safety Systems has worked with UK-based Mobexx to develop the MobXscan mobile application for barcode scanning with mobile devices. The app has been released for Windows 10 and Android, offering 
...
Read more...
---
Integrate IO-Link devices in Profinet
September 2019, Turck Banner , Fieldbus & Industrial Networking
Turck's simple IO-Link device integration (SIDI) simplifies the handling of IO-Link devices in Profinet engineering systems. As the devices are already integrated in the GSDML file of the master, users 
...
Read more...
---
AS-i signal transmission via fibre optic
August 2019, ifm - South Africa , Fieldbus & Industrial Networking
The new AS-i fibre optic repeater from ifm electronic enables AS-interface signal transmission via an optical medium and vice versa. This allows for considerable cable length extension in the AS-i network. 
...
Read more...
---
Next-generation IIoT gateway solutions are transforming manufacturing
Technews Industry Guide: Industrial Internet of Things & Industry 4.0, RJ Connect , Fieldbus & Industrial Networking
Smart manufacturing and digital transformation, coupled with edge intelligence, are enabling manufacturers to increase productivity, reduce downtime, and increase product quality.
Read more...
---
Cisco IIoT solutions meet the needs of industrial organisations
Technews Industry Guide: Industrial Internet of Things & Industry 4.0, Axiz , Fieldbus & Industrial Networking
Technology is constantly evolving, and so are the network infrastructures that support industrial entities.
Read more...
---