printer friendly version
A thin client solution at Richards Bay Coal Terminal
January 2012
SCADA/HMI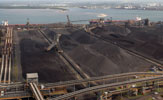 For more than three decades, Richards Bay Coal Terminal (RBCT) has been loading coal onto more than 700 ships every year that transport this resource worldwide to satisfy the world's hunger for energy. Such a vast strategic facility cannot leave performance to chance. RBCT therefore decided that a traditional PC-based scada approach was no longer good enough for this unique operation.
Background
RBCT's 10 stacker-reclaimers, five tipplers and four ship loaders are large, complex machines. Operation is impossible without the assistance of scada systems that keep operators informed of the real-time operational status.
Since these machines are constantly in motion, vibration is an important environmental consideration for traditional PCs with hard drives. Another consideration is that these PCs are distributed over a vast and dusty site where cooling fans, while doing their job, also contribute to the accumulation of coal dust. The same applies to all servers.
"Reliability problems with standard PCs as well as the difficulties presented by backups and upgrades prompted us to look for a more centralised solution based on thin client technology," said Eric Gumede, control systems specialist, RBCT.
About thin clients
A thin client is a low-cost computing device that works in an application server environment. It does not require powerful state-of-the-art processors and large amounts of RAM or ROM. In addition, thin clients:
* Do not have hard disc drives, CDROMS or cooling fans.
* Run with very low processing power.
* Are about one third the size of a conventional PC.
* Work the same way as a desktop PC.
* Support the GUI environment of Windows.
* Can be configured on as low as 16 Mb of RAM.
* Offer the same feel as working on any Windows-based operating system.
Project goals
It was decided to replace all 58 standalone PCs on the plant with terminal clients to achieve a system that is:
* Manageable – for quick and easy configurations.
* Cost effective – cheaper to maintain.
* More secure – not open to abuse.
* More reliable – less maintenance and downtime.
* Accessible – easy accessibility of reliable HMI reports.
Solution selection and implementation
System integrator Quad Automation was chosen based on its credibility and availability for support after completion, as well as its knowledge of the plant. Wonderware's InTouch was already the plant scada/HMI standard so it made sense to continue on the same route, but this time with the Terminal Client Servers (InTouch View) version which would be supported by Microsoft's Terminal Services.
This is a component in Microsoft Windows that allows users to access applications and data on a remote computer over a network. It also lets administrators install, configure, manage and maintain applications centrally on a few servers. All application logic runs on the server while the processing and storage requirements for client machines are minimal.
"Because of the impact non-performance could have on an operation of this magnitude, it was important that both the old and new systems ran in parallel before the old system was removed," said Gumede. "The implementation was carried out during 2006/7 and took only five months to complete."
Gumede also considered the opportunities offered by ACP's Thin Manager in order to extend the capabilities of the system.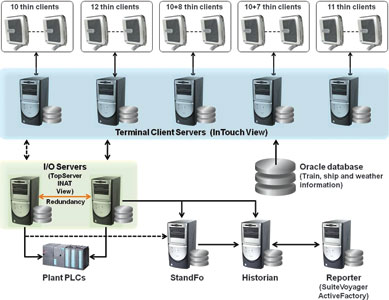 Benefits of terminal services clients to RBCT
This thin client solution had a number of benefits for RBCT:
* Reduced engineering costs on the PC budget – lower hardware costs as well as easy maintenance and deployment of applications.
* Improved software integrity – backup is only done on the server so that changes only occur at one point.
* Reduced power consumption – thin clients do not have any moving parts (disc drives, fans) – and reduced computing power.
* Reduced likelihood of theft – thin clients are useless to thieves because they have little resale value.
* Reduced downtime on scada systems – thin clients are physically more reliable than their PC counterparts and are quick to configure while operators cannot make changes.
* Increased end-user productivity – operators are limited to authorised applications only.
* Multiple connections possible to different servers creating redundancy – a technician can access a thin client from any part of the plant rather than only the control rooms.
* The system allows terminal servers to obtain and manage terminal server client access licence (TS CAL) tokens for devices and users connecting to a terminal server.
For more information contact Jaco Markwat, Invensys Wonderware, 011 607 8100, tech@invensys.co.za, www.wonderware.co.za
Credit(s)
Further reading:
IS3 partners with Izinga Integrated Solutions
September 2019, IS³ - Industry Software, Solutions & Support , News
On 24 July, IS³ – Industry Software Solutions and Support welcomed Izinga Integrated Solutions as a strategic solutions provider for AVEVA's asset performance management (APM) Solutions. Izinga is a 
...
Read more...
---
Will the IIoT kill scada, or lift it to new heights?
Technews Industry Guide: Industrial Internet of Things & Industry 4.0, Adroit Technologies , SCADA/HMI
Dave Wibberley, managing director, Adroit Technologies, shares his views on where scada is headed in the era of the Industrial Internet of Things.
Read more...
---
A technology evolution unfolds at X-Change 2019
May 2019, IS³ - Industry Software, Solutions & Support , News
IS
3
and AVEVA reimagine asset optimisation and new ways of work in tomorrow's digitally enhanced manufacturing plants.
Read more...
---
Collaborative robots
Africa Automation Fair 2019 Preview, Cobots , SCADA/HMI
Cobots is showcasing its range of collaborative robots. These robots make it simple and affordable for humans and machines to work together without a safety cage. Cobots can easily be implemented in small 
...
Read more...
---
Management overview of assets
Africa Automation Fair 2019 Preview, IS³ - Industry Software, Solutions & Support , IT in Manufacturing
IS³ is showcasing the Integrated Command and Control Centre, which can be used as a management overview of assets. This features AVEVA Software Solutions, including Predictive Analytics, AVEVA Net, Control 
...
Read more...
---
Machines that manage real-time resources
Africa Automation Fair 2019 Preview, Motion Control Systems , SCADA/HMI
iBOS Industrial is changing the way we maintain and respond to machine level events with technology that effectively manages real-time resources (people) from the machine level.    Health and safety, 
...
Read more...
---
Understanding how predictive analytics tools benefit power utility management
Technews Industry Guide: Maintenance, Reliability & Asset Optimisation 2019, IS³ - Industry Software, Solutions & Support , IT in Manufacturing
This paper reviews how predictive analytics tools can be applied to both utility operations and maintenance.
Read more...
---
Be part of the ultimate journey at X-Change 2019
March 2019, IS³ - Industry Software, Solutions & Support , News
The 4th Industrial Revolution and the New Way of Work through Edge-to-Enterprise solutions.
Read more...
---
IS³ extends portfolio to include AVEVA's Engineer, Construct and Procure software
March 2019, IS³ - Industry Software, Solutions & Support , News
IS³ - Industry Software, Solutions and Support recently signed an extension to the contract with AVEVA, which now extends its portfolio to include the Engineer, Construct and Procure software solutions. 
...
Read more...
---
New benchmark scada software platform
March 2019, Adroit Technologies , SCADA/HMI
MAPS 4, the latest scada solution for control and visualisation from Adroit Technologies, extends connectivity options, adds user tools and increases the scope of its built-in functionality. The result 
...
Read more...
---