printer friendly version
Global outlook for nuclear power generation
November 2011
Electrical Power & Protection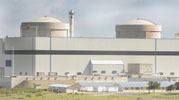 In the wake of the disaster at Tokyo Electric's Fukushima nuclear complex in Japan, Germany, Switzerland, and Italy have moved away from plans for future use of nuclear power. Despite this, the global outlook for the nuclear power market is pretty much the same, since nuclear new-build is highly concentrated in the 'BRIC' countries, which – like South Africa – do not plan to abandon nuclear energy.
The European decisions leave a shortfall in generating capacity that will have to be filled quickly. ARC expects that additional wind capacity will fill this shortfall, along with a new generation of combined cycle plants that have been developed for a grid with a much larger share of renewables. Finally, in closing its own nuclear plants, these countries may end up importing nuclear energy from neighbours that have large and expanding fleets of nuclear plants.
The long-term scenario for North America is similar. While North American nuclear retirements will be further off in time, nuclear power will not be replaced at the same rate as retirements, leaving a shortfall to be filled by renewables and highly efficient, gas-fired combined cycle plants.
In South Africa, Eskom appears to be proceeding with plans to build additional conventional (non-PBMR) nuclear generating capacity, along with new coal-fired plants, new hydro capacity, and other renewables. According to one scenario, by 2030, the country's generation mix should include 48% coal, 13,4% nuclear, 6,5% hydro, 14,5% other renewables, and 11% peaking gas turbine.
In late May 2011, the German government decided to phase out all operating nuclear power plants by the year 2022. Germany shut down its seven oldest nuclear units after the Fukushima accident. These will not be restarted, nor will one newer plant that was shut down for other reasons. Six other operating units will shut down by 2021 and the remaining units by 2022.
Besides Germany, the Swiss government called for the decommissioning of the country's five nuclear power units. The recommendation will result in a decision that could see the reactors closed down between 2019 and 2034. Italy, which was in the early stages of a nuclear new build programme, has now shelved this initiative.
Minimal impact on global nuclear market
Given such a rapid retreat from nuclear power in Europe, coupled with uncertainty in the US, what is the impact on the global nuclear market? Not very much, ARC believes. Nuclear construction today is concentrated in China, Russia and India. These three countries account for two-thirds of the 66 nuclear power units now under construction worldwide. While these countries are all reviewing their nuclear regulatory policies, none have even spoken of abandoning their goals for nuclear power.
Looking further out in the future toward plants currently in the planning stages, the geographic mix of new plants is still skewed towards the same three countries. They account for half of the future nuclear market at present. Even if some of the larger developed economies continue with plans for nuclear new build (the US, Japan, UK, and South Africa, for example) the number of future plants they might build is a small fraction of those now being planned by BRIC nations.
What will replace European nuclear power?
Turning from the global market back to Europe, the salient question at present is what types of plant will be built to replace the retiring nuclear generating capacity in Germany and Switzerland? The planning, permitting, construction and commissioning of major power projects can easily span five to 10 years. It is not too soon to ask what will replace a German power plant that will retire in 2022. The total nuclear retirements represent about 25 GW of generating capacity that will need to be replaced. ARC believes that three types of generation are most likely to replace these retiring plants: 1) nuclear (yes, nuclear!), 2) wind, and 3) gas-fired combined cycle.
The decision to shut down nuclear power in Germany and Switzerland might actually end up accelerating carbon-free nuclear development in France. French national utility, EDF, could then export the power to the German and Swiss markets. Traditionally Germany has been an electric power exporter, but this situation has changed since its nuclear shutdown.
The second replacement source, also carbon-free, is additional wind generating capacity. Wind now represents 8% of the European generating capacity, but 17% of German capacity. The nuclear units being retired are mainly in southern Germany and Switzerland, so new German offshore wind capacity is disadvantaged by distance. Nevertheless, more rapid retirement of these nuclear units enhance prospects for new wind capacity.
The third generating technology likely to benefit is gas-fired combined cycle. These plants have now achieved a scale and level of thermal efficiency that makes them more competitive. However, their chief differentiator is that, in addition to efficiency, they can be load cycled rapidly. This makes combined cycle plants an effective complement to both wind generation (which is uncontrolled) and nuclear plants, which are based-loaded.
In conclusion, despite a rapid European retreat from nuclear power, the overall impact on the future of the worldwide nuclear industry will not be significant. What these decisions really do is create a policy direction that provides a context in which suppliers and utilities in Europe can make longer term plans. ARC expects a combination of more renewables and new combined cycle fossil-fired designs to take up the slack, first in Germany and Europe, and later in North America. Due to the country's ample reserves of coal, South Africa, however, will likely continue to utilise a relatively high percentage of coal-fired generation, albeit as a smaller percentage of its overall energy mix.
For more information contact Paul Miller, ARC Advisory Group, +1 781 471 1126, pmiller@arcweb.com, www.arcweb.com
Further reading:
Contactless energy transfer system for an automotive assembly line extension
April 2019, SEW-Eurodrive , Electrical Power & Protection
The Movitrans contactless energy transfer system from SEW-Eurodrive, in conjunction with its Movipro SDC decentralised drive, position and application controller, has played a critical role in an assembly 
...
Read more...
---
VSDs drive cost saving in pumping systems
April 2019, Zest WEG Group , Electrical Power & Protection
WEG variable speed drives (VSDs) offer the agricultural sector the ability to reduce the operating cost on automated water collection systems with a reduction in motor energy consumption when the motor 
...
Read more...
---
Power module with load sharing
April 2019, Accutronics , Electrical Power & Protection
TDK Corporation has announced the introduction of the DRM40 series of DIN rail mount redundancy modules. Two 10 30 V DC inputs are rated at 20 A each and the output at 40 A. A 150% peak load capability 
...
Read more...
---
Cummins technology and innovation
April 2019 , Electrical Power & Protection
Powering a world that's always on
At the recent Middle East Electricity (MEE) exhibition held at the Dubai World Trade Centre, visitors could discover a range of the latest power products, systems and 
...
Read more...
---
Stakeless earth ground loop testing
April 2019, Comtest , Electrical Power & Protection
Testing the grounding components of equipment in hard to reach spaces, including areas that are indoors or fully paved and do not permit driving auxiliary test stakes, is always challenging. Comtest is 
...
Read more...
---
Let there be light
March 2019, RJ Connect , Electrical Power & Protection
Fuel cell system helps channel electricity to rural community.
Read more...
---
Convection cooled 600 W AC-DC supplies
March 2019, Accutronics , Electrical Power & Protection
TDK Corporation has announced the introduction of the GXE600 series of 600 W AC-DC power supplies, certified to the IEC 60601-1 medical safety standard as well as IEC 62368-1. In a 1U high package, these 
...
Read more...
---
Dry-type transformers for water project
March 2019 , Electrical Power & Protection
Dry-type transformer specialist Trafo Power Solutions has secured an order for 13 custom-designed cast resin units for Rand Water's large Zuikerbosch Wastewater Treatment Works near Vereeniging. The 
...
Read more...
---
Converters for building technology
March 2019, Siemens Digital Industries , Electrical Power & Protection
Siemens presented a new converter series at last year's SPS IPC Drives. The converters of the new Sinamics G120X series are especially suited for use in pump and fan applications in industries such as 
...
Read more...
---
EM supplies smart building solutions
March 2019, ElectroMechanica , Electrical Power & Protection
The latest Hager smart solutions for automated building control have been supplied by ElectroMechanica (EM) of Cape Town for Swarovski Lighting's new showroom in Green Point. The leading supplier specified 
...
Read more...
---