printer friendly version
From scada to business intelligence with Adroit
June 2011
SCADA/HMI

It is one thing being able to store enormous amounts of raw data, but what sets Johannesburg Water (JW) apart is the ability to take that data and convert it into business intelligence that can be effectively utilised to manage the utility in line with its operational needs and key performance indicators. Predictive maintenance and trending is key to ensuring quality of supply, sustainable service delivery and economic growth.
Johannesburg's tap water rates among the cleanest, safest and healthiest in the world and it is the task of JW to provide top quality water and a world class sanitation service. The utility supplies some 650 000 domestic and business customers, reaching about three million people. Services are provided along business principles, ensuring customer satisfaction and cost recovery. JW is proud of its Blue Drop status which recognises municipalities whose drinking water quality meets set criteria.
With a vision of becoming the leading water utility in South Africa, JW prides itself on partnering with service providers to ensure that they remain at the forefront of technology and international best practice. With this in mind some 18 months ago the Electrical Support Department of Johannesburg Water in collaboration with scada development company, Adroit, started work on developing a Scada Intelligent Reporting System aimed at aligning its process control with its business processes in order to achieve strategic goals. It is important to maximise the value of the scada/telemetry system by having the ability to transform available data into information. This standardised system has the ability to be rolled out across the entire organisation.
Background
JW's Electrical Support Department is responsible for the 24/7/365 monitoring of the Utility's water distribution and telemetry control system by means of a radio and cellular network. This system monitors the potable water storage sites, pumping booster stations, cathodic protection units and sanitation across the city, equating to 150 sites. These are currently being monitored in real-time via their current custom configured Adroit Scada system with OPUS reporting that was developed nearly 10 years ago. The system is well maintained and has proved to be an effective tool saving JW substantial costs through its easily accessible reporting tool that is made available via an intranet. The OPUS Reports offered a relational reporting database allowing operator comments on the report with the ability to select a date and time range, allow for scheduling and enable interactive trends with detail tooltips. OPUS Visual Basic 6 is obsolete and no longer supported by Microsoft, although Adroit will continue to support it for a few more years.
Limitations
The current system has a number of limitations in that the data images are refreshed only every 10 minutes, has no drill down capability, provides limited engineering value and is mainly suitable for operators. The system does not provide any dynamic reporting and the report generation times are lengthy. It is resource intensive particularly when creating new reports for new sites, and data management is manual. All configurations have to be carried out at database level requiring a skilled SQL expert. The system is also customised for JW and therefore changes are unique to the facility and the costs are borne by it directly. The current operating platforms are becoming redundant, OPUS is being replaced and Adroit has developed Adroit Scada Intelligence (ASI) utilising Microsoft Analysis services with standardisation a key feature.
Standardisation
With the development of ASI, Adroit has moved to internationally compliant standards that include Expanded Equipment Hierarchy (S95) and Physical Hierarchy (S88) as well the EEMUA 191 for Alarm Management Systems. The benefits of data standardisation are enormous both for developer and client as it allows for system optimisation, a reduction in development time, ease of reporting and simple integration with other systems including SAP, ASI and GIS. The importance of a proper standardised naming convention to retrieve data is crucial. From a developer's perspective a standardised data structure allows for the development of client updates and as well as being easily able to map on top of any MES system. Data can also be pushed and pulled from SAP. In order to make data familiar for reporting it requires a common platform.
New system
Technological advances together with population growth coupled with skills shortages meant that the current system used by the utility needed to be upgraded to meet these demands. As early adopters of the ASI system, JW was instrumental in the development of the software over a period of two years. JW required a system that could provide fast and easy access to reliable and relevant information accessed through a familiar environment (intranet, Excel) providing scheduled reports as well as exception reporting. The system needed to be easy to configure and manage and provide automated data management via scheduled backups and data optimisation and archiving. Data availability is critically important with data buffering able to manage late telemetry data. The system also offers continuous data and reporting integrity verification. The new system dynamically shrinks or grows as the system changes and only shows relevant data in a summarised format that can be interrogated if required.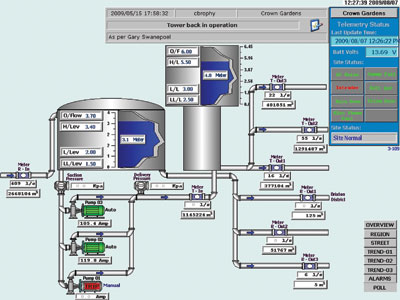 Business intelligence
Business intelligence is crucial to JW in order to make informed business decisions. This information needs to be readily accessible, easy to use, provide reporting and analysis and offer performance measurement. This has to be achieved despite the fact that data sources are often difficult to understand, come in different forms and all too often there is just far too much data. This has been addressed with SQL Server 2008 R2, SQL Server Integration Services and Reporting and Analysis Services all from the Microsoft Business Intelligence Stack as well as Standard Online Analytical Processing (OLAP) cubes that are compatible with both Excel as well as any third party OLAP browser or analytical tool. Going forward, all reporting systems will be aligned with Microsoft developments.
Data flow
To manage data successfully, it is important to understand the data flow, critical importance and processes involved in Scada Intelligence. Data flow is the process of data generation at the source through to the process of collecting and distributing the data into data stores (also known as databases) for various purposes. The JW Reporting Data Warehouse has been designed to extract, transform and load real-time data into a structured multidimensional database in order to provide efficient data storage and data retrieval, for reporting and analysis.
Data warehousing implements the process to access heterogeneous data sources; clean, filter, and transform the data and store it in a structure that is easy to access, understand, and use. A multidimensional data model stores data in a way that enables data to be easily and quickly viewed from many possible perspectives or dimensions. Having real-time data processed and then categorised by these different factors, or dimensions, gives business-oriented users the ability to understand this data in terms of business operations.
Implemented system benefits
Both Alpha and Beta testing of the new reporting system has taken place at JW with the system being tested in parallel to the existing scada reporting system over the past three months. The new system is easy to configure and manage through ASI Manager; data management and availability has been greatly improved. Dynamic reporting has resulted in fewer reports to maintain with active data and report integrity checks as well as System Health Monitoring through ASI Manager. System Health Monitoring provides more visibility resulting in increased confidence levels in data. ASI Manager is a management tool that does not require SQL skills. Alarm data can be used to start predicting failures allowing for preventative maintenance. Every morning the system provides a report highlighting the top 10 items allowing operators to pick up any critical issues. The system can be rolled out to other departments eg, Strategic Planning Business Units, Effluent Treatment Works and Reticulation. A requirement from senior management was to be able to tie in multiple processes, data sources and business units into one platform. The system allows trends to be seen in real-time providing more depth in terms of what is happening with the ultimate goal of having a predictive system. The more information, and not data, the system can provide to the end user the more effective the system becomes.
Conclusion
The ability to plan ahead and implement well tested and developed systems is what has placed JW as a leader in its field. To be a market leader, it is important to align the organisation with international best practice. To this end, the new JW reporting system provides information quickly and easily on a common standardised platform allowing the Utility to make informed decisions and providing a platform for data integration into Johannesburg Water's business systems including SAP and GIS.
For more information contact Edward Livesey, Johannesburg Water, +27 (0)11 688 1697, edward.livesey@jwater.co.za or Jan Hendrik Rust, Adroit Technologies, +27 (0)11 658 8100, jan-hendrikr@adroit.co.za, www.adroit.co.za
Credit(s)
Further reading:
Will the IIoT kill scada, or lift it to new heights?
Technews Industry Guide: Industrial Internet of Things & Industry 4.0, Adroit Technologies , SCADA/HMI
Dave Wibberley, managing director, Adroit Technologies, shares his views on where scada is headed in the era of the Industrial Internet of Things.
Read more...
---
Bridging the gap to the Industrial Internet of Things
Technews Industry Guide: Industrial Internet of Things & Industry 4.0, Adroit Technologies , IT in Manufacturing
The Adroit Enterprise IIoT platform is a customisable software platform that enables users to deploy and integrate cloud-based sensor data with normal telemetry data using protocols such as MQTT, Sigfox 
...
Read more...
---
Adroit brings M2M, IoT and IIoT to the industrial world
June 2019, Adroit Technologies , Industrial Wireless
Combining the new IIoT capability with GIS interfaces, situational awareness and alarm management data, all can use the big data and analytical processing capability of Adroit's standard scada Intelligence software package to derive greater insights and value from their processes.
Read more...
---
Collaborative robots
Africa Automation Fair 2019 Preview, Cobots , SCADA/HMI
Cobots is showcasing its range of collaborative robots. These robots make it simple and affordable for humans and machines to work together without a safety cage. Cobots can easily be implemented in small 
...
Read more...
---
Factory automation solution
Africa Automation Fair 2019 Preview, Adroit Technologies , IT in Manufacturing
As the official authorised distributor for Mitsubishi Electric's Factory Automation, Adroit Technologies is profiling a range of products including PLCs, drives, HMIs and robots. These together make possible 
...
Read more...
---
Adroit chooses Sigfox for smart water project
May 2019, Adroit Technologies , IT in Manufacturing
Adroit Technologies has chosen the Sigfox IoT network for a large municipal Smart Water IoT project. Managing director, Dave Wibberley, states that the company is excited about being involved in this 
...
Read more...
---
Machines that manage real-time resources
Africa Automation Fair 2019 Preview, Motion Control Systems , SCADA/HMI
iBOS Industrial is changing the way we maintain and respond to machine level events with technology that effectively manages real-time resources (people) from the machine level.    Health and safety, 
...
Read more...
---
New benchmark scada software platform
March 2019, Adroit Technologies , SCADA/HMI
MAPS 4, the latest scada solution for control and visualisation from Adroit Technologies, extends connectivity options, adds user tools and increases the scope of its built-in functionality. The result 
...
Read more...
---
Operator guided solutions
December 2018, Adroit Technologies , IT in Manufacturing
At parts assembly production sites, where parts are picked from stock, it is almost inevitable that picking mistakes will occur. As parts become more complex and their component types increase, the problem 
...
Read more...
---
Inductive Automation's I­gnition technology offers potential to ­disrupt the market
July 2018, Mzukulu Technologies , SCADA/HMI
'Ignition by Inductive Automation' is an industrial software platform with a variety of modules that can be combined to create custom HMI, scada and MES solutions.
Read more...
---