printer friendly version
Talvivaara mining company relies on Metso
February 2011
PLCs, DCSs & Controllers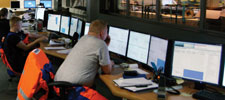 Located in eastern Finland, Talvivaara with its 642 million metric tons of ore is one of the largest known nickel sulphide deposits in Europe – estimated processing longevity is 46 years. With operations continually expanding, Talvivaara will reach its planned annual nickel production of 50 000 tons in 2012. As by-products, the mine will also produce about 90 000 tons of zinc; 15 000 tons of copper; and 1800 tons of cobalt per year.
Nickel extraction the unique way
Talvivaara's process consists of open pit mining, crushing, bioheapleaching and metals recovery. Crushing is done in four stages, followed by agglomeration with sulphuric acid in order to consolidate the fines with coarser ore particles.
After agglomeration, the ore is conveyed and stacked on a primary heap for 18 months of bioheapleaching to extract the metals from ore. This method was chosen for its favourable operational costs and advantageous environmental profile compared with smelting. The leaching process generates heat and is therefore suitable for the sub-arctic climatic conditions of Finland.
The heap pad is equipped with piping through which low-pressure fans supply air to the stacked ore. From the top, the heap is irrigated with a leach solution, which is recycled through the heap until its metal content is sufficient for metals recovery.
In metals recovery, nickel, copper, zinc and cobalt are precipitated from the pregnant leach solution and filtered to produce saleable metal products. After the metals are removed, the solution is further purified and returned to irrigate the heaps.
Supplier flexibility much appreciated
Talvivaara chose Metso to supply the automation for its green field production site. Due to the nature of the project flexibility was required and Metso's ability to adapt to changing situations was one of the primary selection criteria.
Metso's delivery to Talvivaara was divided into four parts. The first included automation for seven pumping stations in the area. The second featured automation for materials handling, crushing and screening, as well as an information management system and applications. The third included automation for the metals recovery line and the fourth was the delivery of a second metals recovery line.
A distributed system has many plusses
A major challenge for Talvivaara is the immense size of its area – 61 square kilometres – and the consequent distances between the various processes and equipment. "A distributed system is by far the easiest way to manage our operations and keep the cabling distances short," explains Kristian Granit, electrical automation manager at Talvivaara. "If there are problems in some parts of the process, others can continue their operation uninterrupted. An additional positive is that we were able to build the site bit by bit, planning some facilities while simultaneously running others."
With an extensive metsoDNA automation system – the largest of its kind used in mining operations so far – Talvivaara is able to manage its process stages all the way from primary crushing to metals recovery. The system also controls the auxiliary processes such as the water plant, storage silos and the hydrogen sulphide plant. Altogether there are about 10 000 I/Os in the system. An HIMA safety system is integrated into the metsoDNA CR platform.
There are some sub-processes, such as the crushers that run with their own PLCs, but which are connected to the metsoDNA CR system through the ProfibusDP. "Since we were building a greenfield site, we did not want to use any outdated bus communication technology with uncertain continuation. Therefore, we chose Profibus technology, since it is at the early stages of its life cycle but already proven."
In Talvivaara, there are two control rooms. The main control room is for running the pumping stations, the metal recovery line and its related processes. The other one is for controlling the crushing and screening operations. To compile and record important process information, the mine uses an information management system with the DNAhistorian, a modern tool for reporting production data, showing trends and making the information available.
Field devices monitored online
The mines processes feature hundreds of Endress+Hauser flow, pressure, surface analysis and temperature measurements supplied by Metso. There are also dozens of intelligent Neles control valves, actuators and positioners.
The intelligent equipment is configured and its condition is monitored through a DNAfieldAssessor system. This ensures quick access to relevant information and helps find the right solutions rapidly in the event of a disturbance. It also supports proactive field asset management and enables field device performance monitoring, as well as future maintenance work planning. Configuration and maintenance information is available for both process operators and maintenance people in the office. "Since our area is so large, we are able to check the equipment condition and parametering online. We do not always have to go out to the field and check them on site," says Granit.
According to Granit, they are not yet fully benefiting from the many features of the field device condition monitoring system, but they definitely intend to do so in the future.
Ramp-up will continue in the coming years, requiring new metals recovery lines that will be copies of the original. "Since we now have a good platform and model from which to copy the automation design, these future projects will almost certainly be easier to implement than the first one," he concludes.
Credit(s)
Further reading:
Precise control in joining applications
October 2019, ASSTech Process Electronics + Instrumentation , PLCs, DCSs & Controllers
Digiforce is the trusted name when comprehensive monitoring of press-fit, joining, riveting and caulking processes is needed. The models 9306 and 9310 are being successfully used in innumerable applications 
...
Read more...
---
Innovation embedded in Metso's DNA
August 2019, Metso South Africa , Valves, Actuators & Pump Control
Apart from the role in technology development, digitalisation is one of Metso's key enablers to serve its customers better.
Read more...
---
The powerful Festo modular control system CPX-E
Technews Industry Guide: Industrial Internet of Things & Industry 4.0, Festo , PLCs, DCSs & Controllers
Designed as an EtherCAT master and motion controller with protection to IP20, the powerful automation system CPX-E for factory and process automation with NE21-specific certifications is becoming the 
...
Read more...
---
Rockwell strengthens industrial control system security
July 2019, Rockwell Automation , PLCs, DCSs & Controllers
Communications between industrial control devices have minimal protection today. This leaves them vulnerable to threats like malicious tampering and incidental system changes that can stop production 
...
Read more...
---
Siemens extends the Simine ­portfolio
June 2019, Siemens Digital Industries , PLCs, DCSs & Controllers
Siemens has extended the Simine portfolio for high-pressure grinding mills (HPGR) to include a new controller. Plug-and-play functionality makes the load share controller available for immediate use. 
...
Read more...
---
Schneider Electric announces a new era of control
June 2019, Schneider Electric South Africa , PLCs, DCSs & Controllers
Schneider Electric's new high-end Modicon M580 Ethernet programmable automation controller (ePAC) features redundant processors, native Ethernet, and cybersecurity embedded into its core. It combines 
...
Read more...
---
Selecting the right PLC
June 2019, AC/DC Dynamics , PLCs, DCSs & Controllers
Automation projects, big or small, start with a specification. Here are five factors to consider when choosing a PLC vendor.      
Broad range of devices
The selected brand must have a complete product 
...
Read more...
---
Industrial automation equipment
Africa Automation Fair 2019 Preview, Anytech , PLCs, DCSs & Controllers
Anytech is an industrial automation equipment supplier that has been providing high tech solutions to a wide variety of customers in various industries throughout southern Africa since 1999. High tech 
...
Read more...
---
Extended valve offering
Africa Automation Fair 2019 Preview, Metso South Africa , Valves, Actuators & Pump Control
Flow control specialist, Metso is showcasing the latest additions to its offering for the process industries, as well as the most comprehensive line of control valves available on the market today. Pay 
...
Read more...
---
Multi-function PLC, HMI and I/O in a single 7" unit
Africa Automation Fair 2019 Preview, Vision Automation , PLCs, DCSs & Controllers
This multi-function UniStream PLC with an integrated, high-quality HMI touchscreen is available in a range of built-in I/O configurations. Showcased at Stand C04, the highly compact hardware profile with 
...
Read more...
---