printer friendly version
World-class chocolate manufacturing
October 2010
IT in Manufacturing
Orley Foods is fully HACCP (Hazard Analysis and Critical Control Point – an FDA programme) compliant and the company's quality management system conforms to ISO9001. Compliance is audited regularly not only by Orley but also by the South African Bureau of Standards (SABS) and it is within this context of mandatory regulatory compliance that a material tracking solution was sought.
The Orley Foods plant is made up of four main areas (Figure 1). From Raw Material Receiving to Finished Goods, tracking and traceability is key to regulatory compliance. This is especially true of the chocolate manufacturing facility which manufactures chocolate in bulk according to the specifications of downstream chocolate confectionery manufacturers whose products are found in the retail market.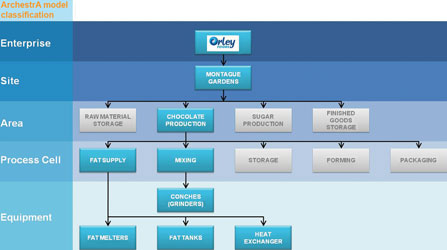 Figure 1
Project objectives
"Before this project, we were working with a failing system while our multinational customers demanded more traceability information," says Henk de Villiers, operations manager, Orley Foods. "These large companies want certificates of analysis and conformity and can demand a full traceability report within two hours. They can also do flash audits on site without warning and ask any questions they wish about any batch. So we looked for a solution that would provide seamless and transparent integration of manufacturing and business systems throughout the company."
The manufacturing system would have to be capable of as yet undefined expandability, ease of integration and the ability to provide data in context for the benefit of more informed decision-making. All the important, relevant and contextual information was to be published to a portal for easy access by personnel who could make best use of it and it was imperative that the system have the ability to trend and trace process issues in order to speed up trouble shooting while conforming to regulatory requirements.
Project requirements
In order to achieve its objectives, Orley Foods would have to implement some far-reaching initiatives that included the re-engineering of its process control and information delivery infrastructure. Some of the considerations included:
* Traceability of fat usage and additions against work orders – in the chocolate manufacturing process, the different fats used are incompatible with one another so it is vital to ensure traceability of the fat used at all times.
* Monitoring/logging of process parameters – the chosen system would be used to monitor and track process parameters in the plant and for each recipe batch.
* ERP integration with Syspro – Orley Foods needed one version of the truth for the bill of materials in order to minimise formulation failures and so needed this information to be fed directly from Syspro to the manufacturing system.
* Overall system upgraded to latest technologies – as the company's system could no longer cope, it needed to upgrade to the latest technologies that would address its Network and Windows/SQL Server environment as well as its scada and PLC system needs.
* Ingredient management of recipes – As Orley Foods has over a hundred different recipes for liquid chocolate including different colours and fat combinations, the company needed a system that would be able to handle this variation seamlessly.
* Introduction of expandable reporting infrastructure – with the new business environment and the need for key information, Orley Foods developed KPIs to which the manufacturing system had to respond so as to deliver reports from a central source.
Solution selection
While realising that there were a number of potential technologies to address their needs, Orley Foods decided to look for prospective solution providers who could use the technologies they thought most appropriate to the task at hand.
"We started the project by defining our needs and then drew up a tender allowing various vendors and systems to be evaluated," says de Villiers. "It was vital that we had a well-known system but it was equally important that we had a Cape Town based system integrator with experience in the development of PLC, scada and databases, especially SQL. It was also a prerequisite that the SI should have prior experience in a food and beverage environment and be well acquainted with the complexities of working in a HACCP environment. We chose AMR Automations because it met all these criteria."
Several prominent technology suppliers were considered but eventually Orley Foods selected Wonderware. "We found that the Wonderware solution was best suited as it had a proven track record in food and beverage (we spoke to their customers) and was used in many local and international plants involved with food production," says de Villiers. "We were also shown examples of integration between Wonderware production and control systems and our chosen ERP system, Syspro. Lastly, there are numerous system integrators and solution providers with an extensive knowledge of the Wonderware suite of solutions which meant that we would not be stuck in an emergency."
Solution architecture
Wonderware's System Platform, based on ArchestrA technology, was used to develop a model of the plant. "Although the project only addressed certain aspects of the chocolate production facility, we designed the model to cater for the entire plant," says Stefan la Grange of AMR Automations.
An important part of the project was the PLC upgrade where the previous PLC was replaced with an Allen-Bradley CompactLogix unit and Beckhoff Ethernet TCP/IP remote I/O units which AMR found to be a good and rapid solution for upgrading installations where PLCs could be kept out of harm's way.
"We design PLC programmes to run autonomously with no interference from the scada system," says la Grange. "In this case, the PLC runs the recipe and handles the fat transfer route allocation. Obviously, processes for which the necessary raw materials (eg, fat) are not available are not started."
Orley Food's ERP system, Syspro, places the work orders into a 'holding' or intermediary Wonderware Historian production (MES) database from where they are picked up by the scada system. The works orders specify the raw materials to be used as well as the tank and equipment allocation and scheduling. Operators then use the dual-screen scada system (InTouch) to view the state of all the conches in the system and the works orders they are executing.
"We use the SQL data grid from Wonderware to show the production plan which displays the work orders that are queued or being processed and a click on the column headers sorts the display according to the chosen criteria," explains la Grange. "Operators can modify the execution time of work orders or switch machines for a specific work order if authorised by production supervisors. This is useful for bypassing breakdowns or maintenance problems."
The Wonderware Information Server reports tabulate all aspects of work order status and production information such as temperature vs. pressure charts, process variations, timings and operator interactions for traceability purposes.
Realised benefits
* Batch size consistency – previously, this could be a hit-and-miss affair with corrections having to be made for marginal or failed recipes. Today, that is all in the past.
* Raw material allocations tracked – previously this was done manually and prone to operator error.
* Better process control tracking – alarming (eg, motor trips) are now available at the scada level as is trouble-shooting information (temperatures, pressures, grinding times, etc,) as well as operator involvement.
* Significant savings in fat usage – in the chocolate industry, cocoa butter is called liquid gold because of its high cost.
* Standardisation of batch processing times – allows for critical evaluation of plant performance reduced consumption or resources, especially electrical power.
* Minimised batch/formulation corrections – savings in addition of raw materials to batches which could result in batches that were larger than the customer ordered and were therefore wasted.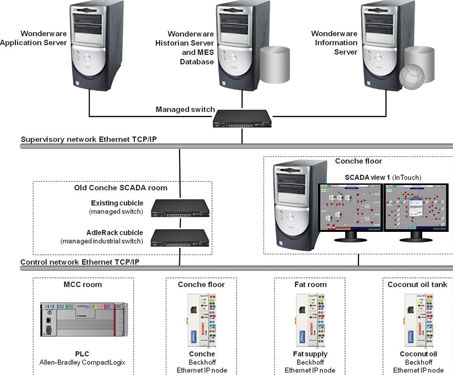 Figure 2. Orley Foods system topology for phases 1 and 2 of the project
Conclusion
Phase 2 of this project will capitalise on the gains already made and extend functionality across the entire plant while closing the loop with feedback directly into the Syspro ERP system. Orley Foods has shown itself to be a prime example of adaptability in a more demanding world with a globally-competitive marketplace. The integration of information technology at the business and production levels is helping the company deal with the mechanics of sustained profitability. It allows Orley Foods to focus on its mission to provide products that delight all of the market.
For more information contact Andrew Rennie, AMR Automations, +27 (0)21 534 0838, andrew@amr.co.za or Deon van Aardt, Wonderware Southern Africa, 0861 WONDER, deon@wonderware.co.za, www.wonderware.co.za
Credit(s)
Further reading:
Siemens launches report on Dawn of Digitalisation and its Impact on Africa
October 2019, Siemens Digital Industries , IT in Manufacturing
Africa needs a digitalisation strategy to compete in the global economy.
Read more...
---
Integrating IT with Operations Technology - a CIO perspective
October 2019, Absolute Perspectives , IT in Manufacturing
Digitisation projects, spurred on by Industry 4.0 and technological advances, have opened up many possibilities to create new value.
Read more...
---
The power of data
October 2019, Throughput Technologies , IT in Manufacturing
Gain access to important information with ProSoft's new OPC UA-based gateway and data logger.
Read more...
---
Securing and managing devices the modern way
October 2019 , IT in Manufacturing
Organisations of all types and sizes are bringing vast numbers of devices into their IT infrastructure and networks. Moreover, these devices are not only smartphones, wearables and tablets because the 
...
Read more...
---
IS3 partners with Izinga Integrated Solutions
September 2019, IS³ - Industry Software, Solutions & Support , News
On 24 July, IS³ – Industry Software Solutions and Support welcomed Izinga Integrated Solutions as a strategic solutions provider for AVEVA's asset performance management (APM) Solutions. Izinga is a 
...
Read more...
---
Reliable gas production
September 2019, Siemens Digital Industries , IT in Manufacturing
Energy supplier uses Siemens technology for optimum information exchange.
Read more...
---
Automotive supplier relies on Siemens PLM solution
September 2019, Siemens Digital Industries , IT in Manufacturing
Küster Automotive is an internationally active family-run company and a part of Küster Holding. A full-service supplier, Küster manufactures components for the automotive industry. For its production 
...
Read more...
---
Top tips to help you implement 4IR projects that deliver value
September 2019 , Editor's Choice, IT in Manufacturing
In the just over 10 years I have spent working on IT projects in the manufacturing space, the amount of new fads and IT jargon that has to be adopted has reached the heavens, and ascended into other realms. 
...
Read more...
---
Digitisation requires new skills
September 2019, Schneider Electric South Africa , IT in Manufacturing
Smart grid investments by municipal and public power utilities typically focus on electric distribution and customer systems. The expected benefits include lower costs, better customer service and more 
...
Read more...
---
Industry 4.0: Manufacturing Executing Systems
September 2019, S4 Integration , IT in Manufacturing
Industry 4.0 is set to lead the way for digitisation of manufacturing processes. Manufacturing Executing Systems (MES) are a critical component of Industry 4.0 as they act as an enabler for end-to-end 
...
Read more...
---