printer friendly version
Influence of the use of fieldbus
September 2010
Fieldbus & Industrial Networking
Introduction
I recall two sessions, one with the famous Jim Pinto and another with my lecturer from Stratek (Dr Kelvin Kemm), stating that the companies that will make it in the future will not be based on size, but on how quickly and easily they adapt to new technology. They will be the early adopters, not those waiting for others to try first and then becoming followers.
Of course at the time I was busy with my TLP (Technology Leadership Programme), so we were all about being in the beginning of technology rather than in the middle of it. Beyond things that just work, but rather how things worked and by things I am referring to systems, people and technologies.
So, I foresee a time when most devices installed in industrial plants are smart, and this will be the norm, so much so that to tell a rookie about a 4-20 mA device that only sent a single signal will be like telling today's youth that there was a time before cellphones, and that initially all they could do was make and receive calls, and they had long aerials sticking out. But now it is taken for granted that these devices are full mobile computers with fast processors, mobile windows, mobile office, Internet and e-mail, doing just about everything including make and receive calls.
For the automation industry, there will come a time when the installation of instruments, valves, transmitters, etc, will all be and only be smart devices, plug-and-play fashion just like USB technology (which we also take for granted now). Valves installed in the plant, will communicate with the control room and where technicians will be able to interrogate them for information like manufacturer, date of manufacture, date of calibration, person who did the calibration and the sizing information. But these smart devices are already around, they are Foundation Fieldbus (FF) devices, they already feature all the positives of stored information, single button calibration and the likes.
Those who have installed this technology could be compared to those who have bought i-pads or kindles. They are thrilled with it and would install more nodes, they cannot think of installing another 4-20 mA device that cannot display its tag data, manufactures, calibration information and diagnostic status. This is what this technology offers, those who are the first will be renowned as experts when everyone else finally catches up.
There is a choice to be made, either use the technology when everybody else is using it without any appreciation for how it works, or be at the forefront after all it is already about 15 years old.
Why the fear of adapting to FF, I believe it is linked to understanding the following:
* What does the use of the technology mean for the engineers when they design the system?
* What does the use of the technology mean to the installer when they install the system?
* What does the use of the technology mean to the operations and maintenance teams when they are using the system?
Engineering influence
FF being a newer technology implies that for a first installation, all aspects of engineering will take more time to complete as the engineering team formulates philosophies and methodologies. Fortunately, the groundwork is well established. The fieldbus.org group has put together extensive material on systems engineering, installation and troubleshooting of FF installations. Those who have worked on FF projects have also publicised their experiences in write-ups on 'practical segment design'.
The key to a well engineered FF project is good segment design. After all, that is the differentiator between a conventional system and fieldbus system. IEC 61158-2 defines a segment as 'The section of fieldbus that is terminated in its characteristic impedance'. Good segment design is about defining the maximum number of devices that will operate on that segment taking into account the maximum length of the segment, which is dependent on the type of cable being used, power distribution, attenuation and signal distortion, to name a few of the things that affect segment design.
For the engineer to undertake segment design the following are required: control narratives, PIDs, plot plans and instrument indexes. From these the engineer will decide on the topology and use the data to calculate the maximum number of devices and segment length. All this must take into account spare capacity and the capabilities of the host station.
Installation influence
Fieldbus installations are less forgiving than conventional installations when it comes to poor workmanship. The majority of problems associated with fieldbus installations are a direct result of poor installation practices, because conventional systems are quite forgiving that these poor practices have been allowed to continue.
However, today there are a number of documents in circulation that detail the requirements of a well installed fieldbus system. A few of these requirements include: termination, use of power conditioner, polarity and grounding rules. A terminator is required at each end of the fieldbus cable to avoid transmission line effects and allow the twisted-pair cable to carry digital signals. With regard to installation the terminator is a simple device, but it is often the leading cause of poor performance in a fieldbus installation.
Another is the power supply. Devices on a fieldbus network should be powered through a conditioner to separate the conventional supply from the fieldbus wiring so that signals are not affected by the power supply. Although it is no longer happening in new installations, there are records of installations that performed poorly where on investigation it was discovered that the devices were powered directly from a 24 V supply.
When it comes to grounding, the 'Fieldbus engineering guide' clearly states: "network cable shields shall be earthed/grounded at one location only – at the field termination assembly (host) end. At the field instrument, the cable shield shall not be connected to the instrument earth/ground or chassis." It is amazing though how many installers have been confused by what to do with this extra shield, which they feel must be connected somewhere.
From an installation design, possibly the biggest differentiator between a fieldbus system and a conventional system is the absence of a cross marshalling panel. This is both a cost saver and means one less complex panel to worry about. Especially if you have poor workmanship, some cross marshalling panels look like patch panels from a phone company.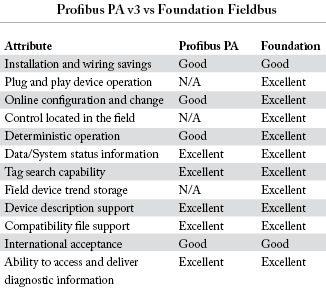 Comparison of two modern fieldbus architectures
Operational influence
The playing field has changed as we seek to do things better and cheaper to be effective in all aspects of business including environmental impact. When it comes to the automation installation we are no longer just interested in the value that we are getting from a device, waiting for it to fail and then replacing it with a similar device.
We are now interested in making better use of that device. We recognise that these devices form part of our asset base and slowly but surely we are paying more attention to asset optimisation and getting maximum value out of these devices.
As a result we have created smart devices. By smart, I am referring to devices that have a microprocessor in them. These devices are taking advantage of the advances in computing power and microprocessor and sensor design.
If you think about it, the computers we use today are constantly monitoring things like processor temperature, fan speed and power usage, but a control valve that costs far more could degrade over time without anyone knowing about it. When it finally gave up, we would certainly know, but by then the only option would be to shutdown the plant and suffer the resulting financial loss while we replace the kit required before we can return to operations. Take a fraction of the available computing power, add the tiny sensors, and you have kit that constantly monitors its state and reports any changes to the asset management system. This way, the shutdown can be planned and the corrective action taken with minimal disruption to profitability. That is what fieldbus installations are all about.
Information storage is another plus factor of smart devices. In the past we needed to keep records of tag, calibration and vendor specific data for each device. Tracking this documentation has always proved difficult, especially since you only need the documentation when you cannot find it. Smart devices on the other hand store this information internally. From vendor to alarm data, this certainly makes sense.
Conclusion
The rate at which technology is changing now is far higher than it was a few decades ago, thankfully though, the rate of progression for the automation industry does not follow Moores law. The 4-20 mA era is coming to an end and fieldbus is at the takeover stage, soon those who are not seeking to understand the benefits and adapting will have the change forced upon them.
A few years ago when Xerox wanted to create a competitive advantage in the printer/copier market, it installed maintenance software on its units. These could then self-diagnose and send a detailed technical report to the Xerox technical team informing them of any problems.
How cool is that. You are an administrator in a company and next thing you get a knock on the door. A Xerox technician approaches, tells you the he received a maintenance request from your copier, and not to worry, it will only take a few minutes since the copier even told him which spare part to bring along. Of course, all this happens before you experience any problems because the unit is using predictive maintenance procedures.
Where are we in automation? Let us just say I have seen a pH transmitter notify the maintenance team that one of three probes in the unit is faulty, and specifically which probe it is. Valves are already informing the maintenance that although they are still in operation they will require attention soon. Of course these are all fieldbus devices.
Interestingly though, these benefits are not sold. Most people who have bought HART devices have not done so because of the capabilities of HART, but because that was the 4-20 mA transmitter that was available. It is like buying a tiptronic car that you only ever drive in manual.
We are no longer interested in just the temperature or pressure reading from a transmitter, we are interested in managing the transmitter and maximising the value we can get from it. That calibration data that goes missing from time to time – it is now stored on the device.
Sources: profibus.com fieldbus.org hmtutorials.com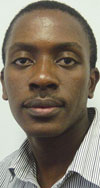 Paul Sikhakhane
For more information contact Paul Sikhakhane, Tongaat Hulett, +27 (0)32 439 4368, paul.sikhakhane@huletts.co.za, www.huletts.co.za
Further reading:
Interference-free Ethernet media converter
October 2019, Phoenix Contact , Fieldbus & Industrial Networking
The new FL MC EF 660 SCRJ media converter from Phoenix Contact enables the connection of cost-effective polymer and HCS/PCF fibre technology. The optical transmission of data via fibre optics is free 
...
Read more...
---
I/O solutions with Profinet redundancy
October 2019, Turck Banner , Fieldbus & Industrial Networking
Turck's Simple IO-Link Device Integration, SIDI for short, simplifies the handling of IO-Link. As its first fieldbus module with Profinet S2 system redundancy, the company has introduced the TBEN-L5-8IOL. 
...
Read more...
---
Tektronix simplifies automotive Ethernet testing with new software
October 2019, Comtest , Fieldbus & Industrial Networking
Tektronix has released two new software packages that greatly simplify Automotive Ethernet testing, debug and protocol decode, for use with its 5 and 6 series mixed-signal oscilloscopes (MSO). Using the 
...
Read more...
---
How fieldbus systems are really selected
September 2019 , Fieldbus & Industrial Networking
The majority of users do not actively select their fieldbus at all – they select the control system vendor and whatever bus system this vendor provides will 'do the job.
Read more...
---
Fibre optic distributor for network expansion on demand
September 2019, Jasco Trading t/a Webb Industries , Fieldbus & Industrial Networking
Jasco's Webb Industries has introduced Telegärtner's new, modular rail-mount fibre optic distributor, which can be extended according to actual needs. The stackable modules allow quick and easy additions 
...
Read more...
---
Integrate IO-Link devices in Profinet
September 2019, Turck Banner , Fieldbus & Industrial Networking
Turck's simple IO-Link device integration (SIDI) simplifies the handling of IO-Link devices in Profinet engineering systems. As the devices are already integrated in the GSDML file of the master, users 
...
Read more...
---
AS-i signal transmission via fibre optic
August 2019, ifm - South Africa , Fieldbus & Industrial Networking
The new AS-i fibre optic repeater from ifm electronic enables AS-interface signal transmission via an optical medium and vice versa. This allows for considerable cable length extension in the AS-i network. 
...
Read more...
---
Next-generation IIoT gateway solutions are transforming manufacturing
Technews Industry Guide: Industrial Internet of Things & Industry 4.0, RJ Connect , Fieldbus & Industrial Networking
Smart manufacturing and digital transformation, coupled with edge intelligence, are enabling manufacturers to increase productivity, reduce downtime, and increase product quality.
Read more...
---
Cisco IIoT solutions meet the needs of industrial organisations
Technews Industry Guide: Industrial Internet of Things & Industry 4.0, Axiz , Fieldbus & Industrial Networking
Technology is constantly evolving, and so are the network infrastructures that support industrial entities.
Read more...
---
Big Data enabled by Omniflex IIoT solutions
Technews Industry Guide: Industrial Internet of Things & Industry 4.0, Omniflex Remote Monitoring Specialists , Fieldbus & Industrial Networking
Omniflex specialises in 'out-of-the-box' remote monitoring solutions based on years of industrial plant networking experience, from last mile connection to mainstream Ethernet backbones. The Teleterm 
...
Read more...
---