printer friendly version
Manufacturing integration, execution and intelligence: Part 4 - Why MES? What you need to know but are afraid to ask
August 2010
IT in Manufacturing

In Part 3, we saw how enterprise manufacturing intelligence (EMI) and business intelligence (BI) complement one another to provide a solid foundation for decision support at the operational and business levels of your enterprise. So far, we have looked at what information technologies are available, what you can expect from them and how they address different parts of the information spectrum. But the hard questions remained unanswered: why do you actually need these information technologies and what would happen if you ignored them? Let us start with MES.
Introduction
While scada gathers data to supervise and control manufacturing and mining automation systems, MES does virtually the same thing (but in a different way) for the company's operational processes. So we could say that MES is 'Scada for Operations'.
This should not come as any surprise since any process or activity needs to follow scada rules: Monitor the process and either change it to conform to specifications or leave it alone if it does. MES elevates this to a higher level but uses the same principles because it needs to reconcile production with business needs. So, in its simplest sense, MES looks at production information and checks if current levels will meet customer demands. If not, it prompts for corrective action to be taken. If production drops, this may be due to equipment issues (in which case maintenance is roped in) or quality problems which may need further investigation. MES is also responsible for inventory management which is a complex dynamic all on its own.
Now, what makes any manufacturer think he could do without such a facility? The truth of the matter is that he cannot. Whether they have an automate MES system or not, every manufacturer and mining company on the planet is performing the MES functions they need otherwise their companies could not operate. From mining the wrong concentration ore to manufacturing product in absence of customer demands is simply bad business. So, whoever you are and whatever you are producing, you are already using an MES system. It may just be pencil and paper or a spreadsheet but you are busy looking at production scheduling with respect to customer demands, quality of products, maintenance implications and inventory management – otherwise your company is sailing without a rudder.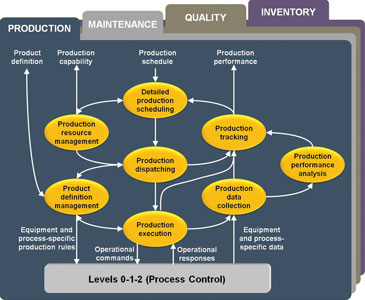 Figure 1. The extensive scope of MES means that no mining or manufacturing enterprise can operate effectively without it
Why manufacturers did not buy MES in the past
Although MES was coined in 1990, 56% of manufacturers who have already implemented an MES (as opposed to the 'default' manual version) did so within the past two years. There may be a number of reasons for this:
* Early MES solutions were monolithic, very expensive, proprietary and inflexible. The nature of business meant that it changed faster than MES solutions could be implemented to address the changes. Today, MES solutions are quite the opposite. They are not monolithic and can be implemented incrementally as needed and ISA-95 standards have contributed to open systems whose information is no longer proprietary.
* Market education about MES led manufacturers to realise that this was nothing new and that MES provided an organised infrastructure that would provide management with production monitoring, execution and decision-support tools that were far more effective than their current methods since they were directly linked to the realities of the shop floor and the needs of the top floor. While clipboards and spreadsheets may work well in some instances, they're not 'on-line' and are prone to human error.
* Caution on the part of manufacturers to buy yet another three-letter acronym (TLA) after some of the 'snake oil' promises of earlier solutions and approaches. After genuine success stories started to be reported, manufacturers cautiously approached a solution they dearly wanted. After more success stories were reported, the avalanche started.
Why manufacturers are buying MES today
Operational benefits
Many of these arise from a much better knowledge of the status and capacities of the company's wealth-creating engine:
* Reduced lead time – through an accurate picture of what is in the pipeline (both incoming and outgoing).
* Lower WIP inventory levels – this is also a corporate benefit since production can be geared to demand and therefore reduce inventory levels.
* Reduced cycle time – a benefit of knowing more about production capabilities and the demands made on it.
* Improved product quality – part of MES is the measurement and management of overall equipment effectiveness (OEE) which deals with the real-time measurement of equipment performance, availability and the quality of product it manufactures. Improvement of any of these three factors alone is known to dramatically improve OEE as well as the bottom line.
* Productive, empowered employees – MES informs people as to their contributions to the overall effort of achieving the company's business objectives. Employees no longer have to work in the dark with no clue as to their contribution.
* Product or materials tracking – this is a key requirement of regulatory compliance and allows for complete product genealogy.
* Enforced regulatory compliance – the progress of processes can be made conditional on conforming to regulatory requirements. This not only makes the company legally compliant but also closes loopholes while providing the necessary audit trail.
* Rapid process upgrades – because of its nature, MES is an excellent diagnostic tool which is useful in optimising processes not just from the mechanical sense but from the logistics viewpoint as well. The ability to answer questions such as 'why did things go wrong?' or 'why did things go right?' leads to reduced scrap or rework and contributes to product and process consistency – a vital component of ISO 9000 certification.
* Reduced paperwork – MES works directly with the sources and destinations of information thereby largely eliminating 'transfer' agents such as clipboards or spreadsheets. This also means that there is no lost paperwork or blueprints.
* Reduced data entry time – since data is collected largely automatically, manual data entry is minimised.
* Informed decision support through improved reporting – dashboards show the real-time status of production, quality, maintenance and inventory and allow for drill-down functionality to greater levels of detail as required. Data is also collated in context and presented in formats that are meaningful and easy to understand.
* Automated management of recipes (process manufacturers) – downloaded production orders and recipes are managed automatically until completion. It is also possible to define and enforce specific equipment, routes, operator and material combinations for a particular work order or product.
* Improved scheduling, including the management of priorities – production scheduling is complex enough without an added layer of difficulty introduced by priorities which can change from hour to hour or day to day. MES helps manage this complexity while considering the impact on other priorities.
* Tracking of key performance indicators (KPIs) – MES monitors the production and associated processes in terms of defined KPIs. This provides the necessary warning for putting things back on track. It is also the reason why MES can be referred to as 'Scada for Operations'.
* Event or exception management – in manual systems, it is difficult to manage non-standard events or production exceptions whereas these are handled automatically by MES. Manual systems also make it difficult to log necessary interventions so that they can be re-used automatically again under the same circumstances.
Corporate benefits
* Improved return on assets – This is a more telling measurement than ROI since it means that maximum asset value is being realised by balancing effective availability and effective utilisation (Figure 2).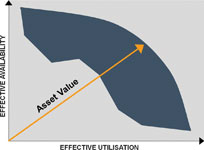 Figure 2. Optimising asset value rather than just availability or utilisation
* Improved business IT and automation IT ROI – ERP systems need links to production, quality, maintenance and inventory information if they are to be fully functional. When MES is missing, this is often prevented from happening as effectively as it could. Similarly, the wealth of information to be found in the historians of automation systems tends to be underutilised or lost without MES.
* Improved customer service – improved delivery-to-promise through improved production control leads to improved customer loyalty. With MES, it is possible to map customer orders to specific production runs.
* Synchronisation with customer demand – another advantage of improved production control.
* Lower inventory-carrying costs – by being able to synchronise production with customer demands, inventory and its expensive floor space is reduced significantly and delivery reliability is improved.
* Lower operating costs – the source of operating costs is often difficult to determine because of the lack of diagnostic tools. Through its customisable reports, MES can help identify the causes of high operating costs.
* Reduced capital expenses – MES allows you to get more from the same assets. Using OEE diagnostic facilities, many manufacturers have been able to determine why their equipment is not delivering the quality or quantity of product it was designed to produce. Rectifying this has obviated the need to add expensive new plant with its attendant disruption.
* Improved regulatory compliance and reduced product liability – auditable product genealogy is a small price to pay for legal compliance and the ability to play on the world stage.
* Informed decision support – MES allows management to make intelligent decisions to influence production and cost management. Also, improving and controlling performance forms the foundation of classic Six Sigma methodology. Another plus of the actionable knowledge provided by MES is easier management of resources, including inventory and personnel.
* Defining and enforcing production procedures and business rules – the capturing and enforcement of best practices provides the basis for predictable, repeatable and efficient processes which are also able to cope with variations or contingencies.
Conclusion
"When manufacturing companies establish flexible, responsive information infrastructures that rapidly respond to changes in product, process, people and procedures, such as those provided by MES, they attain the necessary agility required to compete in today's business climate. The final result is product superiority, increased yields, reduced cycle times and production costs, and accelerated responsiveness to customer needs and market demands – also known as competitive advantage." (Jonathan Kall, founder and president of Interwave Technology.)
The above reasons for getting MES are surely enough. Yet, here is another one: 'Imagine what would happen if all these essential operational and business needs were not being addressed routinely or only dealt with as an afterthought.'
So, why MES? It should be obvious by now.
For more information contact Ugan Maistry, EOH Mining and Manufacturing, +27 (0)11 607 8142, ugan.maistry@eoh.co.za, www.eoh.co.za
Further reading:
Navigate the fourth industrial revolution with PricewaterhouseCoopers
November 2019 , IT in Manufacturing
Using the building blocks of 4IR to transform business processes into manufacturing advantages requires a holistic approach.
Read more...
---
Artificial intelligence in manufacturing – a practical and simplified view
November 2019, Altron Bytes Systems Integration , IT in Manufacturing
Looking at and interpreting data generated during the manufacturing process to find ways to reduce waste, improve quality and increase yield is not new. However, the increased use of digital technologies 
...
Read more...
---
Intelligent data glasses support production
November 2019, Siemens Digital Industries , IT in Manufacturing
Augmented Reality (AR) has arrived in the workplace: for the last three years, a consortium of six companies and institutions chaired by Siemens has been researching the use of augmented reality (AR) 
...
Read more...
---
Siemens launches report on Dawn of Digitalisation and its Impact on Africa
October 2019, Siemens Digital Industries , IT in Manufacturing
Africa needs a digitalisation strategy to compete in the global economy.
Read more...
---
Integrating IT with Operations Technology - a CIO perspective
October 2019, Absolute Perspectives , IT in Manufacturing
Digitisation projects, spurred on by Industry 4.0 and technological advances, have opened up many possibilities to create new value.
Read more...
---
Real-time data increases metal recovery at Peñasquito mine
November 2019 , IT in Manufacturing
At a recent OSIsoft User Conference in California, ARC Advisory Group had an opportunity to learn about a related project at Newmont Goldcorp's flagship Peñasquito gold, silver, zinc, and lead mine in 
...
Read more...
---
The power of data
October 2019, Throughput Technologies , IT in Manufacturing
Gain access to important information with ProSoft's new OPC UA-based gateway and data logger.
Read more...
---
Securing and managing devices the modern way
October 2019 , IT in Manufacturing
Organisations of all types and sizes are bringing vast numbers of devices into their IT infrastructure and networks. Moreover, these devices are not only smartphones, wearables and tablets because the 
...
Read more...
---
Reliable gas production
September 2019, Siemens Digital Industries , IT in Manufacturing
Energy supplier uses Siemens technology for optimum information exchange.
Read more...
---
Automotive supplier relies on Siemens PLM solution
September 2019, Siemens Digital Industries , IT in Manufacturing
Küster Automotive is an internationally active family-run company and a part of Küster Holding. A full-service supplier, Küster manufactures components for the automotive industry. For its production 
...
Read more...
---