printer friendly version
Quarry upgraded whilst fully operational
May 2010
SCADA/HMI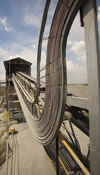 PPC has been on a drive to increase and stabilise its production whilst simultaneously adhering to the relevant Department of Minerals and Energy (DME) and Mine Health and Safety Act (MHSA) standards. Iritron was awarded the tender for the project that included the design of the electrical and instrumentation solution needed to simultaneously upgrade both crushing plants.
Iritron has a long working relationship with PPC's Laezonia Quarry. In 2005, the electrical and instrumentation design for its Super Sand Plant was completed and the new Motor Control Centre (MCC) was built. In 2008 the same sort of project was done on the new Primary and Secondary Crushing Plants. At the end of February 2010, Iritron completed its latest project for PPC – upgrading the Tertiary Road Stone Plant and the Old Primary Sand Plant. The biggest challenge faced by the project team was that the installation of the new cable racking, cables, local isolator panels, safety instrumentation, pull ropes etc, had to happen without impacting on production and with both plants in operation.
This project scope included the drawing up of detailed motor lists in order to design motor starter schematics, manufacturing the MCCs, the calculation of voltage drops and producing cable schedules and a detailed instrumentation design. Iritron also designed the control system, including the PLC programming and scada design/programming. The company also re-designed the protection system on the two cone crushers to utilise new sensitive instrumentation that is directly monitored by the PLC.
Iritron's proposal included the ability to control all the MCC processes remotely via new Wonderware InTouch version 10.1 SCADA systems. This was facilitated by installing electronic motor controllers, soft starters and variable speed drives (VSDs) to operate all the electrical motors and subsystems for each plant. Safety sirens, pull ropes, emergency stops, local motor isolators and various measuring and protection instrumentation to increase the safe operation of the plants were also introduced. A PLC to Wonderware InTouch (touch-panel) control system that is based on a visual representation of the plant completed the configuration.
The old operator stations relied on pushbutton start signals hardwired to contactors and outdated overloads that were interlocked in order to facilitate manual sequence starting. Although this was solid engineering practice many years ago, conducting a faultfinding exercise without drawings on such a system is a time-consuming and frustrating exercise. The new Wonderware InTouch SCADA system allows the plant operator to sequence – start the whole plant with one touch to the screen. Iritron added safety operator acknowledgement icons that remind the operator to check on specific mechanical conditions before a relevant sequence can resume.
Operators receive real-time information on equipment status, safety interlocks, stockpile – and process water levels and electrical drive current levels from the instrumentation in the field. This data is used to prevent overloading of equipment and as an early warning of possible equipment failure.
"We worked in close co-operation with the client to ensure minimal downtime and maximum plant availability," said Iritron's team leader and electrical design engineer, Gideon Roux. "Doing installation work on a production plant that is still running is a difficult and dangerous operation. With a well managed construction crew and excellent co-operation from the PPC team, we overcame all minor challenges which occurred.
Roux elaborated further on the project, "The new angle on the project was that Iritron and PPC engineers decided to throw out the existing cone crusher lubrication panels and introduce new specific instrumentation for the monitoring and protection of the crushers. Flow switches were installed for oil and cooling water flow monitoring. Pressure switches were installed to monitor differential oil pressures, which makes it possible to indicate blocked oil filters. Temperature sensors were used to prevent a cold-lubrication start-up and to monitor return oil temperature. This, added to the fact that the crusher motors are being driven by intelligent bypass-enabled soft starters, gives the client the peace of mind that their most expensive machines are well taken care of.
Roux concluded, "Felix Shezi, the PPC Group electrical engineer, was very satisfied with the end result and he gave the Iritron team '10 out of 10' in our Customer Satisfaction Report. Well done to Gideon Roux (team leader and electrical design engineer), Adrian Cloete (engineering manager), Danie Smit (PLC systems engineer), Renier Greyvenstein (SCADA systems engineer), Etienne van Dyk (instrumentation design engineer) and Edgar Chauke (electrical engineer in training) on a well executed project."
For more information contact Marietta Bettman, Iritron, +27 (0)12 349 2919, marietta.bettman@iritron.co.za, www.iritron.co.za
Credit(s)
Further reading:
Will the IIoT kill scada, or lift it to new heights?
Technews Industry Guide: Industrial Internet of Things & Industry 4.0, Adroit Technologies , SCADA/HMI
Dave Wibberley, managing director, Adroit Technologies, shares his views on where scada is headed in the era of the Industrial Internet of Things.
Read more...
---
Iritron welcomes Oculus into the I3Group
May 2019, Iritron , News
Pretoria-based Iritron, a black economic empowered technology company and subsidiary of the I
³
Group, providing quality solutions in the fields of electrical, instrumentation and control systems engineering, 
...
Read more...
---
Collaborative robots
Africa Automation Fair 2019 Preview, Cobots , SCADA/HMI
Cobots is showcasing its range of collaborative robots. These robots make it simple and affordable for humans and machines to work together without a safety cage. Cobots can easily be implemented in small 
...
Read more...
---
Machines that manage real-time resources
Africa Automation Fair 2019 Preview, Motion Control Systems , SCADA/HMI
iBOS Industrial is changing the way we maintain and respond to machine level events with technology that effectively manages real-time resources (people) from the machine level.    Health and safety, 
...
Read more...
---
New benchmark scada software platform
March 2019, Adroit Technologies , SCADA/HMI
MAPS 4, the latest scada solution for control and visualisation from Adroit Technologies, extends connectivity options, adds user tools and increases the scope of its built-in functionality. The result 
...
Read more...
---
Inductive Automation's I­gnition technology offers potential to ­disrupt the market
July 2018, Mzukulu Technologies , SCADA/HMI
'Ignition by Inductive Automation' is an industrial software platform with a variety of modules that can be combined to create custom HMI, scada and MES solutions.
Read more...
---
New platforms for HTML5 visualisation
Technews Industry Guide: Industrial Internet of Things & Industry 4.0, Phoenix Contact , SCADA/HMI
Easy and flexible implementation of current and future demands.
Read more...
---
Yokogawa's open scada solution
June 2018, Yokogawa South Africa , SCADA/HMI
Scada systems are typically used for supervisory monitoring and control of remote and geographically distributed assets through a more open platform for interfacing with several makes and types of equipment 
...
Read more...
---
Schneider gets smart with new HMI solution
June 2018, Schneider Electric South Africa , SCADA/HMI
In a world where quick access to data has become the key to efficiency, Schneider Electric South Africa's latest innovation in the Magelis range of HMI solutions, Magelis GTU, allows users to create the 
...
Read more...
---
Scada Review 2018
June 2018, Technews Publishing (SA Instrumentation & Control) , SCADA/HMI
The subject projects of this year's Scada Review are a worthy reflection of the effort put in by the respondent end-users, SIs and vendors. It is encouraging to see that even in these times of economic 
...
Read more...
---