printer friendly version
Tankvision - tank gauging re-imagined
April 2010
Data Acquisition & Telemetry

At Endress+Hauser, no one shies away from a challenge.
When the Tanzanian & Italian Petroleum Company (TIPER) approached us to recommend a tank gauging solution for them we upped the ante by proposing a wireless Modbus Tankvision system. Six months later we successfully completed the first ever wireless installation of Tankvision. Endress+Hauser is no newcomer to the intricate business of inventory control, worldwide the company has over 20 years of experience of implementing tank gauging systems in large facilities.
Tank gauging refers to the measurement of product in large storage tanks using level, pressure and temperature gauges; it is used frequently in the petrochemical industry. The information obtained in this way is then used to provide inventory data, assist with internal reconciliations, track movements of product, place orders and detect leakages.
In an effort to overcome the shortcomings of existing tank gauging methods Endress+Hauser developed Tankvision, a state-of-the-art tank inventory system based on open web-server technology. The technology enables Tankvision to make tank walls truly transparent for authorised users without any increased cost per access point. In fact, users can access realtime information about any tank from anywhere in the world! All that is required is a computer, web-browser and Internet access. The user can even group similar tanks from different parts of the world to obtain a view of the worldwide stock of a specific product. The system also enables users to request a variety of inventory reports including trending.
Since its introduction two years ago, approximately 1000 Tankvision Workstation Systems have been installed worldwide, keeping an eye on more than 5000 tanks.
Cost-saving Tankvision solution for TIPER
Tankvision is a far cry from the often imprecise, labour-intensive gauging devices that TIPER was using before Endress+Hauser arrived on site. With 30 bulk storage tanks spread over a 1 km² area, storing roughly 180 million litres of fuel when utilised at full capacity, accurate inventory control was number one on the client wish list. "We looked at all the options and selected on a technical basis rather than price," comments TIPER manager, Piet Niewoudt, on the decision to award the project to Endress+Hauser.
The accurate data which TIPER's new Tankvision system provides now allows the company to better co-ordinate the purchase of fuel with market fluctuations in the oil price. It also helps guard against fuel losses and inaccuracies caused by human error. These benefits alone have the potential to generate enough cost savings to recover the capital outlay of the new system within months rather than years.
SureCross Wireless from RET Automation Controls
The wireless installation facilitated substantial reduction in costs in terms of labour, material and long-term maintenance. Endress+Hauser approached RET Automation Controls to help specify the correct Banner SureCross Wireless product for the application. The SureCross Wireless system is an industrial wireless I/O network that can operate in extreme environments while eliminating the need for costly wiring runs. Analogue, discrete, temperature and serial I/O nodes are available in IP20 or IP67, and intrinsically safe versions for Zone 0 and Zone 20 are included in the product range. Nodes are easily deployed throughout the facility for gathering data to be concentrated at the Gateway. Installation is fast and easy with flexible mounting and power options. Nodes can either be 10-30 VDC powered or FlexPowered with multiyear battery life or solar powered systems providing power for communications and external sensors.
The SureCross Serial DX80 Data Radio was selected and to avoid any delays during the on-site installation phase, the Endress+Hauser project team first conducted a wireless facility acceptance test in South Africa. The experiment passed the test with flying colours, exceeding a 3 km communication radius.
At present, 20 tanks have been kitted out with Tankvision equipment and connected to the central computerised reporting system. The remaining tanks are currently being refurbished and will be connected to Tankvision upon completion.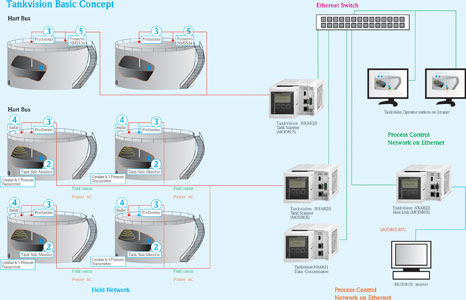 Local support and training
While in Dar es Salaam, the South African team worked closely with Endress+Hauser's Tanzanian agent, Ziyaad Lallmahamood from local company PlyLogix. With his excellent product knowledge and technical skills, Ziyaad is on hand to service TIPER's Tankvision system whenever necessary in the future.
Endress+Hauser also shared the knowledge with its customer. In this instance, local workers received the relevant training to help with the installation of the system resulting in a significant and valuable transfer of skills. Further training initiatives are planned for the near future.
A packaged, turnkey solution
Endress+Hauser presented TIPER with a turnkey solution. From proposing the uniquely designed Tankvision system on paper to overseeing the realisation of this vision on site, the project team left no detail to chance. This now leaves Endress+Hauser with a packaged Tankvision solution that can be replicated anywhere in the world – good news for 'tank farmers' everywhere!
For more information contact Hennie Blignaut, Endress+Hauser, +27 (0)11 262 8000, info@za.endress.com, www.za.endress.com
Credit(s)
Further reading:
Endress+Hauser strengthens ­expertise for advanced analysis
September 2019, Endress+Hauser , News
Endress+Hauser has expanded its centre of competence for advanced analysis in Lyon, France. The Group invested €2 million in a new production facility and office space to meet growing demand in the area 
...
Read more...
---
A real-time alternative to radiometric density measurement
September 2019, Endress+Hauser , Mass Measurement
Currently, in mining applications, radiometric measurement has been the only way to measure the density of slurry. Until recently, and due to the harsh and abrasive environment of slurry, no other measuring 
...
Read more...
---
Smart devices for Ex areas
September 2019, Endress+Hauser , IS & Ex
The Pepperl+Fuchs brand ecom has launched its next generation ATEX Zone 1/21 and Div. 1 certified, intrinsically safe 4G/LTE-Android smartphone – Smart-Ex. The Smart-Ex 02 is a complete new development 
...
Read more...
---
From product design to adoption in the processing plant
August 2019, Endress+Hauser , System Integration & Control Systems Design
Behind the scenes with the product developers at Endress+Hauser.
Read more...
---
Increased plant availability through optimal management of field devices
Technews Industry Guide: Industrial Internet of Things & Industry 4.0, Endress+Hauser , Maintenance, Test & Measurement, Calibration
As a complete provider for process sensory mechanisms, the company has accumulated decades of expertise with a strong range of solutions and services. The new online services enable it to link this expertise 
...
Read more...
---
Endress+Hauser grows significantly
July 2019, Endress+Hauser , News
Endress+Hauser experienced strong growth across all regions, sectors and product areas in 2018. The ongoing digitalisation of the industry and positive development on international markets provided the 
...
Read more...
---
The source of life
July 2019, Endress+Hauser , Analytical Instrumentation & Environmental Monitoring
The water and wastewater industry oversees one of the world's most important resources. This calls for continuous investments in infrastructure and new technologies. When viewed from outer space, the 
...
Read more...
---
Endress+Hauser's IIoT technology masters the mining challenge
June 2019, Endress+Hauser , IT in Manufacturing
Endress+Hauser aims to improve the processes of its customers with regards to efficiency, quality, safety and sustainability.
Read more...
---
Endress+Hauser expands patent portfolio
June 2019, Endress+Hauser , News
The number of patents submitted by the Endress+Hauser Group continues to rise. As reported during the annual Innovators' Meeting held this year in France, the Group submitted 287 initial patents in 2018, 
...
Read more...
---
An alliance for the IIoT
June 2019, Endress+Hauser , News
At Hannover Messe 2019, seven leading suppliers from mechanical engineering, industrial automation and software announced the founding of the Open Industry 4.0 Alliance. With this cooperation, the companies 
...
Read more...
---