printer friendly version
Coca-Cola SABCO: a refreshing look at business
August 2009
SCADA/HMI

Coca-Cola Fortune (CCF), looked to an MES system from Wonderware to manage complexity, improve efficiency and reduce costs at its ­Bloemfontein facility.
CCF's Cheetah plant in Bloemfontein is the first plant in CCF and CCS to implement an MES system. Apart from the usual extensive MES functionality, the system was chiefly to focus on batch tracking, line performance, operations management and overall equipment effectiveness (OEE) functionality.
Business objective
"The objective with the Cheetah plant was to achieve the lowest unit cost in CCF and also to establish a number of new best practices for CCF and CCS," says Ryan van Kerkhof, manufacturing unit manager, Cheetah plant. "Key goals included highest labour productivity and plant efficiency as well as lowest energy cost and water usage."
In order to achieve these business objectives, Cheetah plant needed easy-to-use operator interfaces, data analysis facilities, a ready link to ERP systems (specifically SAP), product traceability, plant visibility, the automation of bottling processes, remote access for support and query and in-plant information display.
Solution selection
System integrator EOH Mining and Manufacturing was selected because of the company's semi-independent nature (linked to the software solution provider Wonderware Southern Africa by virtue of both companies being part of the EOH group), its track record in industry and accumulated knowledge.
The software solutions included Wonderware's range of industrial automation and MES products. The adjacent plant was already using Wonderware's DT (downtime) Analyst and it was decided that the Wonderware offerings provided the required functionality.
System architecture
The system consists of the full Wonderware suite of products. In level 0, Siemens PLCs control the plant. In levels 1 and 2 the Wonderware System Platform provides the infrastructure on which InTouch and Wonderware's MES (level 3) is implemented while also providing integration between levels 2 and 4 (Figure 1).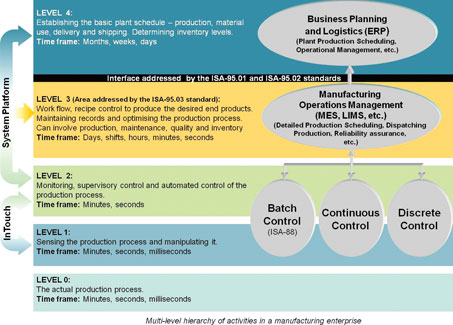 Figure 1. Multilevel hierarchy of activities in a manufacturing enterprise
The Wonderware products in use are based on Wonderware's System Platform which provided the core infrastructure for the rest of the Wonderware MES Modules (operations and performance). Wonderware InTouch is used as a universal workstation which provides process plant control and visualisation into the MES operations and the packaging line performance. The universal workstation concept allows InTouch applications for three different vendors to be integrated into a single environment in order to provide a unified view into the entire plant.
In excess of 20 000 tags are processed. There are two universal workstations with large LCD screens used for displaying line performance KPIs. The operational staff can control the plant as well as view historical process information and plant operational information such as product genealogy.
ISA-88 and ISA-95 standards were extensively used in the development of the process control and equipment models. The information from the production line was converted for visualisation using an OMAC/PackML standard. "Although this is a batch application, Wonderware's InBatch solution was not used but the plant process control software was implemented using the ISA-88 model, leaving the door open for a future installation of InBatch with minimal changes to the process control software should the need arise," says Deon Barnard, MES business development manager at EOH Mining and Manufacturing.
Of the extensive MES functionality available, production execution, inventory control, traceability, genealogy, quality states and yield control were implemented. "The ISA-95 activity models were used to define the production, inventory and quality requirements," says Barnard. "The MES software provided the basis for the business logic and reporting functionality while the graphical user interface (GUI) was implemented using InTouch in its role as a universal workstation. As the system requires minimal input from the operational staff to initiate and control production processes, some of the business logic transactions were implemented using custom ArchestrA objects." (ArchestrA is Wonderware's technology backbone for all industrial, MES and ERP connectivity applications).
The system is integrated with the company intranet on the reporting level, allowing multiple users to access production and line performance information using out-of-the-box reporting tools. Active Factory (trending, analysis and reporting software) and Wonderware Information Server (aggregation and presentation of plant production and performance data over the web or company intranet) are used. Active Factory provides access to production process control information while Wonderware Information Server provides access to plant operation information.
"The result of all this is that operational staff has full access to realtime and historical plant information," adds Barnard. "From a system integrator's point of view, perhaps the most outstanding feature of the system is the ease with which applications, supplied by different vendors using the same standards and platform could be integrated."
System implementation
Implementation started in December 2008 with a targeted sign-off date of end March 2009. The project was preceded by a URS development phase where the customer's project team was enlisted to develop the URS by applying the full ISA-95 standard in mapping Coca-Cola Fortune's MES requirements.
"Some of the challenges that were thrown our way were the integration with non-OMAC compliant OEM equipment, time constraints, a tight budget and integration with Coca-Cola Fortune's IT infrastructure," says Barnard. "The whole system had to be developed, tested and implemented live and offline. Development was done using WMWare technology with a simulation engine to provide the relevant data."
According to Barnard, use of the ISA-95 standard provided an excellent framework for defining the MES requirements and working closely with the customer's outsourced IT division ensured that all internal policies were adhered to with respect to the installation of network infrastructure, switches and fire walls.
"Something else that helped was the use of a unified standard on the system platform and visualisation system which ensured ease of integration and a unified HMI experience for the operational personnel," says Barnard.
Benefits
* Coca-Cola Fortune's Bloemfontein plant now has a nearly paperless environment that will reduce administrative load and that, together with better management information, will drive efficiency up and costs down.
* The plant now has great visibility into its equipment and process performance as well as a high level of process and information integrity.
Conclusion
By reconciling business needs with production realities, MES is the 'information switchboard' for a manufacturing or mining company. Where business processes are interested in financial and customer issues and the shop-floor is interested in production and technical issues, MES handles the information in which the entire company is interested. And, as shown at this plant, by dealing with facts in realtime, MES cannot 'fudge the books' and provides the right kind of decision support information to the right people at the right time.
For more information contact Deon van Aardt, Wonderware Southern Africa, 0861 WONDER, deon@wonderware.co.za, www.wonderware.co.za or Deon Barnard, EOH Mining and Manufacturing +27 (0)11 607 8205, deon.barnard@eoh.co.za, www.eohmm.co.za
Credit(s)
Further reading:
IS3 partners with Izinga Integrated Solutions
September 2019, IS³ - Industry Software, Solutions & Support , News
On 24 July, IS³ – Industry Software Solutions and Support welcomed Izinga Integrated Solutions as a strategic solutions provider for AVEVA's asset performance management (APM) Solutions. Izinga is a 
...
Read more...
---
Will the IIoT kill scada, or lift it to new heights?
Technews Industry Guide: Industrial Internet of Things & Industry 4.0, Adroit Technologies , SCADA/HMI
Dave Wibberley, managing director, Adroit Technologies, shares his views on where scada is headed in the era of the Industrial Internet of Things.
Read more...
---
A technology evolution unfolds at X-Change 2019
May 2019, IS³ - Industry Software, Solutions & Support , News
IS
3
and AVEVA reimagine asset optimisation and new ways of work in tomorrow's digitally enhanced manufacturing plants.
Read more...
---
Collaborative robots
Africa Automation Fair 2019 Preview, Cobots , SCADA/HMI
Cobots is showcasing its range of collaborative robots. These robots make it simple and affordable for humans and machines to work together without a safety cage. Cobots can easily be implemented in small 
...
Read more...
---
Management overview of assets
Africa Automation Fair 2019 Preview, IS³ - Industry Software, Solutions & Support , IT in Manufacturing
IS³ is showcasing the Integrated Command and Control Centre, which can be used as a management overview of assets. This features AVEVA Software Solutions, including Predictive Analytics, AVEVA Net, Control 
...
Read more...
---
Machines that manage real-time resources
Africa Automation Fair 2019 Preview, Motion Control Systems , SCADA/HMI
iBOS Industrial is changing the way we maintain and respond to machine level events with technology that effectively manages real-time resources (people) from the machine level.    Health and safety, 
...
Read more...
---
Understanding how predictive analytics tools benefit power utility management
Technews Industry Guide: Maintenance, Reliability & Asset Optimisation 2019, IS³ - Industry Software, Solutions & Support , IT in Manufacturing
This paper reviews how predictive analytics tools can be applied to both utility operations and maintenance.
Read more...
---
Be part of the ultimate journey at X-Change 2019
March 2019, IS³ - Industry Software, Solutions & Support , News
The 4th Industrial Revolution and the New Way of Work through Edge-to-Enterprise solutions.
Read more...
---
IS³ extends portfolio to include AVEVA's Engineer, Construct and Procure software
March 2019, IS³ - Industry Software, Solutions & Support , News
IS³ - Industry Software, Solutions and Support recently signed an extension to the contract with AVEVA, which now extends its portfolio to include the Engineer, Construct and Procure software solutions. 
...
Read more...
---
New benchmark scada software platform
March 2019, Adroit Technologies , SCADA/HMI
MAPS 4, the latest scada solution for control and visualisation from Adroit Technologies, extends connectivity options, adds user tools and increases the scope of its built-in functionality. The result 
...
Read more...
---