printer friendly version
AngloGold Ashanti
July 2009
SCADA/HMI
The deployment of plant and technology at remote sites in Africa is prone to logistics complications, delivery delays and support problems. AngloGold Ashanti's Geita gold mine in Tanzania is becoming a model of productivity in spite of these challenges
Background
In 2006, decreasing production at the mine prompted AngloGold Ashanti to investigate and to make some hard business decisions. "The loss of skills at all levels throughout the process plant necessitated the implementation of automated control as far as possible to reduce variability and increase control expertise," says Corné Lourens, metallurgical manager at Geita mine.
AngloGold Ashanti decided to call in system integrator Systems Anywhere who had previously successfully addressed such problems for the company.
"One of the first things we found was a control system installation that required significant improvement in order to handle the higher level of automation that the client was looking for," says Systems Anywhere MD, André Vuilleumier. "Some areas like switchgear configuration, did not conform to AngloGold's normal practices; an example in this plant was that a running motor was shown in red because it indicated a hazard but a stopped motor was green because it was in a safe mode." This contradicted Anglo's normal standard indicators. With the skills shortage and high staff turnover the mining industry is experiencing, a standardised control philosophy would be key to consistent control and smoother operations."
While upgrading the control system and improving the scada the project goals included:
* Applying the corporate standard.
* Standardising the control philosophy.
* Improving the alarming and alarm logging for analysis.
* Maintaining a history of production data.
* Providing for realtime and scheduled reporting and the production of those reports.
* Implementing an Expert System based on fuzzy rules to reduce process variation and improve production.
This was to be implemented using the latest technology while also providing for a maintenance plan and 24/7 support of the control system software in spite of the remoteness of the site.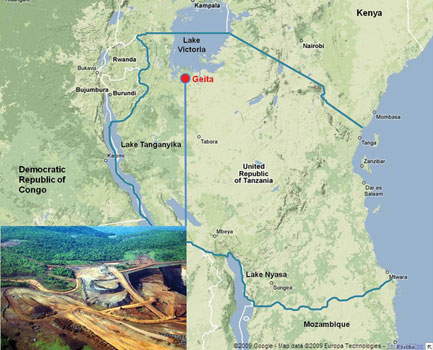 Map by Google Earth
Solution implementation
The software solutions chosen for the Geita mine included an Expert System to be developed by Systems Anywhere which would run with Wonderware's Information Server, Active Factory reporting tool, InTouch scada and Wonderware Historian, all hosted by Wonderware's System Platform based on ArchestrA technology. 17 Allen-Bradley PLCs would be upgraded to cope with the new environment.
"In order to make sure the customer got what was needed and to clarify the system design, we spent a lot of time on the user requirement specification," says Vuilleumier. "We addressed everything from colour coding to access levels and implementation deployment schedules during planned maintenance stops to avoid unnecessary downtime. This was followed by a thin-slice simulation which was approved by the client."
Part of the design was to keep all display screens as uncluttered as possible while providing operators with the drill-down facilities necessary to view any level of detail. "This is especially true of the alarms," says Vuilleumier. "With ArchestrA, alarm groupings and the alarm tree are automatic and we only show the alarms that are relevant to the section being monitored, such as the ball mill. Then, using a Pareto chart, only the top 10 alarms that must be serviced are displayed and the system logs who acknowledged each alarm. Previously, the unscreened flood of alarms meant that they were largely ignored."
According to Vuilleumier, a discipline whereby the maintenance team effectively and regularly attends to the top three alarms in the Pareto chart can result in significant improvements in plant productivity.
Details on analogue alarms and values can be accessed using the same drill-down facility and performance trends can be examined through historical analysis to help predict potential problems on various items of plant – a key feature when spares availability is limited because of the remoteness of the site.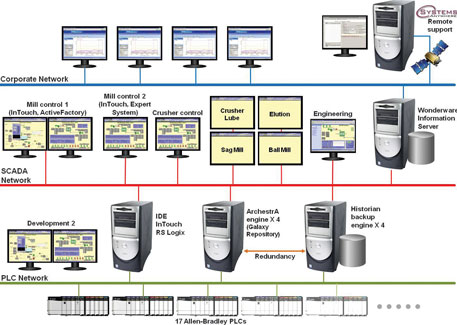 Figure 1. Geita gold mine system topology
Expert system
An expert system can be defined as an operator who is always present, adheres to a control philosophy and maintains it at all times. In this case, such an expert operator needs to monitor the mill load, mill feed, power consumption, trends, etc, and then make a decision on whether to increase or decrease the input feed rate. In other words, this is a multivariable control system which is quite different from the standard PID configuration.
The Expert System takes over the responsibility of changing the set-points from the operator and brings the mill to peak performance by:
* Filtering the process variables individually through a moving average and checking them against their parameters.
* Comparing the result of each variable against the rules that are stored in the database and analysing the result to determine whether the set-point needs to be increased or decreased.
* Applying a time interval that determines how quickly it needs to react to the rule to ensure that production is kept consistent. It is important to bear in mind that, in this environment, quick reactions times are essential but then processes need some time (10 to 30 minutes) to settle before any further corrective action is taken.
"One of the benefits of this approach is its transparency and simplicity," says Vuilleumier. "Complicated mathematics could be difficult to manage at site level whereas the fuzzy-based rules are more easily traced so that operators can understand the control philosophy of the system."

Figure 2. InTouch screen showing a ball mill gearbox's lubrication details (left) and the view from inside the ball mill powered by the two 4 MW motors shown in the graphic
Information delivery
The Wonderware Information Server facilitates the aggregation of large amount of plant data into highly informative production reports tailored to AngloGold Ashanti corporate requirements. This allows management to access the information from site and contribute towards improving their performance.
The Wonderware Information Server is integrated with the company's existing IT infrastructure and Web portals and has helped connect plant personnel so that they can access the entire plant record. Lab data can be manually entered when results are received and it is synchronised in the historian at the time the sample was taken. Individual users at Geita mine have been assigned access to different views/areas beyond their normal scope to allow them to do their jobs more effectively. Displays include KPIs, production reports, trends and published InTouch screens and any information is available in one or two seconds. "Reporting options are unlimited," says Vuilleumier,
Benefits
The project spanned 12 months and the changeover occurred on a live plant during maintenance shutdowns. Realised benefits include:
* The implementation of corporate standards.
* A new roadmap for future projects.
* A state-of-the-art control system with best support and training infrastructure.
* Greatly improved alarming – ensuring safety and logging the triggers.
* The right information allows the right people to improve plant performance even when not on site.
* Identification of bottlenecks (eg, problems with the discharge dilution density).
* Full remote support and fuzzy logic rule changes promote rapid improvements.
"The production rate of the plant will benefit significantly from the upgrade" says Vuilleumier. "Other AngloGold Ashanti sites have benefited similarly in the past and by identifying the bottlenecks at Geita, we are aiming to improve recovery time and throughput."
For more information contact André Vuilleumier, Systems Anywhere cc, +27 (0)11 704 6253, andre@systemsanywhere.com or Deon van Aardt, Wonderware Southern Africa, 0861 WONDER, deon@wonderware.co.za, www.wonderware.co.za
Credit(s)
Further reading:
IS3 partners with Izinga Integrated Solutions
September 2019, IS³ - Industry Software, Solutions & Support , News
On 24 July, IS³ – Industry Software Solutions and Support welcomed Izinga Integrated Solutions as a strategic solutions provider for AVEVA's asset performance management (APM) Solutions. Izinga is a 
...
Read more...
---
Will the IIoT kill scada, or lift it to new heights?
Technews Industry Guide: Industrial Internet of Things & Industry 4.0, Adroit Technologies , SCADA/HMI
Dave Wibberley, managing director, Adroit Technologies, shares his views on where scada is headed in the era of the Industrial Internet of Things.
Read more...
---
A technology evolution unfolds at X-Change 2019
May 2019, IS³ - Industry Software, Solutions & Support , News
IS
3
and AVEVA reimagine asset optimisation and new ways of work in tomorrow's digitally enhanced manufacturing plants.
Read more...
---
Collaborative robots
Africa Automation Fair 2019 Preview, Cobots , SCADA/HMI
Cobots is showcasing its range of collaborative robots. These robots make it simple and affordable for humans and machines to work together without a safety cage. Cobots can easily be implemented in small 
...
Read more...
---
Management overview of assets
Africa Automation Fair 2019 Preview, IS³ - Industry Software, Solutions & Support , IT in Manufacturing
IS³ is showcasing the Integrated Command and Control Centre, which can be used as a management overview of assets. This features AVEVA Software Solutions, including Predictive Analytics, AVEVA Net, Control 
...
Read more...
---
Machines that manage real-time resources
Africa Automation Fair 2019 Preview, Motion Control Systems , SCADA/HMI
iBOS Industrial is changing the way we maintain and respond to machine level events with technology that effectively manages real-time resources (people) from the machine level.    Health and safety, 
...
Read more...
---
Understanding how predictive analytics tools benefit power utility management
Technews Industry Guide: Maintenance, Reliability & Asset Optimisation 2019, IS³ - Industry Software, Solutions & Support , IT in Manufacturing
This paper reviews how predictive analytics tools can be applied to both utility operations and maintenance.
Read more...
---
Be part of the ultimate journey at X-Change 2019
March 2019, IS³ - Industry Software, Solutions & Support , News
The 4th Industrial Revolution and the New Way of Work through Edge-to-Enterprise solutions.
Read more...
---
IS³ extends portfolio to include AVEVA's Engineer, Construct and Procure software
March 2019, IS³ - Industry Software, Solutions & Support , News
IS³ - Industry Software, Solutions and Support recently signed an extension to the contract with AVEVA, which now extends its portfolio to include the Engineer, Construct and Procure software solutions. 
...
Read more...
---
New benchmark scada software platform
March 2019, Adroit Technologies , SCADA/HMI
MAPS 4, the latest scada solution for control and visualisation from Adroit Technologies, extends connectivity options, adds user tools and increases the scope of its built-in functionality. The result 
...
Read more...
---