printer friendly version
Cost-effective pump control solution saves energy
June 2009
SCADA/HMI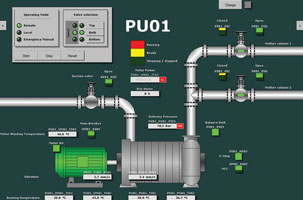 Effective solutions that minimise consumption during peak demand times will save companies money and assist Eskom as it works to build its capacity.
Initiated, managed and commissioned by HVAC International, under the Eskom DSM programme, this project manages the electrical supply by ensuring successful load shift from peak to off-peak times – whilst Eskom addresses the longer term energy needs of the country.
It makes sense for Eskom to fund projects like these, as it helps work towards the position where capacity can meet power demand during the peak periods. Another objective of this project was to optimise the pumping process ensuring minimal influence of end-users' production and daily processes, whilst still maintaining desired power cost savings.
HVAC International awarded the supply and installation of Pamodzi Grootvlei, Shaft 3, automated dewatering pump control system to Pretoria-based engineering company, Iritron. This company's experience in the fields of instrumentation, electrical design, control systems and information systems for industrial plants was a pre-requisite, and its track record made it an excellent candidate. Iritron also has an international footprint with some of its projects being implemented and executed in various countries in Africa and the Middle-East, the USA as well as India.
Based on a previous contractor's incomplete design, the project began in June 2008 and the commissioning was completed in August 2008. The Iritron team worked within a tight schedule and budget. The automation of the pump station was a multistaged project. Iritron removed the existing manual control system and designed a fully automated remote distributed architecture solution. Siemens S7300 PLCs were installed, with TP177 touch panels for operator interfaces underground. An Adroit scada system was chosen as the HMI interface for the control system. This system was then integrated to the REMS pumping (realtime energy management system for pumping systems) system via an OPC server.
First, the PLC controlled remote I/O panels replaced the old local control panels so pumps could be controlled from the scada on the surface. Then, HVAC International's REMS pumping system had to be connected via an OPC link to the scada to enable REMS pumping to have overall control of the pumps.
This system took care of the automatic pump shutdown during Eskom peak times, and sequential start-up of pumps after the peak time period. The Adroit scada system served as the entire interface between the HVAC International's REMS pumping system and the PLC control system. So while the REMS pumping system only needs to communicate with Adroit via OPC, the system can also control any PLC system hardware through Adroit's suite of over 100 drivers.
Chris Bosch from Iritron says: "The pumps were supplied directly from the 6,6 kV lines from the mine substation via HT switchgear and only the most basic status information was available from the motor control centre. We had to make the pump status indicated on the Adroit scada as intelligible as possible to aid the mine in fault finding when a pump trips.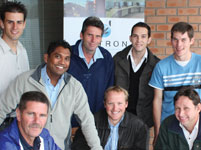 Standing: Chris Bosch, Sabin Nair, Frits Stoop, Willem Schoeman (HVAC International) and Francois du Plessis (all from IRITRON) Seated: Jock Botha (Pamodzi Gold), Gerard Bolt (HVAC International) and Seun Kotze (Pamodzi Gold). Not present but involved in the project: Pieter McLean (Pamodzi Gold)
"Adroit lent itself very well to developing the new design. While there was an existing example from a similar plant, its interface was extremely primitive and the scada was not very aesthetically appealing. Thanks to the WYSIWYG approach Adroit takes to provide graphic functionality, and the powerful interface, it was easy to upgrade the look and feel of the project and take the scada interface to the next level in the little time available for the project."
In Pamodzi's case, the new information available in the control room results in faster response to downtime, and gives early warning before failure. More efficient preventative maintenance is now possible, which is always less expensive than breakdown repair costs.
Benefits of the new system include:
* Electricity cost control via HVAC International's REMS pumping control system.
* Remote supervision and redundancy (local and remote control).
* Centralised control – unlimited potential.
* Problem identification and rapid response.
* Robust communication network.
* Access to realtime information.
* Measurement, verification and automated reporting.
* Monitoring equipment maintenance – reducing breakdowns.
* Improving working conditions.
* Increased productivity.
* Operator friendly interface based on an easily expandable Adroit scada platform.
Credit(s)
Further reading:
Will the IIoT kill scada, or lift it to new heights?
Technews Industry Guide: Industrial Internet of Things & Industry 4.0, Adroit Technologies , SCADA/HMI
Dave Wibberley, managing director, Adroit Technologies, shares his views on where scada is headed in the era of the Industrial Internet of Things.
Read more...
---
Bridging the gap to the Industrial Internet of Things
Technews Industry Guide: Industrial Internet of Things & Industry 4.0, Adroit Technologies , IT in Manufacturing
The Adroit Enterprise IIoT platform is a customisable software platform that enables users to deploy and integrate cloud-based sensor data with normal telemetry data using protocols such as MQTT, Sigfox 
...
Read more...
---
Adroit brings M2M, IoT and IIoT to the industrial world
June 2019, Adroit Technologies , Industrial Wireless
Combining the new IIoT capability with GIS interfaces, situational awareness and alarm management data, all can use the big data and analytical processing capability of Adroit's standard scada Intelligence software package to derive greater insights and value from their processes.
Read more...
---
Iritron welcomes Oculus into the I3Group
May 2019, Iritron , News
Pretoria-based Iritron, a black economic empowered technology company and subsidiary of the I
³
Group, providing quality solutions in the fields of electrical, instrumentation and control systems engineering, 
...
Read more...
---
Collaborative robots
Africa Automation Fair 2019 Preview, Cobots , SCADA/HMI
Cobots is showcasing its range of collaborative robots. These robots make it simple and affordable for humans and machines to work together without a safety cage. Cobots can easily be implemented in small 
...
Read more...
---
Factory automation solution
Africa Automation Fair 2019 Preview, Adroit Technologies , IT in Manufacturing
As the official authorised distributor for Mitsubishi Electric's Factory Automation, Adroit Technologies is profiling a range of products including PLCs, drives, HMIs and robots. These together make possible 
...
Read more...
---
Adroit chooses Sigfox for smart water project
May 2019, Adroit Technologies , IT in Manufacturing
Adroit Technologies has chosen the Sigfox IoT network for a large municipal Smart Water IoT project. Managing director, Dave Wibberley, states that the company is excited about being involved in this 
...
Read more...
---
Machines that manage real-time resources
Africa Automation Fair 2019 Preview, Motion Control Systems , SCADA/HMI
iBOS Industrial is changing the way we maintain and respond to machine level events with technology that effectively manages real-time resources (people) from the machine level.    Health and safety, 
...
Read more...
---
New benchmark scada software platform
March 2019, Adroit Technologies , SCADA/HMI
MAPS 4, the latest scada solution for control and visualisation from Adroit Technologies, extends connectivity options, adds user tools and increases the scope of its built-in functionality. The result 
...
Read more...
---
Operator guided solutions
December 2018, Adroit Technologies , IT in Manufacturing
At parts assembly production sites, where parts are picked from stock, it is almost inevitable that picking mistakes will occur. As parts become more complex and their component types increase, the problem 
...
Read more...
---