printer friendly version
Intrinsically safe
February 2009
Temperature Measurement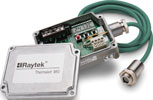 After time, temperature is the second most measured physical unit in production. Temperature is an important indicator of product quality, safety and equipment conditions.
Infrared thermometers in industry
During the last five years the IR sensor market has seen two major trends. Firstly, IR thermometers are significantly lower in cost. The most expensive parts of an infrared thermometer are the lenses and detectors. New lens materials and technologies and mass production of IR detectors for consumer products such as toasters, hair dryers and ear-thermometers, have resulted in lower prices for these two important components.
Secondly, IR sensors are becoming smaller in size. In the past, the measurement of low temperatures made it necessary to use fast (low F number) lenses with relatively large diameters in order to capture enough emitted energy. Progress in detector technology and the use of micro system techniques together with improved preamplifier designs have helped reduce the dimensions of the IR-sensing head dramatically. Because the newer sensors have better response characteristics they require less energy to achieve a usable signal, resulting in smaller lens diameters.
Detector and optics
There are two main groups of detectors found in IR thermometers – thermal and photoelectric or photon detectors.
Thermal detectors change their own temperature in response to heat radiated from the process under measurement. Similar to a thermocouple, this produces a corresponding voltage fluctuation proportional to the change in temperature.
Photoelectric detectors (eg, photo diodes) react to the level of photon bombardment which causes a variation in the current flowing through the device.
Thermal detectors respond less quickly than the photoelectric detectors because they have to feel a temperature change. In the case of thermal detectors slow means time constants in the millisecond range compared to nano or microseconds for photoelectric detectors.
Choosing the correct IR unit
Selecting a device with the correct operating wavelength for the temperature under measurement has a significant influence on the accuracy of the results. It is best to use the shortest possible wavelength and Figure 1 indicates the common wavelengths used with respect to target temperature and error. From this it can be see that to measure above 900°C users should not use the common 8-14 micron types, but should rather opt for a 1 or 2 micron wavelength.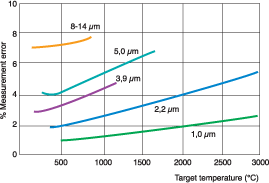 Figure 1
Trends in electronic design
Due to the increasing expectations of users and competition among manufacturers, infrared thermometers are continually being improved and electronic design is an area that has seen the most improvements recently.
Process industries continue to need sensors with higher accuracy and repeatability as they look for ways to cut costs, maximise their production lines and monitor quality. Easy installation, use and maintenance continue to be important, as does the ability to withstand harsh environmental conditions. Field checking and field calibration features are becoming more and more important as companies look to optimise their personnel and equipment resources. Manufacturers need IR sensors with a wide operating temperature range that cover more applications and eliminate the need for cooled housings, to keep the costs down.
Manufacturers are taking advantage of the many developments in other industries to continue to expand the capabilities and efficiencies of the IR thermometer. These advances have made a variety of products readily available and affordable where previously they were only used for specific military applications because of the associated cost.
Advances in the cost/performance ratio of detectors and optics are helping expand the applications where IR can be used effectively and yield a better return on investment. Two colour or ratio measurement and units with built in visual cameras are some of the most recent advances.
Credit(s)
Further reading:
Thermocouples in gasification reactors
November 2019, WIKA Instruments , Temperature Measurement
Gasification reactors, due to their harsh process conditions, place high demands on the instruments used there. Many manufacturers have reacted to this and adapted their products accordingly, but what 
...
Read more...
---
Hotspot detection in pressboard manufacturing applications
October 2019, R&C Instrumentation , Temperature Measurement
In the building industry, there is a product used that is commonly referred to as pressboard, also known as chipboard. Sheets of pressboard are typically 1,2 m x 2,4 m in size and are used in the construction 
...
Read more...
---
Pair temperature probes with different cable lengths
October 2019, ASSTech Process Electronics + Instrumentation , Temperature Measurement
In heat meters for heating systems, two paired temperature probes are usually used for symmetrical installation. These must have identical cable lengths to comply with the legal regulations. Now, Jumo 
...
Read more...
---
Vibration measurement in machine maintenance
October 2019, R&C Instrumentation , Maintenance, Test & Measurement, Calibration
Vibration and temperature are the most common parameters measured on process plants for machine maintenance. Temperature measurement has been around for longer, probably because it was available first 
...
Read more...
---
IR thermometers in the steel industry
September 2019, R&C Instrumentation , Temperature Measurement
In many foundry applications, temperature readings show whether processes are operating within their proper ranges, whether a reheater is too cold or too hot, whether a stand needs adjusting, or how much 
...
Read more...
---
Ten facts about infrared windows
September 2019, R&C Instrumentation , Maintenance, Test & Measurement, Calibration
Infrared (IR) inspection is widely used and quickly becoming indispensable in electrical maintenance programmes. With the advent of IR windows, this procedure is now both safe and cost-effective. However, 
...
Read more...
---
Compact IR camera with industrial accessories
September 2019, Comtest , Temperature Measurement
Comtest has announced an addition to the Optris Compact line of IR cameras – Xi 80 and Xi 400 – with new industrial accessories for use in harsh conditions. The range has a modular design and as a result, 
...
Read more...
---
IR measurement optimises plastic stationary and rotary thermoforming
August 2019, R&C Instrumentation , Temperature Measurement
Background
Thermoforming is the process by which a thermoplastic sheet is made soft and pliable by heating, and bi-axially deformed by being forced into a three-dimensional shape. This process may take 
...
Read more...
---
R&C Instrumentation receives accreditation from Fluke
July 2019, R&C Instrumentation , News
R&C Instrumentation is pleased to announce that the company has received accreditation from Fluke Process Instruments for its Infrared Temperature Calibration facility. This facility is housed in a climate-controlled 
...
Read more...
---
Temperature profiling in aluminium heat treatment
July 2019, R&C Instrumentation , Temperature Measurement
Many high volume production foundries use continuous furnaces for the heat treatment of castings. Cylinder heads, wheels, suspension components and many other aluminium alloy products are placed in wire 
...
Read more...
---