printer friendly version
Avoiding impeller blockages
October 2008
Valves, Actuators & Pump Control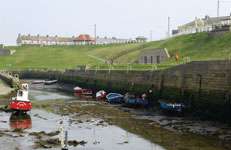 Byzak and Control Techniques co-operation reduces expensive pump downtime in the water industry.
Dirty water difficulties
One of the most costly problems facing water companies is that of 'ragging' (the fouling of pump impellers) a long-standing nuisance that eats up thousands of hours of maintenance time in sewage pumping stations and wastewater treatment plants around the world.
Aside from being a grimy unpleasant task, it is very costly to clear a blocked pump in a dirty water facility; the task involves a maintenance team and sometimes requires a crane. Downtime may extend to several days during which time back-up systems come under additional pressure. A total system failure can result in effluent leakage with implications for the environment, human health, clean-up costs and breaches of legislation.
Thanks to co-operation between contractor Byzak and variable speed drives manufacturer Control Techniques, a solution has been developed which automatically reduces the extent of the problem without requiring human intervention.
"In most instances, the process stops rag build up developing to a point where the pump jams completely," says Andy Laundon, general manager at Byzak. "Only time will tell its long term effectiveness – but trials to date are very encouraging and we believe it will significantly reduce the number of pump blockages and lead to lower maintenance costs."
In fact, the first installation at Seaton Sluice, near Whitley Bay, has suffered no blockages at all in the six months since installation; previously regular blockages were experienced as often as once a week.
Principle of operation
Laundon explains how the new system works: "We were approached by Northumbrian Water to offer a solution to the problem of pump blockages at Seaton Sluice and developed a 'control philosophy' which included different pump operating routines for freeing the impeller as soon as any load change is detected to prevent a potential blockage.
"When we looked at the pump drives market for a suitable product to meet our demanding list of requirements the one with the closest match was Control Techniques' Unidrive SP."
Many of Unidrive SP's attributes matched Byzak's specification. Two in particular proving crucial to meet the speed and accuracy needed:
* True load torque is measured in realtime.
* The drive has a powerful internal PLC with microsecond reaction times.
Solution implementation
Applying Byzak's control philosophy in conjunction with Northumbrian Water's operational knowledge, the project team approached Control Techniques to develop a software package to satisfy the specification and to be suitable for running in the Unidrive SPs on-board PLC.
Its key feature is detection of potential 'ragging' at a very early stage, before it can become a problem, but this is only part of the total solution. The project requirements included developing software to allow for pump characteristics, water condition and other parameters. The new system is capable of detecting load torque changes as small as 1%, indicative of potential ragging, but the torque change trigger point is also user definable to accommodate specific pump characteristics relating to pump size and impeller. Trend analysis of changes over a long period and early diagnosis of drive or pump problems are further features.
When the PLC recognises a change in the pump preset torque profile it initiates a set of procedures designed to clear the impeller. These programmable procedures are tailored to suit client specification and individual pumping station operational requirements.
If the procedures fail to clear the problem (ie, total blockage occurs) then an alarm sequence is initiated. Maintenance engineers assess the situation remotely using Ethernet and Control Techniques' software tools, and then initiate the appropriate remedial manual operations. In addition the system includes programs for routine pipe scouring, which involves running of the pump at full speed to flush through pipe work.
The particular application at Seaton Sluice comprises two 160 kW Unidrive SP drives, both fitted with SM Application modules and communicating with each other via Control Techniques' own high-speed network CT-Net. Each drive controls a single pump and these are configured in duty and standby mode. The drives integrate with Northumbrian Water's existing telemetry system so that performance can be monitored remotely.
The result
"It is working very well," comments Bob Dixon, framework manager at Northumbrian Water. "Seaton Sluice is a critical pumping station and any blockage means immediate call-out. Before refurbishment, regular blockages were experienced – often once a week – and operating expenditure was becoming unacceptably high. The Byzak/Northumbrian Water project team, working with Control Techniques, came up with an extremely effective solution. Since completion of the project no pump blockages have occurred and the station is operating to the satisfaction of everyone at Northumbrian Water."
"This is an excellent example of modern technology providing a cost-effective solution to a long standing water industry problem, giving significant improvements in performance, as well as cutting downtime and maintenance call-outs," concludes Laundon.
For more information contact Bill Tedd, Control Techniques, +27 (0)11 462 1740, bill.tedd@controltechniques.com, www.controltechniques.com
Credit(s)
Further reading:
Demystify plant modernisation
Nidec Control Techniques News
It is now well understood that technology can offer businesses the cutting edge, putting them ahead of their competitors thanks to increased efficiency.
Read more...
---
Smart pumping – a new era in water management and supply
Schneider Electric South Africa Valves, Actuators & Pump Control
Smart pumping can address the high cost and energy usage challenges faced by private and municipality-managed facilities.
Read more...
---
Schubert & Salzer and Macsteel
Macsteel Service Centres Valves, Actuators & Pump Control
The demand on valves, particularly in tyre production plants, is extreme with tyre curing presses working constantly at high temperatures and pressures.
Read more...
---
Chinese LNG tanker fitted with ARCA anti-surge valves
Valve & Automation Valves, Actuators & Pump Control
ARCA anti-surge valves avoid surging by accurately adjusting the gas circulation or blow-off flow, effectively protecting the safety of the compressor unit.
Read more...
---
Electrified subsea actuator for offshore production
Valves, Actuators & Pump Control
Bosch Rexroth has engineered the SVA R2 Subsea Valve Actuator as a disruptive innovation for electrically actuating valves in the subsea process industry. It can replace conventional hydraulic cylinders 
...
Read more...
---
Eliminate bearing failures in TOVs
Valve & Automation Valves, Actuators & Pump Control
Bearing failures are among the highest root causes of failure in triple offset valves (TOV) for tight shutoff applications. This issue is directly attributed to the need to have metal bearings with very 
...
Read more...
---
Locally manufactured knife gate valves
Bearing Man Group t/a BMG Valves, Actuators & Pump Control
BMG and Abrasive Flow Solutions (AFS) play a major role in the local valves sector, through the design, distribution, supply and support of a broad range of slurry related valves.
Read more...
---
Protect your pump and keep it longer
Elemental Analytics Valves, Actuators & Pump Control
Unexpectedly losing a pump is often an expensive or even a dangerous problem in a chemical plant.
Read more...
---
Locally valves manufactured for tailings pipeline
Valves, Actuators & Pump Control
The AFS manufacturing plant in Benoni is equipped with advanced equipment and is supported by specialists who offer dependable technical support to ensure the optimum safety, efficiency and extended service life of every system.
Read more...
---
New flange monoblock with shut-off valve
WIKA Instruments Valves, Actuators & Pump Control
WIKA's new monoblock with flange design integrates a shut-off valve to separate the process from the instrument side.
Read more...
---