printer friendly version
Innovative network design
September 2008
Fieldbus & Industrial Networking
Industrial Ethernet in VW-Golf production.
Increasing expectations on the side of the consumer with regard to safety, environmental protection and comfort, combined with increasing pressure to cut costs poses challenges for the automobile industry. With regard to efficiency, transparency and magnitude, the Wolfsburg production line of the fifth Golf generation of Volkswagen sets new standards; an innovative Ethernet structure services the complete manufacturing facilities and offers increased saving potential. Wolfsburg is the main production location for the fifth Golf generation.
In its fifth generation, the Volkswagen Golf offers more than ever. The compact wagon is available with different types of drives, transmissions, engines, and equipment. But all models are the same concerning active and passive safety. The clear advantage with regard to car body stability and crash safety, which was awarded five stars in the Euro-NCAP-Test, is combined with significant weight optimisation. 140 special robots with a total of 70 metres of laser-welded seams provide body stiffness. The predecessor had only five metres.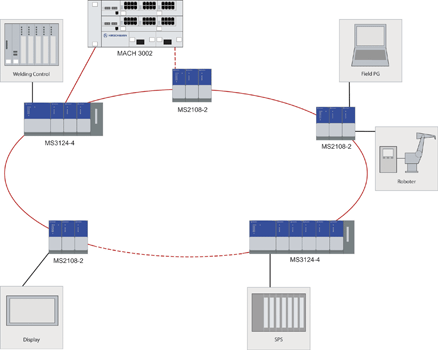 Network diagram
Project parameters
In Wolfsburg, the largest vehicle/automobile plant in the world is combined with the largest production network in the world in the automobile construction industry. For decades the car has been the heart of the city's economy.
The seamless generation change enables the timely planning and completion of new production lines. In 2002, the most modern production plants in halls 1 (pressing plant), 3 and 4 (body shell work), 15b (paintshop), 54 (assembly) and 12 (discharge) were established. The production capacity of the Wolfsburg location covers 4000 vehicles per workday. Dynamics and transparency at all levels of the company must be ensured through realtime, constant communication.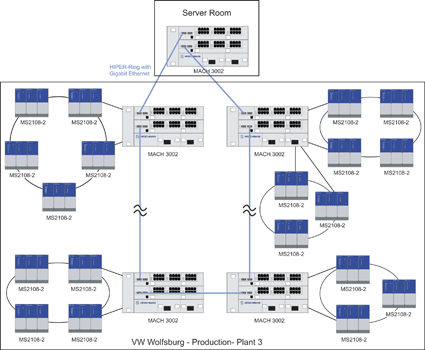 Implementation
Highlights of the chosen network architecture include:
* 16 modular backbone-switch MACH 3000 in redundant HIPER-ring structure span all halls throughout the production plants. For a clean IP-sub network structure in all areas of production, as well as the incorporation of the MACH 3000 systems in the communication network, enabled by redundantly connected M-Router modules. The Ethernet backbone for manufacturing of the body operates at Gigabit speed, using optical fibre for transmission.
* More than 1500 rail-switch systems, MICEswitches mainly MS2108 and MS3124, in over 100 HIPERrings, which are connected to the plant network via redundant optical fibres, link the cells and ensure the highest level of availability.
Requirements
The scale of the system is illustrated by the fact that it has to cater for:
* 8000 operators.
* 1000 robots.
* 10 000 IP-addresses.
* 2900 cars/day.
* Laid LWL cable > 1000 km.
* Exchange and update of components during operation.
* High temperatures.
* High EMV.
* End-to-end management.
* Redundant network design.
* Possibility of simple diagnosis.
For more information contact Profitek Industrial Communication, +27 (0)12 664 4998, fons@profiteksa.com, www.profiteksa.com
Credit(s)
Further reading:
How fieldbus systems are really selected
September 2019 , Fieldbus & Industrial Networking
The majority of users do not actively select their fieldbus at all – they select the control system vendor and whatever bus system this vendor provides will 'do the job.
Read more...
---
Fibre optic distributor for network expansion on demand
September 2019, Jasco Trading t/a Webb Industries , Fieldbus & Industrial Networking
Jasco's Webb Industries has introduced Telegärtner's new, modular rail-mount fibre optic distributor, which can be extended according to actual needs. The stackable modules allow quick and easy additions 
...
Read more...
---
Integrate IO-Link devices in Profinet
September 2019, Turck Banner , Fieldbus & Industrial Networking
Turck's simple IO-Link device integration (SIDI) simplifies the handling of IO-Link devices in Profinet engineering systems. As the devices are already integrated in the GSDML file of the master, users 
...
Read more...
---
AS-i signal transmission via fibre optic
August 2019, ifm - South Africa , Fieldbus & Industrial Networking
The new AS-i fibre optic repeater from ifm electronic enables AS-interface signal transmission via an optical medium and vice versa. This allows for considerable cable length extension in the AS-i network. 
...
Read more...
---
Next-generation IIoT gateway solutions are transforming manufacturing
Technews Industry Guide: Industrial Internet of Things & Industry 4.0, RJ Connect , Fieldbus & Industrial Networking
Smart manufacturing and digital transformation, coupled with edge intelligence, are enabling manufacturers to increase productivity, reduce downtime, and increase product quality.
Read more...
---
Cisco IIoT solutions meet the needs of industrial organisations
Technews Industry Guide: Industrial Internet of Things & Industry 4.0, Axiz , Fieldbus & Industrial Networking
Technology is constantly evolving, and so are the network infrastructures that support industrial entities.
Read more...
---
Big Data enabled by Omniflex IIoT solutions
Technews Industry Guide: Industrial Internet of Things & Industry 4.0, Omniflex Remote Monitoring Specialists , Fieldbus & Industrial Networking
Omniflex specialises in 'out-of-the-box' remote monitoring solutions based on years of industrial plant networking experience, from last mile connection to mainstream Ethernet backbones. The Teleterm 
...
Read more...
---
New PoE tester
July 2019, RS Components SA , Fieldbus & Industrial Networking
RS Components now has available the MicroScannerTM PoE from Fluke Networks, a worldwide leader in troubleshooting tools used in the installation and maintenance of critical network cabling infrastructure. 
...
Read more...
---
Interference-free transmission with the Ethernet media converter
July 2019, Phoenix Contact , Fieldbus & Industrial Networking
The new FL MC EF 660 SCRJ media converter from Phoenix Contact enables the connection of cost-effective polymer and HCS/PCF fibre technology. The optical transmission of data via fibre optics is free 
...
Read more...
---
The safety over OPC UA concept
June 2019 , Fieldbus & Industrial Networking
Another problem with existing safety protocols is the lack of a concept for dynamically establishing and terminating connections. The current state of technology requires that early during the project 
...
Read more...
---