printer friendly version
Benefits of a downtime accounting system
February 2008
SCADA/HMI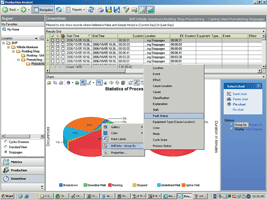 Reducing downtime in production environments is a simple concept that can yield tremendous returns. Production and manufacturing environments are constantly changing and adapting to our dynamic world. With an ever increasing global demand for raw materials, mining operations and mineral processors are under tremendous pressure to increase production rapidly. An effective manufacturing execution system (MES) that collects and organises downtime events to increase visibility and comprehension can help mining operations stay competitive. Furthermore, an MES system does not require the creation of new sites AND can often pay for itself in weeks or months.
A sector of the global economy that is adapting to constant change is the energy sector. As petroleum and natural gas prices continue to soar, coal is becoming a highly sought-after commodity. Mining operations that were unprofitable and shut down years ago are now being reopened and the production levels of active mines are viewed with new scrutiny. At the same time new technologies are making coal plants less expensive and more environmentally friendly to operate.
Current high commodity prices represent a unique opportunity, because any productivity improvements have a larger impact on the bottom line. The net result of the market forces increasing the demand and price for coal combined with the reduction in the production makes every potential hour of production more valuable. The most successful coal producing companies are taking advantage of this opportunity to reduce inefficiencies in their production processes by increasing their asset utilisation, or equipment uptime. By closely monitoring the equipment, manufacturers can better understand the real reasons for slowdowns and stoppages. This understanding can also lead to improvements in equipment functionality, operator training, and preventive maintenance, thereby improving manufacturing processes and the organisation's overall financial performance.
The only way to achieve this understanding is to develop an information system that tracks each downtime event. Tracking each downtime event allows managers or supervisors to graph equipment performance and evaluate total downtime per shift, product and crew.
Using downtime to drive productivity improvement
Basic concepts
A continuous improvement process is essential for optimum productivity. Every continuous improvement process needs an efficient way to assess improvements and track performance. Without performance tracking, any initiative for change will lose momentum and the people involved will lose the motivation to continue it.
The most successful companies start with a simple model that identifies the key downtimes. The top 10 or 15 downtimes are normally addressed and generally provide the most significant improvement over a short time frame, for relatively low cost and effort.
A simple model starts at the highest level of the facility with relatively few business rules - just one for each production line or surge feeding area. This allows the system to collect data on each production downtime, classify it by downtime type and categorise it by downtime cause. This information is then used to remedy the biggest issues in the facility to obtain the maximum benefit in the shortest timeframe. After the initial issues are rectified, the system is then fine tuned to drill down into the lower areas.
Two of the major benefits that organisations have cited for this approach have been:
* The fully automatic collection of when delays begin and end.
* The elimination for operators or other staff to categorise the alarms (alarms are considered to be symptoms - whereas downtime analysis examines the causes).
Approaches
Improving equipment effectiveness is a science with many complex aspects. Over recent years extensive work has been carried out to establish methods for quantifying and reducing production time losses. Some of these have been very complex, working better in certain industries, while others have been very impractical to introduce to plant floors. However, they have in common, the placement of a structured measurement method which can be applied to the gathered data.
Example methodologies and measurements include:
* Lean manufacturing.
* OEE (overall equipment effectiveness).
* TEEP (total effective equipment productivity).
* TPM (total productive maintenance).
* Continuous improvement.
* Asset utilisation.
* Downtime tracking.
Over the last decade, improvement in information and automation systems has dramatically improved the efficiency of production/manufacturing facilities. These systems are very effective in gathering production and quality data automatically. The collection of downtime data, however, has been more problematic to automate and has been dependent on manual entry. New software solutions, such as Citect Ampla, have facilitated the automatic collection of downtime data yet many companies still rely on old methods. The following sections will examine some of the most effective approaches and systems for reducing downtime.
The Citect Ampla product suite of modules assists organisations in contributing to improving equipment performance. The Ampla Downtime is a module that collects, aggregates and presents data relating to the time equipment is not productive. Alone it can provide significant benefits, however, integration with Ampla modules (Production, Metrics, Quality, Maintenance, Tracking, Cost, Planning, Knowledge) can yield tremendous results as a continuous improvement platform.
Downtime accounting systems vary considerably
Downtime accounting systems should have some critical functionality to provide maximum return on investment. In evaluating a downtime system, the following items should be considered:
* Recognition and collection of virtual downtime.
* Automatic capture of events.
* Downtime cause and event analysis.
* Easily configured event(s) categorisation.
* Splitting downtime events.
* Flexible time usage model.
* Business alerts.
* Expansion beyond downtime into a full MES platform.
* ERP integration.
* User-friendly system.
Recognition and collection of virtual downtime
Most plant productivity is not lost from stoppages but results from slowdowns or 'virtual downtime'. A process may not come to a complete halt but is producing at a less than optimum rate, which over time results in significant production loss. A good downtime accounting system will trigger a virtual downtime when the actual production rate is less than the target. When this occurs, the downtime system will integrate the actual and target values to determine the percentage of effective downtime. For example, a virtual downtime with a one hour duration that has an effective downtime percentage of 25% is equivalent to a real downtime of 15 minutes.
Time usage model
The ability to define a time usage model so that the production model is accurately replicated within a downtime system is also important. The time usage model represented in Table 1 demonstrates how production loss can be classified as a function of time. The classifications refer to lost production time which can be attributed to an area of responsibility within the organisation, often referred to as downtime. Operating time could include time when the equipment may be operating, but producing product at a lower rate or quality. The key business driver is therefore to maximise performance rather than actual operating time.
Table 1. Time usage model
Easy to use web-based interface
Having information available without the need to install applications is essential in today's business climate. By having a web based client that integrates Microsoft authentication, users are able to quickly go to a website and see the information they desire in a format they can easily configure.
Conclusion
Whether the continuous improvement programme takes the form of a centralised corporate driven approach or a decentralised project driven strategy, an effectively designed and implemented downtime accounting solution will increase the value of the continuous improvement programme. The downtime accounting system provides a key tool for collecting large amounts of data and presenting them in a user-friendly fashion that facilitates analysis. In addition, its realtime information enables companies to take proactive decisions that can immediately improve productivity. Lastly, experience has shown that most companies achieve ROI in less than six months, demonstrating that a downtime accounting system will drive improvements without necessitating a long-term investment.
For more information contact Dennis Cox, Citect Africa, +27 (0)11 699 6600, dennis.cox@citect.com, www.citect.com
Further reading:
Will the IIoT kill scada, or lift it to new heights?
Technews Industry Guide: Industrial Internet of Things & Industry 4.0, Adroit Technologies , SCADA/HMI
Dave Wibberley, managing director, Adroit Technologies, shares his views on where scada is headed in the era of the Industrial Internet of Things.
Read more...
---
Collaborative robots
Africa Automation Fair 2019 Preview, Cobots , SCADA/HMI
Cobots is showcasing its range of collaborative robots. These robots make it simple and affordable for humans and machines to work together without a safety cage. Cobots can easily be implemented in small 
...
Read more...
---
Machines that manage real-time resources
Africa Automation Fair 2019 Preview, Motion Control Systems , SCADA/HMI
iBOS Industrial is changing the way we maintain and respond to machine level events with technology that effectively manages real-time resources (people) from the machine level.    Health and safety, 
...
Read more...
---
New benchmark scada software platform
March 2019, Adroit Technologies , SCADA/HMI
MAPS 4, the latest scada solution for control and visualisation from Adroit Technologies, extends connectivity options, adds user tools and increases the scope of its built-in functionality. The result 
...
Read more...
---
Inductive Automation's I­gnition technology offers potential to ­disrupt the market
July 2018, Mzukulu Technologies , SCADA/HMI
'Ignition by Inductive Automation' is an industrial software platform with a variety of modules that can be combined to create custom HMI, scada and MES solutions.
Read more...
---
New platforms for HTML5 visualisation
Technews Industry Guide: Industrial Internet of Things & Industry 4.0, Phoenix Contact , SCADA/HMI
Easy and flexible implementation of current and future demands.
Read more...
---
Yokogawa's open scada solution
June 2018, Yokogawa South Africa , SCADA/HMI
Scada systems are typically used for supervisory monitoring and control of remote and geographically distributed assets through a more open platform for interfacing with several makes and types of equipment 
...
Read more...
---
Schneider gets smart with new HMI solution
June 2018, Schneider Electric South Africa , SCADA/HMI
In a world where quick access to data has become the key to efficiency, Schneider Electric South Africa's latest innovation in the Magelis range of HMI solutions, Magelis GTU, allows users to create the 
...
Read more...
---
Scada Review 2018
June 2018, Technews Publishing (SA Instrumentation & Control) , SCADA/HMI
The subject projects of this year's Scada Review are a worthy reflection of the effort put in by the respondent end-users, SIs and vendors. It is encouraging to see that even in these times of economic 
...
Read more...
---
Scada review 2018: Adroit Technologies
June 2018, Adroit Technologies , SCADA/HMI
End-user details
Name:
Raymond Bosch   
Designation:
Electrical foreman cold stores   
Company:
Two a Day Group   
Phone:
+27 (0)21 859 7666   
E-mail:
raymondb@tad.co.za
SI details
Name:
Willie Cameron
...
Read more...
---