printer friendly version
Save energy costs with highly-efficient Delta VFDs
April 2020
Electrical Power & Protection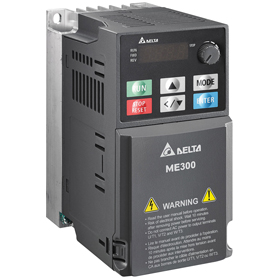 Customers can realise significant savings on their total energy costs by replacing older motor starters with energy-efficient Delta variable frequency drives (VFDs), distributed locally by ElectroMechanica (EM). This has the added benefit of assisting Eskom in reducing consumption in order to alleviate strain on the national grid.
"Energy is always a factor to consider, and should never be taken for granted. We all know the importance of energy efficiency, and the volatility of the supply chain due to the recent spell of load shedding. So now more than ever customers should be thinking about energy efficiency," comments EM product manager, William Cameron.
Delta VFDs feature ease-of-use and reliability, which makes them ideal for markets as diverse as refrigeration, agriculture and manufacturing. "Agriculture is probably the area where we can see growth, not just in the short to medium term, but long term as well. Farmers are under pressure to save where they can, and using industrial control systems to maximise efficiency is a proven way to optimise," Cameron explains.
In addition, Delta's range of control products such as PLCs and HMIs can integrate seamlessly with the VFD range. Using standard I/O or fieldbus solutions, Delta control equipment has a host of special instructions or drivers to assist the user in integrating the drive to a larger network with ease. This greatly reduces development time and, ultimately, cost.
One of Delta's high-end VFDs, the C2000 series, is a high performance Field-Orientated Control (FOC) AC drive. This drive is extremely versatile, with a real built-in PLC, numerous control options, over 300 parameters, predesigned application features, and a large LCD HMI keypad. With a power range from 0,75 to 500 kW (400 V), and a host of optional accessories, it is truly a powerful partner in industry.
Commenting on new developments for 2020, Cameron reveals that EM's much-anticipated updated catalogue will feature a host of new products, including an extended drive range to expand its footprint even further in the market.
Credit(s)
Further reading:
Inverters for PV generation plants
October 2021, Zest WEG , Electrical Power & Protection
As solar energy contributes increasingly to cleaner, renewable energy for a more sustainable world, WEG has introduced its complete ESW line of central inverter stations for photovoltaic power generation plants.
Read more...
---
Electronic transformers for special requirements
October 2021, ASSTech Process Electronics + Instrumentation , Electrical Power & Protection
The Jumo IPC 300 electronic transformer was developed for the control of heating loads that previously required an additional transformer for power control.
Read more...
---
Multifunction timer sets parameters remotely
October 2021, ElectroMechanica , Sensors & Transducers
Machine builders now have the option to set timing and counting parameters on their application timers from a smartphone or tablet – without having to power the timer.
Read more...
---
Dairy expansion uses dry-type transformers
October 2021 , Electrical Power & Protection
Trafo Power Solutions has assisted a large dairy producer in a recent expansion, supplying five dry-type distribution transformers to its facilities in a coastal region of South Africa.
Read more...
---
Controlling power generation with TwinCAT software
October 2021, Beckhoff Automation , Electrical Power & Protection
Researchers are implementing innovative new control methods on Beckhoff embedded PCs running TwinCAT to validate their grid-forming control methods.
Read more...
---
Type 2 push-in surge protection
October 2021, Phoenix Contact , Electrical Power & Protection
The VAL-MS PT surge protective device from Phoenix Contact is its first type 2 protective device with push-in connection technology.
Read more...
---
Energy data acquisition made easy
August 2021, Phoenix Contact , Electrical Power & Protection
By developing the new components of the EMpro product family, Phoenix Contact has found a solution that satisfies most energy data gathering applications.
Read more...
---
Power supply for machine applications
August 2021, Vepac Electronics , Electrical Power & Protection
With vacuum encapsulated technology, MTM Power's focus is on encapsulated, robust, long-life, temperature-resistant and maintenance-free power supply modules.
Read more...
---
Supermarkets heat stores with surplus energy from refrigeration units
Technews Industry Guide: Sustainable Manufacturing 2021, Danfoss , Electrical Power & Protection
With climate change and the pressure for lower environmental impact, supermarkets are rapidly investing in green energy transition.
Read more...
---
Citrus farming with sustainability in mind
Technews Industry Guide: Sustainable Manufacturing 2021 , Electrical Power & Protection
Sunny climate and vitamin C prove to be a winning combination for one of South Africa's largest citrus farmers.
Read more...
---