printer friendly version
Ultra-compact weighing electronics
March 2020
Mass Measurement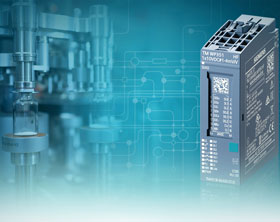 Siwarex WP351 is Siemens' newest solution for intelligent weighing automation.
Measuring 20 mm width by 65 mm height, the module is one of the smallest weighing electronics units available. The device's 1000 Hz sampling rate and processing time combined with a digital output response time of less than one millisecond guarantee high accuracy and repeatability. This capability represents, especially in case of checking scales and high performance filling machines, a big advantage as even within very short weighing times the dosing devices are controlled in an optimal way.
As an integral part of Simatic ET 200SP, Siwarex WP351 can be seamlessly integrated into Simatic and non-Simatic automation systems, making it a clever alternative to traditional weighing terminals. The intelligent firmware gives users the ability to control weighing processes directly from the module, thereby reducing the load on the connected PLC.
Through the Ethernet-connected web server, users can quickly commission and maintain the device – or gain emergency access to the scale in case of a failed or disrupted PLC. Seamless connectivity coupled with device status transparency and full access to all scale data ensures fast servicing that minimises downtimes.
Compatible with almost all analog strain gauge load cells, Siwarex WP351 is a versatile solution for demanding weighing applications such as mixing, filling, bagging, checking, or totalising. Available certification covers legal-for-trade operation according OIML R-51, R-61, R-76 or R-107.
Credit(s)
Further reading:
New motors for servo drive system
Siemens South Africa Motion Control & Drives
The servo motor thus meets all hygienic conditions and can be used for mixing and stirring, dosing and filling, as well as conveying, packaging and storing a wide variety of end products.       The 
...
Read more...
---
Revolutionising space exploration
Siemens South Africa IT in Manufacturing
Sierra Space, a commercial space company at the forefront of creating and building the future of space transportation for low earth orbit commercialisation, has implemented the Siemens Xcelerator portfolio of software and services as the foundation of its next-generation digital engineering program.
Read more...
---
A new era of mass flow control
Mecosa Mass Measurement
The Flexi-Flow is a revolutionary instrument that not only allows you to measure and control gas flow and measure the temperature, but also to measure and control the upstream and downstream pressures in your process with one flexible instrument.
Read more...
---
Load sensor for force measurement
Instrotech Level Measurement & Control Mass Measurement
The instrument provides a solution for non-intrusive level measurements of materials that are subject to uneven build-up, bridging or sidewall collection.
Read more...
---
Machine vision training using AI
Siemens South Africa IT in Manufacturing
Siemens' SynthAI service is using the power of machine learning and artificial intelligence to solve the challenge of training machine vision systems.
Read more...
---
Siemens reconnects face-to-face with partners in Africa
Siemens South Africa News
Recognition for full embracement of Siemens' partner programme, and for exceptional business performance during 2021, was given to partners in select categories.
Read more...
---
Space exploration gets Xcelerator boost
Siemens South Africa News
Dream Chaser, the world's only winged commercial spaceplane, is being designed, engineered, built and tested using Siemens' Xcelerator portfolio.
Read more...
---
Siemens and Aspen join forces to enhance vaccine production for Africa
Siemens South Africa News
A strategic partnership that will enable Aspen Pharmacare to increase production capacity to meet the rising demand for Covid-19 vaccines in Africa.
Read more...
---
Digital prototyping grows sales 500%
Siemens South Africa IT in Manufacturing
Providing a solution
From apple orchards and citrus groves to table grape vineyards and pecan farms, you can find farmers across southern Africa using Red Ant Agri Engineering machines. This is because 
...
Read more...
---
Siemens guides Tiger Brands along its digitalisation journey
Siemens South Africa System Integration & Control Systems Design
The project involved upgrading the legacy plant control system with the implementation of a combined Siemens WINCC scada and PM-addons along with the associated network and control equipment that included communication converters, PLCs, VSDs and ASI modules for various process areas.
Read more...
---