printer friendly version
Real-time data increases metal recovery at Peñasquito mine
November 2019
IT in Manufacturing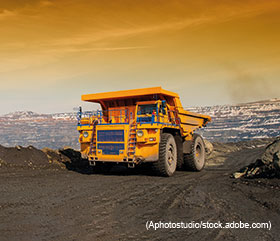 Newmont Goldcorp, the world's largest gold producer, has embarked on a digital transformation journey to optimise its portfolio of high-quality mining assets, reinvest in its people and technology, and drive increasing margins and returns on investment. To this end, the company is exploring a wide variety of digital technologies, including autonomous drilling, drones, mixed and augmented reality, machine learning, and data analytics and visualisation.
At a recent OSIsoft User Conference in California, ARC Advisory Group had an opportunity to learn about a related project at Newmont Goldcorp's flagship Peñasquito gold, silver, zinc, and lead mine in Mexico. According to Derek Shuen, superintendent, electrical, instrumentation, process control & energy management at Newmont Goldcorp, the company had been using the PI System at its flagship Peñasquito mine since 2012 to integrate and historise data sources across the mine site, but was not getting the most value from the data.
In 2017, as part of Newmont Goldcorp's larger "20/20/20" five-year initiative to improve business performance, the corporate IT group hosted a joint workshop in conjunction with OSIsoft. The workshop participants wanted to focus on an area that would be relatively easy to achieve, did not require a capital investment, and had the potential for good results. While several other options were discussed, the team decided that enhanced metal recovery stood out as the best opportunity for quantifiable improvement that could be achieved in a relatively short time frame.
Feed variations require prompt operator response to maximise metal recovery
The flotation circuits at open pit mining operations such as Peñasquito are highly susceptible to feed variations. To optimise metals recovery, operators have to manually adjust up to eight different reagents. The operator's ability to react to feed variations will often largely determine recovery performance.
Previously, the mine had seen its metal recoveries dip for no apparent reason. These types of losses can extend for several hours if the operator is not vigilant or does not have the right data.
Prior to this pilot project, to establish baseline performance targets for the operators, Newmont Goldcorp's Technical Services had used regression analysis on daily, weekly and monthly historical data to correlate and establish baseline targets for economic recovery of the various precious (gold and silver) and base (zinc and lead) from the feed grades. Since Technical Services only updated these equations every two years or so, the targets rarely varied, regardless of the nature of the ore feeds.
For the flotation cell operators, the recovery target was typically pegged at 70 percent and rarely adjusted. Since the established targets were based on past historical data, rather than current operations, they were not really meaningful for the operators who thus tended to operate the cell in a largely 'open loop' manner. This resulted in inconsistent operating practices between shifts and individual operators and the unexplainable dips in extraction performance, resulting in recovery losses.
Developing more meaningful recovery targets
To develop more meaningful recovery targets for the flotation cell operators, the team incorporated the equations previously developed by the Technical Services group into PI Performance Calculations, which generate dynamic baseline recovery targets based on real-time data. On-stream analyser measurements taken at the head and tail of the Sulfide Plant flotation circuit are correlated in the PI System to provide operators with real-time performance trend feedback. In effect, this became what Shuen referred to as "a dynamic simulator" for recovery performance. By operating closer to these targets, the operators would be able to enhance recovery performance. Of course, the operators first had to be trained to understand and make best use of these new data to respond to ore-related and other recovery dips.
PI Vision dashboards were placed on the plant operating floor and in the control room, providing field and control room operators alike with the needed access to real-time performance data. Operators now rely on the trends from the dynamic simulator, which, according to Shuen, serve as KPIs, to guide them so that they can make decisions based on where they should be performing.
Improving metal recovery
Along with other factors, being able to visualise real-time recovery rates resulted in tangible improvements in metal recoveries at Peñasquito's flotation circuit. Now, recoveries meet and exceed the calculated predictions. Once operators were properly trained and understood how to use the data, the company achieved notable performance improvements in economic metals extraction.
Benefits of using the dynamic simulator
According to Shuen, in the first six months of implementation, the mine saw a four percent improvement in zinc recovery alone, not accounting for lead improvements over six months. Over 12 months, the company saw a seven percent overall improvement in zinc recovery. These recovery improvements equated to an additional 4,5 days of production per month. Improved equipment reliability also contributed to improvements, including:
• Improved stability of operator performance.
• Reduction in recovery variations.
• Greater accountability of operators.
• Overall improvement in metal recoveries for lead, zinc, gold, and silver which equates to huge bottom line benefits.
As we've seen, by making better use of its data, Newmont Goldcorp achieved tangible operational and business improvements without requiring additional capital investment. According to Shuen, the dynamic simulator's ability to show operators where they should be at any time, has driven a major cultural change at the mine. "We went from a tool that was largely ignored, to one that operators could not live without," he concluded.
For more information contact Paul Miller, ARC Advisory Group, +1 781 471 1141, pmiller@arcweb.com, www.arcweb.com
Further reading:
Industrial Ethernet switches reflect ongoing evolution at the IIoT 'thin edge'
January 2020 , IT in Manufacturing
Today's digital transformation strategies require data connectivity throughout the architecture to fulfil the quest for improved operations.
Read more...
---
RS Components introduces 4ZeroBox IIoT development system
January 2020, RS Components SA , IT in Manufacturing
RS Components has introduced the 4ZeroBox IIoT unit from Italian manufacturer TOI. 4ZeroBox is the hardware component of TOI's 4ZeroPlatform, a plug-and-play data gathering, processing and reporting system 
...
Read more...
---
IFS study reveals AI investments looming on the business horizon
January 2020 , IT in Manufacturing
Global enterprise applications company, IFS, has announced the findings of a research study into the attitudes and strategies towards artificial intelligence (AI) among business leaders. The study polled 
...
Read more...
---
New Mindsphere app from Siemens
January 2020, Siemens Digital Industries , IT in Manufacturing
With Predictive Services for Drive Systems, Siemens presents a standardised extension to local service agreements. Based on the new Mindsphere Predictive Service Assistance app, it makes maintenance more 
...
Read more...
---
Schneider Electric brings digital competence to mining applications
January 2020, Schneider Electric South Africa , IT in Manufacturing
Schneider Electric is dedicated to the deployment of digital technologies in mining to address the rising pressures on business sustainability and reduced energy consumption. "The organisation has invested 
...
Read more...
---
Micromine assists mining operations in the Industry 4.0 era
January 2020 , IT in Manufacturing
Global trends such as Industry 4.0 are transforming the traditional methods deployed to extract ore from rock. Mining operations are instead looking at innovations such as automated drilling in high risk 
...
Read more...
---
11th annual MESA Africa conference
January 2020 , IT in Manufacturing
I recently attended the MESA conference held at the Zulu Inyala Country Manor.
Read more...
---
Digital twin allows process simulations
December 2019, Siemens Digital Industries , IT in Manufacturing
The high-tech company Grenzebach's portfolio includes the simulation of material flow in complex plants in the glass industry, which it achieves using Siemens simulation solutions. Together, the two companies 
...
Read more...
---
Game-changing digital solutions for mines
December 2019, SKF South Africa , IT in Manufacturing
With digitalisation creeping into the mining industry and transforming day-to-day operations, this sector is enhancing its Industry 4.0 operation and process compliancy. As a preferred supplier of premium 
...
Read more...
---
Protect critical infrastructure and manufacturing plants
December 2019 , IT in Manufacturing
As manufacturers around the world analyse and embrace the importance of being more connected to the IIoT, cybersecurity experts caution that the benefits of being interconnected come with a warning, and 
...
Read more...
---