printer friendly version
The Heartbeat of plant processes
May 2019
Maintenance, Test & Measurement, Calibration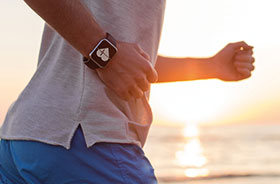 Imagine a production process where devices can diagnose themselves: they would realise when something is wrong or unusual and send an alarm. When, for example, excessive build-up occurs in silos and tanks the devices with this capability would just signal the need to clean a process.
It is as if the field measurement device has a heartbeat: it will react like an additional member of the workforce with specialist knowledge to steer the process in an effective way so as to avoid costly downtime. Users just run their plants and the processes and do not have to spend time checking how the instruments are working. The devices will tell them directly as soon as a problem occurs.
Thanks to Heartbeat Technology, processes that can take their own pulse are already a reality in many level, flow, temperature and analytical applications. Since 2012, self-diagnostics has been standard in several Endress+Hauser flow devices, and the portfolio has just been expanded to include level, temperature and analytical devices. Instruments with Heartbeat Technology excel through permanent process diagnostics and extensive in-situ diagnostic functions. Processes are no longer interrupted if verification is needed, it happens directly in the measuring point without any dismantling.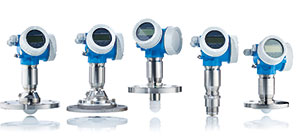 The benefits
The advantages of instruments with self-diagnostics are evident: plants run safer and more cost-effectively without any interruptions. Users are always in control of their measuring points, and verification efforts are significantly reduced with documented in-situ authentication. A simple, predefined procedure guides the person responsible for maintenance through the verification procedure and, at the end, the verification results are documented in an unambiguous manner. The SIL test according to the safety manual and documentation saves time and reduces costs, too. An automatically generated verification protocol supports the evidence demanded by regulations, laws or plant standards.
The data acquired through self-diagnostics facilitates trend recognition for predictive maintenance. A combination of instrument and process parameters provides all the important information for the next steps in maintenance or targeted process optimisation. It is a prerequisite to finding the right strategy for predictive maintenance.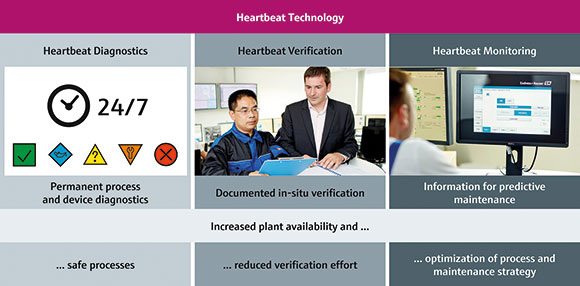 The challenge at a copper mine
An Endress+Hauser customer in the copper mining industry experienced the advantages of self-diagnostics.
The mine wanted to test a smart sensor. There were two clear objectives for the change in level measurement strategy: to increase production by higher ROM bin capacities; and to reduce maintenance costs. To do so, the mine wanted to use the maximum fill heights of a ROM bin used to store unprocessed copper ore. To accommodate this increase, the existing radar level sensor had to be relocated to a new position, where it would unavoidably get covered in dirt. The danger was that the strength of the measuring signals emitted and received by radar level transmitters – a critical factor for precise measurements – would diminish. Under these conditions conventional radar and ultrasonic level transmitters would need to be regularly cleaned, sometimes as often as every hour. It would be time-consuming for the maintenance personnel and the ROM bin would have to be stopped, leading to costly downtime.
The mine engineers wanted to avoid expensive mechanical changes and decided to use the Endress+Hauser Micropilot FMR67 radar level transmitter with Heartbeat Technology. This function monitors the extent of dirt build-up, and reports it back to the control room to alert the personnel of the need to clean the transmitter. The FMR67 also features a PTFE horn protector that reduces the rate of build-up. This means cleaning is required less frequently. The mine achieved its objectives through the use of Heartbeat Technology devices.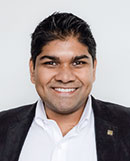 Dhiren Naidoo – Local industry manager Primaries & Metal.
Heartbeat Technology's intelligence tracks the performance of the device at the copper mine to ensure it is not adversely affected by abrasion, corrosion or sticky build-up. Standardised and clear diagnostic messages are sent regarding what needs to be done to maintain the plant economically and as a matter of priority. As the devices run their own diagnostics, proof tests are only necessary in maximum extended cycles.
Furthermore, the automatically generated protocols provided by Heartbeat Technology without process interruption support the documentation according to international standards requested by institutions. For future-orientated predictive maintenance the instruments offer parameters to monitor the performance for process optimisation. Heartbeat Technology is accompanied by two wizards for easy commissioning of foam or build-up detection.
For more information contact Dhiren Naidoo, Endress+Hauser, +27 11 262 8000, dhiren.naidoo@endress.com, www.endress.com
Credit(s)
Further reading:
Emerson monitoring accelerates asset digitalisation
December 2019, Emerson Automation Solutions , Maintenance, Test & Measurement, Calibration
Emerson has introduced the AMS Asset Monitor edge analytics device, which digitalises essential asset data and analytics for better operations performance and improved decision making. AMS Asset Monitor 
...
Read more...
---
Compact design electromagnetic flow measurement
December 2019, Endress+Hauser , Flow Measurement & Control
Whether in the life sciences or in biotechnology, whether in the food or chemical industries – global competition is steadily increasing. Ever more companies are implementing their process facilities 
...
Read more...
---
A good combination for the primaries and metals industry
November 2019, Endress+Hauser , System Integration & Control Systems Design
Endress+Hauser?s measurement devices for flow, level, pressure, temperature and liquid analysis.
Read more...
---
SKF condition monitoring system to boost reliability at biomass electricity plant
November 2019, SKF South Africa , Maintenance, Test & Measurement, Calibration
As a global bearing and rotating technology specialist, SKF South Africa is committed to assisting companies to achieve their productivity goals whilst remaining environmentally friendly. The Multilog 
...
Read more...
---
Eliminate power outages caused by steam leaks
November 2019, Instrotech , Maintenance, Test & Measurement, Calibration
The current system Inspecta FFT, first released some 20 years ago, is reaching its end-of-life, and Instrotech's design engineers felt the time was right to upgrade to newer technology, by combining their 
...
Read more...
---
The complexity of water management in mines
October 2019, Endress+Hauser , System Integration & Control Systems Design
Industries across the globe are encouraged to reuse water as much as possible, and therefore a 'zero liquid discharge' policy has already been implemented by various companies in different sectors.
Read more...
---
Innovating Africa's Industries - tomorrow's technology 4 today's expert
October 2019, Endress+Hauser , News
On 29 August at Emperors Palace Convention Centre, Johannesburg, Endress+Hauser South Africa launched Innovating Africa's Industries (IAI), an exciting new conference established in cooperation with other 
...
Read more...
---
Top data management on the DIN rail
October 2019, Endress+Hauser , Data Acquisition & Telemetry
The data manager family of Endress+Hauser is growing. To meet the strong demand from the market for a smart, compact DIN rail data manager for mounting in the control cabinet, development of the RSG45 
...
Read more...
---
Do more with less and generate ROI with an Integrated Calibration Solution
October 2019, QTEK Instrumentation & Calibration Solutions , Maintenance, Test & Measurement, Calibration
Instrument calibration is just one of the many maintenance-related activities in a process plant, but the last thing anyone needs is to have precious resources wasting time performing unnecessary calibrations 
...
Read more...
---
RS adds food grade maintenance line
October 2019, RS Components SA , Maintenance, Test & Measurement, Calibration
RS Components has launched a new range of food grade maintenance products for use in the food processing and catering sector. All RS Pro food grade products are registered with the NSF (National Sanitisation 
...
Read more...
---