printer friendly version
Modern irrigation control system
January 2020
Motion Control & Drives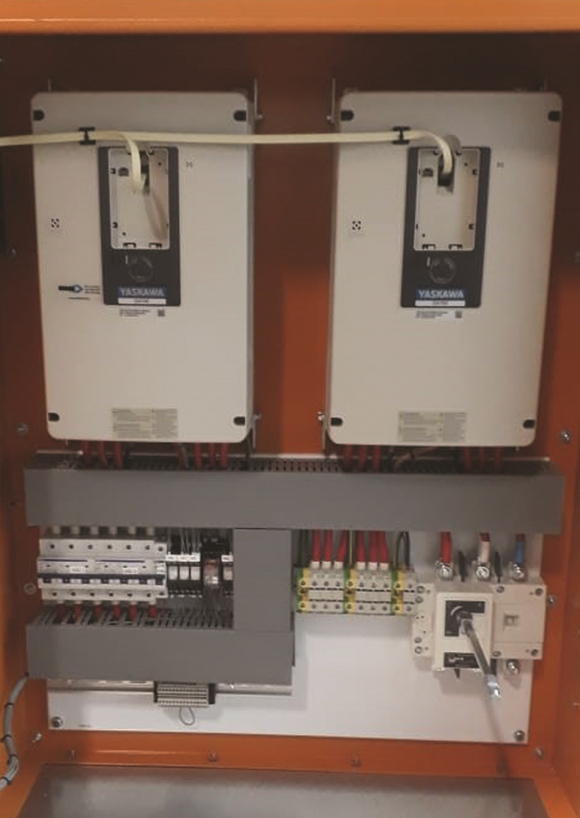 As a preferred supplier to the agricultural industry due to proven reliability and performance, Varispeed designs, manufactures and distributes constant pressure solutions. With a good knowledge of the industry, it has insight into the system challenges and their unique requirements.
Agricultural irrigation systems require precise pressure control in the distribution of water systems to ensure constant pressure; this constant pressure also ensures energy savings. Varispeed's irrigation solutions are specifically designed to protect electrical motors, pumps and piping systems from damage, overloads or pressure surges, all whilst keeping the need for constant pressure, system reliability and energy efficiency top-of-mind.
How it works
Three 55 kW 400 VAC dual VSD modernised pressure control panels are used to control six pumps that pump water from the river into two holding dams. The system on the first dam distributes water onwards via eight single VSD panels which in turn control eight pumps, pumping the water out to irrigations blocks at 6-13 bar water pressure, user selectable based on the farmer's requirements.
Pumping water from the second dam are eight Dual 55 kW 400 VAC VSD panels that control sixteen pumps. The system distributes water into irrigation blocks at 5-16 bar. This configuration is made up of eight sets of two pumps in series that incorporate Varispeed's simple and reliable suction and pressure control software solution, embedded directly into the VSDs thus eliminating the need for costly additional controllers.
Modernised software for a modern problem
Varispeed was approached to provide a reliable irrigation pumping scheme that supplies constant water pressure to grow table grapes. Based on this brief, it was able to produce a system that exceeded all the reliability and performance expectations.
"Our team was able to offer the customer a complete engineered solution that exceeded the performance and reliability requirements they required," concluded Varispeed managing director, Ralph Real.
For more information contact Varispeed, +27 11 312 5252, enquiries@varispeed.co.za, www.varispeed.co.za
Credit(s)
Further reading:
Motion controller with integrated drive control
January 2020, Siemens Digital Industries , Motion Control & Drives
Siemens has expanded its product portfolio of technology CPUs with the Simatic Drive Controller. The new controller combines a Simatic S7-1500 controller with motion control, technology and safety functionality, 
...
Read more...
---
RS Components adds double-acting air cylinders
January 2020, RS Components SA , Motion Control & Drives
RS Components has expanded its offering from factory automation manufacturer Festo to include new double-acting pneumatic cylinders in the DSBC product range. Aimed at both machine builders and maintenance 
...
Read more...
---
Space chair automation
December 2019, Siemens Digital Industries , Motion Control & Drives
The Euro Space Centre adventure park in Transinne in Belgium is home to a number of different simulators, including the original NASA multi-axis chair dating back to the 1960s which was used to familiarise 
...
Read more...
---
Superior Filtration relies on Movidrive
December 2019, SEW-Eurodrive , Motion Control & Drives
An industrial water filtration specialist that has used gearmotors from SEW-Eurodrive for many years has adopted its Movidrive inverters with CMP servo motors and customisable iPOS software for its latest 
...
Read more...
---
New XTS functionality enables novel solutions in machine building
November 2019, Beckhoff Automation , Motion Control & Drives
XTS is a smart transport system of magnetically driven movers that travel along tracks consisting of motor modules and guide rails. A Beckhoff Industrial PC is able to control the movers independently 
...
Read more...
---
Couplings for high torque applications
November 2019, SKF South Africa , Motion Control & Drives
Available in a variety of configurations, SKF's range of Disc Couplings provide affordable, lubrication-free service in medium to high torque applications that require torsional rigidity. These innovative 
...
Read more...
---
Belting for food applications
November 2019, Bearing Man Group t/a BMG , Motion Control & Drives
BMG's Light Materials Handling division supplies and supports a comprehensive range of belting products suitable for the food processing, bottling and packaging sectors. "New to BMG's range of belting 
...
Read more...
---
Sawmills and sugar mills underpin growth for SEW-Eurodrive
October 2019, SEW-Eurodrive , Motion Control & Drives
Ageing sawmills and sugar mills in KwaZulu-Natal represent a significant growth opportunity for SEW-Eurodrive to introduce its latest energy-efficient technology. This is an increasing trend as both the 
...
Read more...
---
Smart devices for Ex areas: Unbelievably simple mistakes that prevent control.
September 2019, Michael Brown Control Engineering , Editor's Choice, Motion Control & Drives
I am often astounded by finding really basic problems with controls in plants, which have operated that way for years. These problems are so basic that one can only wonder at how these controls could 
...
Read more...
---
DLM V-Drives
September 2019, Dupleix Liquid Meters (DLM) , Motion Control & Drives
DLM V-Drives control the latest generation of permanent magnet and standard induction motors. DLM offers the AMC (advanced motor control) and EPC (efficient pump control) V-Drives, which are available 
...
Read more...
---