printer friendly version
What is the future of blockchain in manufacturing?
February 2018
IT in Manufacturing
Blockchain technology has recently come into focus with Bitcoin's prominence as a viable cryptocurrency.
In manufacturing circles, it is probably fair to say that there is some uncertainty as to exactly what future impact blockchain may have on manufacturing systems. A number of cloud solution providers are making significant investments in cloud-based blockchain infrastructure. At the same time, the enterprise software giants are working to accommodate blockchain technologies into certain processes within their core ERP and supply chain products. Middleware, integration and analytics software vendors are building new architectures that can integrate multiple blockchain technologies with existing line of business applications. These new architectures support real-time processing and event management based on the underlying secure blockchain data. The result of all these investments will be an increasingly rich set of tools and techniques that will ultimately enable new manufacturing solutions.
While the landscape is still shifting, manufacturing decision makers are likely to be sceptical of the current industry hype and will be seeking to understand the fundamental principles on which blockchain is based. They will want to find ways to leverage the technology in areas that create competitive advantage, or where their business might be under threat.
What is blockchain?
Blockchain is a distributed database, whereby transactions are securely encrypted and replicated across many computers in multiple copies of a 'ledger'. Once data is written to the chain it is committed into 'blocks' and these blocks are in turn committed to the 'chain'. Owing to the architecture, once data is written it becomes nearly impossible to change, making it a very secure system for storing digital assets (value).
Examples of blockchain platforms are Etherium (probably the best known for business-to-business applications), Hyperledger (an open collaborative cross-sector blockchain project led by IBM) and Corda (a distributed ledger for financial-grade applications).
A blockchain might be implemented publicly, within a consortium of participating partners, or as a proprietary solution within a single organisation. The most high-profile example of a public blockchain is Bitcoin. Crypto-currencies use blockchain technology to provide a way for storing and moving value securely between transacting parties.
Characteristics of a blockchain 1.0 solution
Blockchain technology might have some uses in manufacturing where the requirement needs one or more of the following characteristics:
• Proving ownership – for example verifying ownership of assets, such as money, physical items or intellectual property.
• Attestation – verifying something that happened in the past (e.g. IoT data, a particular version of a legal contract at a particular date, etc.)
• Provenance – proving the origin of assets (for example tracking components through the supply chain into assembled items).
Blockchain 2.0 and smart contracts
The three characteristics above form the basis of Blockchain 1.0, which is basically just a passive storage of data in a very secure way. But innovation has not stopped and Blockchain 2.0 has evolved to incorporate additional capabilities. Blockchain 2.0 now has the ability to also embed business logic within the chain itself. This logic can be embedded in a distributed app platform (known as DAP), sometimes referred to as a 'smart contract'.
A smart contract will have pre-agreed logic and rules which are triggered by certain conditions in the blockchain. For example, a smart contract might accept a cryptocurrency based payment from the customer and then hold back transfer of these funds to the supplier pending a valid goods receipt transaction being recorded elsewhere in the chain. Previously this role would have been fulfilled by one or more banks. Smart contracts, once agreed and implemented, can effectively replace many functions previously done by third parties, avoiding cost and bypassing the traditional middleman.
Latency and performance considerations
Using blockchain technology appropriately is important. The latency and technical overhead associated with writing to the chain probably makes it unsuited for real-time manufacturing applications, such as process control. However, using a blockchain system to record stock movements from IoT sensors where latency is less of an issue is very feasible.
Blockchain-as-a-service (BaaS) in the cloud is now a reality. According to Microsoft, it is now possible to set up a distributed blockchain infrastructure on Azure in just 20 minutes. This makes experimentation and rapid deployment of solutions very easy.
Blockchain as a manufacturing system?
Within manufacturing it is still hard to see where blockchain technology might create the most value. In the short term, we might see crypto-currencies, crowd-funding and simple trading applications emerging that have limited impact. None of these are likely to be immediately transformative to manufacturing, but they might start to impact the macro and regulatory environment. Over time we can expect to see blockchain used in manufacturing for process transformation, supply chain tracking, asset sharing, track and trace, warranty management and more. Ultimately, the end-game will be when the technology itself recedes into the fabric of the overall manufacturing operation and we could move into a situation where 'supply chains' become 'demand chains' and the manufacturing process itself becomes distributed in line with the Industrie 4.0 vision.
Getting started
How should a company get started in blockchain technology and where should the focus be? First, it is important to recognise that the innovation trigger (blockchain) is relatively new and there will be many concepts being tested in the market by start-ups and established companies alike. Like the world of software 'apps' we can expect a proliferation of specialised solutions that address specific problems. Over time, many of these blockchain 'apps' will morph into something else, most will simply disappear. The manufacturing IT manager/CIO needs to prepare now for this very volatile environment. This will require selecting a flexible vendor agnostic platform, implementing solution development and integration techniques that are agile in nature, quick to deploy, and equally quick to destroy.
CIOs and business decision-makers need to be very aware of emerging blockchain-enabled consortiums in their industry. These might emerge in areas such as logistics management, exports, trading, auditing, insurance, financing, etc. These consortiums might eventually dominate an industry segment, or they might simply disappear over time. A strategic long-term analysis of these will be very important to the business. Here, the CIO can take on an education role and make sure the business decision-makers are well informed about the practical application of the emerging blockchain solutions in their industry.
The reality of the future is that there will likely be many blockchains and these will need to be incorporated and orchestrated where they create value for your own organisation. It is no longer too early to be planning your own response to these emerging blockchain technologies.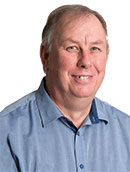 Gavin Halse is a chemical process engineer who has been involved in the manufacturing sector since mid-1980. He founded a software business in 1999 which grew to develop specialised applications for mining, energy and process manufacturing in several countries. Gavin is most interested in the effective use of IT in industrial environments and now consults part time to manufacturing and software companies around the effective use of IT to achieve business results.
For more information contact Gavin Halse, Absolute Perspectives, +27 (0)83 274 7180, gavin@gavinhalse.com, www.absoluteperspectives.com
Credit(s)
Further reading:
Endress+Hauser's IIoT technology masters the mining challenge
June 2019, Endress+Hauser , IT in Manufacturing
Endress+Hauser aims to improve the processes of its customers with regards to efficiency, quality, safety and sustainability.
Read more...
---
Digital transformation status and progress in process industries
June 2019 , IT in Manufacturing
Industry research indicates that there has been more than 75% of the process industry participating in Industry 4.0 technology evaluation or pilot projects, there is still less than 25% of the industry moving beyond the pilot phase.
Read more...
---
Does edge computing have the edge?
June 2019, Omron Electronics , IT in Manufacturing
Implementing artificial intelligence in industrial manufacturing
Read more...
---
Faster results with a digital twin
June 2019, Siemens Digital Industries , IT in Manufacturing
The high-tech company Grenzebach's portfolio includes the simulation of material flow in complex plants in the glass industry, which it achieves using Siemens simulation solutions. Together, the two companies 
...
Read more...
---
Data, light and the smart factory
May 2019 , IT in Manufacturing
The role of lasers in the Fourth Industrial Revolution.
Read more...
---
Planning for digital transformation
May 2019 , IT in Manufacturing
As we've learned, digital transformation can be a challenging, if necessary, journey. At each year's Forum, we learn more about how pioneering companies are overcoming these challenges and the associated 
...
Read more...
---
Paving the way for IIoT
Africa Automation Fair 2019 Preview, Phambili Interface , IT in Manufacturing
Phambili Interface is the sole southern African distributor for Weidmuller connectivity and interface products. A highlight is the perfectly coordinated Weidmuller u-Mation portfolio, which paves the 
...
Read more...
---
Barrier-free communication from Zone 0 to the cloud
Africa Automation Fair 2019 Preview, Beckhoff Automation , IT in Manufacturing
Founded on PC-based control, Beckhoff's automation systems are ideal for implementing connectivity in production environments in line with current IIoT concepts. Because of their interoperability, openness 
...
Read more...
---
Industrial cybersecurity for industrial control systems
Africa Automation Fair 2019 Preview, Profitek , IT in Manufacturing
The Hirschmann Tofino provides an advanced industrial solution that solves many of the most challenging energy-specific cyber and physical security challenges. The easy-to-deploy appliance protects against 
...
Read more...
---
Augmented and virtual ­reality for automation
Africa Automation Fair 2019 Preview , IT in Manufacturing
bizAR Reality develops custom augmented and virtual reality solutions for businesses. The company has successfully designed, developed and deployed award-winning technologies across multiple industries. 
...
Read more...
---