printer friendly version
Risk management in automotive manufacturing
January 2018
IT in Manufacturing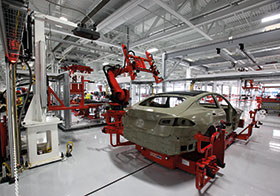 In automotive manufacturing operations, risks that go unaddressed can lead to missed production targets, safety incidents and vehicle recalls.
Safety hazards, ageing assets and security threats can negatively impact on business, including employees, revenue, plants, intellectual property, vehicle quality and customers. They also risk tarnishing the company's brand and reputation – potentially to the point where they erode customer trust or loyalty.
To prevent risks from reaching this point, management efforts should focus where the problems can be controlled – the industrial automation infrastructure. Organisations can help improve risk management by setting their sights on four key areas: safety, quality, obsolescence and security.
Safety: focus on the three Cs
While industrial safety is vital in any automotive operation, it is often viewed as a costly burden, at odds with productivity. But that need not be the case. Best-in-class manufacturers, defined as the top 20% of aggregate performance scorers, have been found to achieve higher OEE and less unscheduled downtime, while experiencing less than half the injury rate of average performers, according to Aberdeen Group research. Top performers also experience far fewer workplace accidents than average performers – to the tune of one in 2000 employees versus one in 111 employees.
So, what are best-in-class manufacturers doing to excel in operational excellence and safety? They share a common set of best practices that can be grouped into three core pillars – or the three Cs – of an industrial safety programme:
1. Culture (behavioural).
2. Compliance (procedural).
3. Capital (technical).
Of course, it is not enough to merely focus on these pillars, the top performers strive for excellence in each one of them.
From a capital standpoint, for example, too many automakers today are forced to shut down machines for safety reasons if a problem occurs on the line. But in certain instances, contemporary safety technologies can be used to keep a machine running at a designated safe speed, even when the safety door is open.
To see where an automotive manufacturing operation stands in each of the three safety pillars, consider using the Safety Maturity Index tool from Rockwell Automation. It measures current performance and provides recommendations for improvement, if needed. The tool is free to use at https://tinyurl.com/y9vvov45
Quality: get better visibility with MES
Quality can never be sacrificed, even as production targets increase and workforces turn over. Amid these changes, one of the best ways to maintain quality is with real-time information visibility.
Modern MES software can harness the data that has long been buried in operations to help improve quality management and reduce process variability. For example, it can capture data on process results, defects and attributes to help your key requirements, such as visual defect tracking, statistical process control and root-cause analysis.
Genealogy and track-and-trace applications in an MES also can give new insights into processes, production events and quality information. The applications offer forward and backward traceability to identify upstream or downstream quality issues. And they can provide product location and as-built data to help limit the scope of recalls.
Beyond data collection, an MES with an error-proofing application allows enforceable workflows, which can help verify workers consistently build vehicle assemblies and sub-assemblies to specification.
Should errors occur on the production line, MES hold-and-quarantine capabilities can be used to manage affected vehicles, which supports the ISO 9001 and TS16949 automotive quality initiatives. Ultimately, it could help prevent defective and potentially dangerous vehicles from leaving production facilities and reaching customers.
Manufacturing-process quality control was a priority for Guangzhou Automobile Group, one of China's top 10 automakers, when it implemented a modern MES. The company uses its MES to perform defect control, and to carry out inspections and verification of quality issues. The MES also collects key component numbers and binds them with vehicle numbers, forming a genealogy record for every vehicle to help confirm they are produced to standard.
Obsolescence: assess your assets, identify risks
Equipment and software obsolescence can result in downtime and lost productivity. The best way to tackle obsolescence is with proactive life-cycle management. This includes working to identify obsolescence risks that exist today, as well as planning to facilitate easier maintainability of legacy equipment and access to spare parts.
The best place to begin is with an assessment of all assets. Many companies attempt to do this on their own, only to discover the cost. They sacrifice an experienced engineer for several months simply to collect a baseline of hardware and software information for a single plant.
An installed base evaluation (IBE) service is often much more efficient. It can collect and aggregate hardware and software data across multiple plants in just a few weeks. What's more, IBE services also provide reports that offer guidance on where critical risks exist. A software inventory, for example, could help uncover potential compatibility risks between versions as systems are connected or services updated.
The findings from these activities can then be shared across multiple functions. Maintenance personnel, for example, could receive a report comparing installed equipment versus storeroom inventory to improve spare-parts management.
Security: go in-depth
Being more connected requires the ability to get data to and from machines and people – at every level, in any location and in the right context – in a secure manner. This can be achieved with three key steps:
First, conduct a security assessment to understand your risks and vulnerabilities, and to identify the mitigation techniques needed to help bring your operations to an acceptable risk state.
Second, adopt a defence-in-depth (DiD) security approach. DiD security establishes multiple layers of protection by addressing security at six different levels: policy, physical, network, computer, application and device.
Finally, work with trusted vendors that share your security goals. Before selecting vendors, request disclosure of their security policies and practices. Vendors should be taking steps to address security within their own operations, such as providing security training to employees, and in the products they supply to you.
Daimler Trucks North America, for example, used aspects of the Converged Plantwide Ethernet (CPwE) validated design guides from Cisco and Rockwell Automation for its network architecture design and deployment. This helped the company create a converged, plant-to-business network that provides secure and reliable connectivity across the shop floor and in office areas.
The power of prevention
Manufacturers may not be able to stop every problem in their automotive operations. But, they can reduce the likelihood of them occurring by focusing their risk-management efforts on where the risks originate. Proactively leveraging existing investments and infrastructure will help better protect the organisation's people, brand and business performance.
For more information contact Ian Jacobs, Rockwell Automation, +27 (0)11 654 9700, ijacobs@ra.rockwell.com, www.rockwellautomation.co.za
Credit(s)
Further reading:
Security certified IIoT edge gateway
Omron Electronics IT in Manufacturing
The DIN-mountable device can be installed in machine control panels to provide remote access for on-demand, real-time servicing of industrial equipment.
Read more...
---
EPLAN relegates device data DIY to history
EPLAN Software & Services IT in Manufacturing
With the new Data Portal Request Process, customers can order individual device data in Data Standard quality using a credit system.
Read more...
---
Recovering from industrial data disasters
Absolute Perspectives IT in Manufacturing
Aside from bringing production to a sudden halt, there are often safety and environmental implications when shutting down a plant.
Read more...
---
EtherCAT conformance tool updated
IT in Manufacturing
The CTT now allows read and write access to the PHY registers, which is convenient and rarely supported by other tools.
Read more...
---
Carmakers look to AI/ML to achieve sustainable manufacturing
IT in Manufacturing
ML supports component quality inspections using camera data to check assembly processes and sequences in terms of complexity, speed and accuracy.
Read more...
---
The most common cyber threats in the industrial environment
Rockwell Automation IT in Manufacturing
Rockwell Automation's cybersecurity portfolio strategic growth leader delves into this topic in a recent blog post.
Read more...
---
Deploying IT into the factory floor environment
Omniflex Remote Monitoring Specialists IT in Manufacturing
The ongoing debate on whether OT and IT should be integrated has never been more intense. Closing the gap between the two has many benefits, not least of which are efficiency and profitability managed in near real time.
Read more...
---
PACTware further refines user interface
VEGA Controls SA IT in Manufacturing
Optimising a user interface for multiple sensor equipment manufacturers is possible in such a way that industrial users can use it similarly to everyday smart devices.
Read more...
---
EPLAN Marketplace networks users and service providers
EPLAN Software & Services IT in Manufacturing
The free online platform is divided into engineering services, module manufacturing services and general consulting sectors.
Read more...
---
Condition monitoring software gets asset health boost
Emerson Automation Solutions IT in Manufacturing
The newest version of Emerson's AMS Machine Works adds support for embedded, automatic analytics at the edge using patented PeakVue technology.
Read more...
---