printer friendly version
Clever switching devices cover all application ranges
October 2017 Operator Interfaces, Switches & Relays Perimeter Security, Alarms & Intruder Detection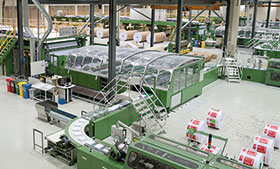 It is hard to imagine a world without switches and the portfolio from Phoenix Contact contributes to automated and therefore cost-effective production. When examining the importance of switching devices in automation technology, it quickly becomes clear that although unspectacular, they influence the function of the overall system. In the world of interfaces, important technological developments have taken place almost unnoticed with relay and semiconductor switches, which decisively influence the performance of modern automation systems. It is therefore time to present the actual stars of the automation world with their special performance spectrum. The individual features of the switching device are adapted either specifically to the variety of the respective applications or designed so universally that they can serve a range of applications equally.
Coupling relays
As a universal link between controllers and field level, top hat rail mounted coupling relays serve as potential separation, power amplification, and contact multiplication. The compact, modular structured relay system PLC-Interface saves a lot of space in the control cabinet, and offers the right solution for every application thanks to its comprehensive portfolio. Mounting and wiring are facilitated and sped up by the system accessories with plug-in bridges for convenient potential distribution, marking material for a unique designation, as well as adaptors for quick connection with the controller. Special sensor and actuator versions are used to bridge the supply of the connected periphery directly to the coupling relay. In this way, all connections are at the interface so that separate potential distributors are unnecessary.
Best electric key values, in combination with a long service life and trouble-free replacement of the relay in the case of wear, ensure the high reliability of the automation system. Contrary to the coupling relay from modular systems with pluggable input circuit, the PLC relays are always equipped with an integrated circuitry, for example, for protection against polarity reversal and limitation of the switch-off overvoltage of the coil. Safe isolation between input and output in accordance with EN 50178 prevents danger to persons and machines. IP67-proof relays and optocouplers are reliable in nearly all applications against external influences such as moisture, dust, or aggressive ambient conditions. The sealed housing keeps the harmful influencing factors away from the relay mechanism and the contact surfaces.
Programmable logic relay system
As soon as additional intelligence or independence is demanded, the programmable logic relay system PLC Logic is employed. It is simply plugged onto the standard PLC-Interface as a compact small-scale controller. Sixteen inputs and outputs, installed within an overall width of only 50 mm, manage the automation tasks in the smallest space. The basic module can be extended by two extension modules, allowing up to 48 I/O signals can be acquired and switched. If individual relays have reached the end of their service life, the user exchanges them within seconds without having to replace the entire control unit. On request, wiring of the PLC logic can also be done efficiently with the push-in connection technology. For this, solid conductors and conductors featuring ferrules are plugged into the clamping part pockets without the need for tools.
The intuitively run software Logic+ allows for a quick programming of the logic relay systems, which any electrician can carry out without special training. To do so, he only needs to have general knowledge of circuitry and digital technology. The programming languages ladder diagram (LD) and function block diagram (FBD) are created, for example, by drag & drop selection of the respective function blocks and their connections. The entire program can then be simulated and tested both offline and online. The representation of PLC logic in the hardware editor supports the easy operation. The scope of services is rounded off by wireless access to process data by Bluetooth via a PLC logic app installed on the smart device, as well as optional adaptable gateways for the conventional fieldbus systems. The logic relay system can be used to implement in particular remotely distributed or functionally secondary control units quickly and conveniently. The scope of application ranges from building automation, such as blinds, ventilation and lighting, to decentralised machines or system components in factory automation.
>b>When timing is what matters</b>
Rifline Complete is the perfect solution if the user needs pluggable standard coupling relays with up to four changeover contacts. From the 6 mm narrow closer to the robust 3x16 A contacts, the industrial relay system encompasses all tried and tested designs. As with the PLC relay, uniform plug-in bridges are available here for potential connections, universal marking material, as well as adaptors for easy connections to the controller. The push-in technology allows for quick wiring without tools. If necessary, the controller side is protected by pluggable input modules against high induced voltages, the switch status of the relay is signalled by LED or the coupling relay is turned into a time relay in an instant, by plugging on a multifunctional time module. From three time functions, the user can select a time range from 0,5 seconds to 100 minutes.
If the application requires easily configurable time functions, the timer relays of the ETD product range show their strengths. Independent of the control level, they take over specific time sequences and control processes precisely, which is why the ETD modules often present an economical alternative to the PLC. The mere 6,2 mm narrow time relays, which can be connected by push-in technology, can be conveniently adjusted by an illuminated thumbwheel. In this way, both the compact and the multifunctional variants fulfil all requirements in terms of precision, easy handling and varied setting possibilities.
Controlling and stopping movements according to regulations
In the field of drive technology, general conditions different to the ones described above need to be realised. As soon as machine and system components move, safety and control over the dynamic processes are what matters. Nevertheless, the corresponding devices should require little space, provide high performance and function reliably. The motor starters from Phoenix Contact show what optimisation potential can be accomplished using the Contactron Hybrid technology. Due to the parallel use of electromechanical contacts and semiconductor switches, the overall width of a complete switching unit is only 22,5 mm. The unit contains the reversal function, the motor protection, safe shutdown up to SIL 3 and PL e, as well as the communication connection, so that up to 75% space is saved in comparison to conventional technology. Internal load and locking circuits as well as push-in connection technology also lower the wiring effort by about 75%. The microprocessor-controlled combination of robust relay technology and wear-free solid-state technology extends the service life of the motor starter by 10 times in comparison to electromechanical switches.
If an almost unlimited service life with very high cycle frequencies is necessary, e.g. for switching heaters or lighting, the fully electronic switching devices of the ELR product range are recommended. Whether single or three-phased, the devices ensure continuous maintenance-free operation of the system or machine thanks to their freedom from wear. The resistance to vibrations and pollutants allows them to be used in all industrial fields. The ELR modules are characterised by their integrated interlock and load switching, as well as by easy and quick wiring.
Safety relay modules
When it comes to the protection of persons and machines, the safety relay modules prove themselves as essential components of the application. From emergency stop to speed monitoring, the PSR product range implements the requirements of numerous industrial fields while saving space. The space requirements in the control cabinet can be further reduced with the PSRmini coupling relay, which features certified force-guided contacts in accordance with EN 50205. At the same time, the narrowest SIL coupling modules in the world encompass the performance of devices in standard overall width. The compact housing dimensions result from a relay technology that has been newly developed by Phoenix Contact. The minimised elementary relay installed in the coupling module is also impressive due to the low power consumption of its drive system as well as large power density and system availability. The optimised load contact ensures a high short-circuit withstand capability. Through its compatibility with various sensors and controllers, the PSRmini shows that it is optimally suited for use in machine building and the process industry. A comprehensive approval package allows the use of the safety relay modules also in areas where the ambient conditions set requirements going beyond the standard.
Control is essential
Even though we trust the fault-free functioning of the system, it is still essential to monitor important system parameters. This is why the monitoring relays of the EMD product range record all important parameters such as voltage, current, performance, and temperature. They can be conveniently adjusted using rotary switches mounted on the front of the housing. Deviations from central setpoint definitions are reliably reported, which ensures the desired process sequence. For many users of monitoring relays, control of the input voltage during the feed-in in machines is a top priority, because voltage fluctuations in the mains power supply or an incorrect phase sequence can cause damage to the installed components. The EMD modules therefore detect faults early during operation, in this way avoiding unplanned machine or system standstills. The relays themselves can be clearly diagnosed by status LEDs.
Technology should not become an end in itself. If it follows the application needs then the derived product solutions will be optimally suited for the end user. Against this backdrop, the various switching devices from Phoenix Contact offer decisive advantages which have become essential in most industrial areas.
For more information contact Kevin Preston, Phoenix Contact, +27 (0)11 801 8200, kevinp@phoenixcontact.co.za, www.phoenixcontact.co.za
Credit(s)
Further reading:
Surge protection for electro-mobility
July 2020, Phoenix Contact , IS & Ex
The market for electric cars is growing exponentially and automobile manufacturers are increasingly focusing on electro-mobility. However, surge protection also has a part to play in this technology. 
...
Read more...
---
Power supplies for building automation
June 2020, Phoenix Contact , Electrical Power & Protection
The new Step Power power supplies from Phoenix Contact are specifically tailored to the needs of modern building automation. With their comprehensive approval package, which includes the standard 
...
Read more...
---
Vehicle and driver identification
Residential Estate Security Handbook 2020, Protoclea Advanced Image Engineering , Products, CCTV, Surveillance & Remote Monitoring, Perimeter Security, Alarms & Intruder Detection
Detecta features vehicle identification (make and model), automated number plate recognition (ANPR), vehicle colour recognition, driver identification, high speed and free flow detection.
Read more...
---
Wide-area surveillance with early detection
Residential Estate Security Handbook 2020, Protoclea Advanced Image Engineering , Products, CCTV, Surveillance & Remote Monitoring, Perimeter Security, Alarms & Intruder Detection
Being aware of a threat beforehand allows landowners to implement the necessary steps and alert security personnel, and thereby prevent threats from reaching the property.
Read more...
---
Simply safe in the IoT environment
May 2020, Phoenix Contact , IS & Ex
Extension of the PLCnext Technology ecosystem with a safety controller.
Read more...
---
Powerful dialogue modules for mobile machines
April 2020, ifm - South Africa , Operator Interfaces, Switches & Relays
The new dialogue modules from ifm electronic have been developed for use in cabins and outside vehicles. Thanks to a high protection rating and optical bonding, they are optimally protected against moisture. 
...
Read more...
---
Multifunction pendant improves efficiency
Technews Industry Guide: Maintenance, Reliability & Asset Optimisation 2020, Turck Banner , Operator Interfaces, Switches & Relays
The Direct Select from Turck Banner makes it easy to communicate the critical information staff need to complete tasks. This versatile operator interface can be used to send and receive requests, acknowledgements, 
...
Read more...
---
The end of blind alarms
Issue 3 2020 , Security Services & Risk Management, Perimeter Security, Alarms & Intruder Detection
Today's alarms should be supplemented by visual verification to ensure that guards are not dispatched to false alarms, wasting time and money.
Read more...
---
Analog display for Industry 4.0 applications
February 2020, ifm - South Africa , Operator Interfaces, Switches & Relays
The new multifunctional display from ifm electronic is more than just a visual indicator. It pre-processes digital signals in a decentralised manner and, if necessary, passes this information on to a 
...
Read more...
---
Securing perimeters of secure locations
November 2019, Axis Communications SA, Modular Communications, Hikvision South Africa, Nemtek Electric Fencing Products, Technews Publishing, Stafix , Government and Parastatal (Industry), Perimeter Security, Alarms & Intruder Detection, Integrated Solutions
Hi-Tech Security Solutions asked a number of companies offering perimeter security solutions for their insights into protecting the boundaries of national key points.
Read more...
---