printer friendly version
Single-use diaphragm valves simplify biotech manufacturing
June 2017
Valves, Actuators & Pump Control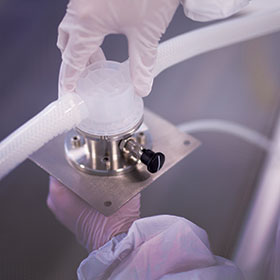 Single-use components and systems are now firmly established in the pharmaceutical and biotechnology industries. The trend towards simplified and flexible upstream and downstream plant design means that these components are becoming increasingly important – especially in the production of biopharmaceuticals. While in the past, the only available disposables were primarily tubes, fittings and possibly filters, today the availability of single-use systems has been growing considerably. GEMÜ developed its first controllable single-use diaphragm valve in 2014.
Due to the new options, process reliability and reproducibility have significantly improved, as well as functionality of the system and increased ease of use for the operator.
The advantages of single-use systems are obvious: faster, more cost effective and more reliable development and production thanks to lower investment costs, shorter development and implementation times and reduced qualification and maintenance expenses.
Diaphragm valves in pharmaceutical and biotechnology industry sterilisation processes
GEMÜ is a leading manufacturer of valves, measurement and control systems for aseptic and sterile applications in the pharmaceutical, biotechnology, and foodstuff and beverage industries. As a system supplier, it can deal with customised, project-based customer requirements with extreme flexibility. The purity and quality of foodstuffs and medicines have improved dramatically over the past few decades. In addition to the stricter regulations and approval conditions, GEMÜ has made an important contribution to this development, especially with diaphragm valves. Various regulatory codes and guidelines are calling for equipment that is easy to clean, in order to prevent cross contamination. This has resulted in the use of valves which are sterilisable and autoclavable, self-draining, and which have minimal deadleg. FDA-compliant diaphragm valves have consequently established themselves in sterile applications. They have now become the standard in the pharmaceutical industry and are virtually indispensable to it.
Development of the first single-use diaphragm valve
In the development of the single-use diaphragm valve, GEM*#220;'s aim was largely to use existing components and apply tried-and-tested designs to a single-use concept. How is it possible to fasten a diaphragm in a single-use valve body so that just one single component represents the actual single-use component? What materials are suitable for the body and diaphragm? How can a connection be made between the actuator and the seal so that the valve body and the actuator can be detached from one another quickly and without any tools?
An intensive exchange with the biotech industry therefore resulted in a valve system which offers significantly improved functionality and controllability compared to conventional pinch valves. These were used in the filter units upstream and were susceptible to certain common problems, such as cracking and adhesion, which had a direct influence on process reliability.
Biopharmaceuticals have changed modern medicine
Biologically produced medicinal products – or biopharmaceuticals – are the medicinal products of the future. Manufacturing these products involves some of the most demanding procedures associated with medicines. Traditional medicines are produced using chemicals. Biopharmaceuticals, on the other hand, are based on large, highly complex protein molecules. Examples of biopharmaceuticals include antibody fragments, hormones such as insulin, enzymes which are used to treat thrombosis and medicines for rheumatic diseases, multiple sclerosis and anaemia. It is not just the fact that they are made from cells growing in cultures that makes them extraordinary, rather it is the genetic modification of the cultures which produce the required active substances and the genetic production which makes the process particularly special. This is why the entire upstream and downstream area is a highly sensitive process which has stringent requirements for development, production and, in particular, the equipment. The final step in the upstream process is to separate the cells from the cell culture fluid which contains the protein product. This is generally carried out using filtration.
Focus on filtration as the final step in the upstream process
Before the downstream process, the cells must be separated from the culture medium, whereby the cell suspension is filtered in several steps. To avoid problems associated with cleaning and validation, the use of single-use filters is preferred in this case. The main benefits of these filters include the significantly reduced risk of exposure for users, lower cleaning costs, a higher yield and improved handling. Coarse filtration is carried out first, whereby the particles and turbid materials are removed. This depth filtration takes place at a pressure of two bar, which is why pressure-strengthened tubes are used. Cross-flow filtration using cartridges, hollow fibres and ceramics was previously commonly used to do this. When it comes to the purification of complex cell suspensions, however, depth filtration now has a number of benefits. At the last filtration stage, the filter diaphragms have a pore size of 0,1 µm and are gamma-sterilised.
The various filter units are connected to each other by manually operated GEMÜ single-use diaphragm valves. The diaphragm valves take on various functions in this process: They are used for flushing, to vent the filter capsules and to convey the medium from the storage tank to the next filter capsule.
Controllable single-use diaphragm valve with special locking mechanism
In the development of the first controllable single-use diaphragm valve – the Sumondo – GEMÜ reached a milestone in single-use technology: From manual systems to automation-capable and controllable plants for safe operation and continual documentation by the plant monitoring system. This involved applying expertise in diaphragm valve engineering to single-use technology. Thanks to innovative membrane joining technology, the tried-and-tested manual and pneumatic actuator units in conventional plant engineering can now also be used in single-use processes.
GEMÜ Sumondo links the valve body and actuator together using a patent-pending locking mechanism. The single-use diaphragm valve body is fastened to the operator using a clamp. The valve body and the manual operator are joined together using a defined closing and opening procedure. After use, i.e. at the end of a process, only the valve body is removed and disposed of; the actuator itself can be reused repeatedly in the plant. The polypropylene valve body is produced in the cleanroom of ISO Class 8 (in operation) and double packaged. It is gamma-sterilisable up to 50 kGy. The ultrasonically welded TPE diaphragm hermetically separates the working medium from the environment and from the actuator. The medium remains closed off from the environment by the internal welded diaphragm not only during operation, but also after removing the valve body.
The major advantage of this technology in comparison with conventional pinch valves lies in the exact controllability of processes. This modular concept is very important as it means that single-use systems, standard stainless steel valves and feedback units are compatible with one another. Pharmaceutical processes in particular will be made easier to document, reproduce and validate thanks to the ability to send feedback to the plant control system. The increased levels of automation also mean that the systems are less susceptible to faults. With the advent of single-use diaphragm valves, users are now able to manufacture their products in a simpler and safer manner.
For more information contact Claudio Darpin, Gemü Valves Africa, +27 (0)11 462 7795, claudio.darpin@gemue.co.za, www.gemu-group.com
Further reading:
Wireless communication and control of electro-pneumatic manifolds and IO
SMC Corporation South Africa Valves, Actuators & Pump Control
SMC analysed the control of manifolds-in-motion, where the physical removal of communications cables is desirable. Applications include manifolds mounted on robot gripper assemblies or rotating tables. 
...
Read more...
---
Valves for motorised open/close functions
Valves, Actuators & Pump Control
The valves' robust, self-locking linear actuator has a safety switch-off function with overload protection, a manual override and an optical position indicator.
Read more...
---
Abrasive Flow Solutions celebrates 1st anniversary
News Valves, Actuators & Pump Control
The company specialises in the design and manufacture of slurry-related valves, and works closely with sister company, BMG.
Read more...
---
Actuator retrofit gives Indian airport critical performance data
Valves, Actuators & Pump Control
Since a reduction in downtime was of critical concern, the customer signed up to a service agreement as part of Rotork's Lifetime Management programme.
Read more...
---
Rotork actuators installed at Beijing's second international airport
Valves, Actuators & Pump Control
The pump room, oil tanks, oil station and landing field ground wells use the company's actuators to operate a variety of valve types.
Read more...
---
Festo campaign highlights process automation solutions
Festo South Africa Valves, Actuators & Pump Control
Festo aims to aid its process automation customers to thrive even during unpredictable periods, by continually analysing the value-creation chain and communicating with its customers to understand their needs.
Read more...
---
Silencer to help protect workers from gas process noise
Emerson Automation Solutions Valves, Actuators & Pump Control
Fisher WhisperTube modal attenuator provides noise reduction in compressible fluid service to improve worker safety, with no impact to process flow.
Read more...
---
Flow control at US water resource recovery facility
Valves, Actuators & Pump Control
Rotork IQT part-turn electric actuators have been specified for use at the Water Resource Recovery Facility (WRRF) in Michigan, USA.
Read more...
---
New sustainable technologies to couple with renewable energy production
Neles South Africa Valves, Actuators & Pump Control
You may have noticed the buzz phrase, 'Power-to-X' in the press. It refers to hydrogen technology to store or convert surplus electricity, generated preferably from renewable energy sources.
Read more...
---
Automated solution for pump protection valve manufacturer
Valve & Automation Valves, Actuators & Pump Control
Over 50 drawings of various components served as the basis for the automation solution developed by EWM for pump protection valve manufacturer, Schroeder Valves. All of the leading specialist's components 
...
Read more...
---