printer friendly version
X-Change 2017: Reviewing tomorrow
June 2017
News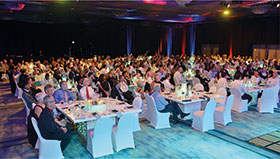 X-Change 2017, Wonderware Southern Africa's 25th annual User Conference was held at Sun City's brand new conference facility from 2 to 5 April. The conference was host to 370 local and international industry professionals and this year featured the introduction of new solution integration possibilities and approaches in the areas of HMI and Supervisory Control, Manufacturing Operations Management (MOM) and Industrial Information Management (IIM).
The numbers speak for themselves:
• 370 delegates.
• 3 keynote addresses.
• 36 international and local presenters.
• 65 breakout sessions including 20 end-user presentations featuring major South African projects.
• 22 partner exhibitors and 11 Wonderware stands featuring the latest product releases and capabilities.
So, what was it all about? In short: evolution.
But the evolution of industrial automation and IT solutions is different to human evolution because, like the expanding universe, it is progressing at an accelerating rate.
Here is an example: Thirty years ago, the world's first Windows-based HMI was released – the world knows it as InTouch. For InTouch and its competitors, dynamic graphics became the cornerstone of their evolution. Then came the interface with other enterprise solutions. But a few years ago, the introduction of Situational Awareness principles replaced the emphasis on graphics with a focus on graphical information which made a significant impact on the effectiveness of operators. This year, however, HMI is turning into OMI (Operations Management Interface) which heralds a new era of visualisation. So the evolutionary curve of industrial process control and information management is going exponential.
Which begs the question of where will things be next year? We'll have to wait and see but we already have some pointers.
The Internet of Things is bringing an avalanche of connectivity possibilities and forcing cleverer ways of transforming data into decision-support information. At the same time, the Cloud is lowering hardware and software infrastructure costs by providing ready and secure accessibility to computing resources as well as the Internet of Services including SaaS (Software as a Service), PaaS (Platform as a Service) and IaaS (Infrastructure as a Service).
Once the technologies such as the Industrial Internet of Things, the Cloud and all the industrial information solutions are in place and, most importantly, integrated, industry-specific solutions can be developed and configured to suit any environment faster than one can draw up a list of requirements. What went before are connectivity and information intelligence tools. What's coming now are intelligent industry-specific solutions such as showcased this year with water and mining applications.
X-Change 2017 explored some of the latest solutions and approaches available to the production and business aspects of manufacturing and mining companies. Today, this is a complex business and the solutions shown highlighted the fact that the easy integration of these solutions, even from different vendors, was key to overcoming the growing complexities of the industrial market space.
Keynote presentations

Ravi Gopinath.
Ravi Gopinath, executive VP, Software Business, Schneider Electric opened the conference with a presentation titled 'Driving the transformation of the industrial software market'.
With a sales turnover just short of 25 billion Euros in 2016, Schneider is a global leader in energy management and automation employing more than 160 000 people worldwide.
Central to Schneider's vision is the domain of energy efficiency and sustainability, resulting in the development of technologies to that end. Schneider's business focuses on four main areas:
• Building management – including energy and security systems among others.
• Energy infrastructure – including most aspects of generation, transmission and distribution.
• Industry – serving the capital-intensive industries.
• Data centre management – a central and key asset to all companies.
The software business belongs to the industry sector, but benefits the other areas as well.
Today, software has become a central element of Schneider Electric's group strategy which sees it as key to its evolution, integration into its own industry solutions and differentiation in the marketplace.
The software business has two main objectives:
1. Remain hardware independent.
2. Enable software-led differentiation across the Schneider portfolio.
Market variations such as commodity prices influence the way companies operate. Another factor is regulatory norms which will become stricter and subject to increasing scrutiny. Then there's the generational shift which affects the consumption and adoption of technology. All these factors affect the way companies must respond, so technology has to help them meet these challenges and cope with change in the most agile way possible.
To this end, Schneider Electric has identified the following four problems that its portfolio must address in terms of the business environment:
1. Production of commodities.
2. Complex and capital-intensive assets.
3. Typically, continuous processes and highly complex connected value chains.
4. An environment where demand/supply is driving the ROI.
So, the company will constantly be looking at the areas of engineering, planning and operations, asset management and the real-time world of control and information management – whether on premise, in the Cloud or any combination of both that makes sense.
The company's software operates with the world's largest and most diverse set of automation platforms and is always being enhanced to operate with a much broader set of sensing inputs, so that low-cost IIoT solutions can be integrated into the rest of the portfolio.
"At the end of the day," concluded Gopinath, "it's all about lowering the total cost of ownership with technology that maps directly to the customer's needs, protects their past investments and looks after their future requirements."
Mainstream presentations
Delegates were treated to 45 sessions of new industrial operations and enterprise information technologies, products and approaches designed to help them cope with the increasingly difficult challenges they face on a daily basis. There were too many topics covered to list them all, but here is a taste:
The informed enterprise – Wonderware Intelligence and the increasingly popular FLOW Software featured prominently in their ability to provide decision support through the collation of data from any number of databases.
A new foundation for operations, central to the Wonderware landscape, is the new release of its unifying foundation product, System Platform 2017, which is host to new variations of InTouch 2017 HMI (mobile HMI with Access Anywhere and Machine Edition for embedded operating systems) as well as InTouch OMI (Operations Management Interface) 2017 – a new visualisation paradigm with new features such as automatically building a navigation tree based on the plant model among many others.
New software releases – these included Wonderware InStudio for Cloud-based system development and Prometheus, the universal automation configurator – Prometheus is the world's first end-to-end lifecycle manager for Control Systems that ensures 100% integrity when making changes across PLCs, RTUs or HMIs in real time.
Wonderware partners – ACP, MDT and Software Toolbox were there in force. ACP introduced a major release of ThinManager and the ease with which it can be configured for mobile-enabled applications. MDT's AutoSave for System Platform showed the benefits of automatic software archiving for disaster recovery and system security while Software Toolbox showed major enhancements to its TOP Sever and Omniserver products and how Galaxy Toolbox enhances Wonderware's HMI offerings including InTouch OMI.
Industry-specific solutions – these included a water network optimisation suite, a production line performance solution for food & beverage and CPG and an integrated planning and optimisation solution for mining, minerals and metals.
User presentations
Twenty end user and system integrator presentations illustrated the successful application of Wonderware solutions in a number of projects and industries. Here are some of them:
• Clover SA improves development life cycle through simplified design methodologies and standardisation.
• Clover SA saves over two hours every day through improved production intelligence and reporting.
• SAB tracks the revenue generated by profit improvement projects to ensure that they progress rather than regress.
• SAB and Wonderware – a two-decade relationship that's stood the test of time.
• Sibanye Gold achieves huge energy savings through centralised power control.
• Major scada upgrade gives Tiger Brands the decision support they were looking for.
• Woodlands Dairy cuts water cost and raw material usage thanks to easily-implemented real-time reporting.
Awards
The following awards in recognition of excellence were made at the gala dinner celebrations:
• Best HMI/Scada application award: Woodlands Dairy.
• Best Industrial Information Management application award: Clover SA.
• Best Manufacturing Operations Management application award: Sibanye Gold.
• Innovation award: Systems Anywhere for its innovative and exceptional implementation of a model-driven MES solution.
• Special recognition award: SAB for 20 years of partnership that has helped pioneer the ArchestrA technology of System Platform.
• FLOW Application Award: Clover SA for its realisation of a solution that gives more insight into day-to-day stock levels, production volumes and operator behaviour.
• Top system integrator award: Advansys. Runner's up: Iritron, Control Systems Integration, Business Connexion and Control Software Solutions.
• Schneider Electric certified system integrator awards: Age Technologies, ICS Trading, PCS Global and Saryx Engineering Group.
• System integrator award for the greatest number of Wonderware-certified engineers: Control Systems Integration.
• Best presenter award: Leonard Smith, Wonderware Southern Africa.
A final word
Great technology alone does not disrupt, change or innovate. That is the job of the early adopters and innovators. X-Change has proved over the past 25 years, as a user community, that all operational challenges can be overcome, business objectives can be met and that the impossible can be transformed into reality.
Interested readers can download an unabridged version of the conference report at http://instrumentation.co.za/+J2244.
For more information contact Clarise Rautenbach, Wonderware Southern Africa, +27 (0)11 607 8473, clarise.rautenbach@wonderware.co.za, www.x-change.co.za
Credit(s)
Further reading:
New chief marketing and communications officer joins Zutari
News
Leading consulting engineering and infrastructure advisory firm, Zutari, has appointed Zipporah Maubane as chief marketing and communications officer for Africa and the Middle East (AME).    The company 
...
Read more...
---
Solid Wedge successfully completes Royal Swazi plant expansion project
News
The company's track record, and its reputation in previous projects for the same client, were key in the awarding of the R5,5 million project.
Read more...
---
YES to youth employment
News
Bosch Rexroth South Africa has participated in local government's 2021 Youth Employment Service (YES) Programme, which took place from 1 March 2021 to 28 February 2022. This experiential learning programme 
...
Read more...
---
Atlas Copco acquires Indian vacuum pump supplier
News
HHV Pumps supplies to the chemical and pharmaceutical, electrical power equipment and general industries.
Read more...
---
Comtest and Fluke commemorate World Metrology Day
Comtest News
Metrology is all around us and involves everything we do daily –we may be unaware of it, but it affects almost every part of our daily lives.
Read more...
---
Call for detailed action plan for SA's mining sector
News
Following the President's keynote address at the Mining Indaba, Webber Wentzel sees the lack of timelines and action plans as a deterrent to investors.
Read more...
---
Google announces Africa developer scholarship
News
Google has announced an additional 30 000 Android and Google Cloud training scholarships for aspiring and professional developers
Read more...
---
Record growth for EV market despite mounting challenges
News
The battery remains the largest cost component of the vehicle, and climbing costs of lithium and nickel are a factor behind the increases.
Read more...
---
AATF 2023 to collocate with Future Manufacturing Africa
News
In attendance across the two events will be over 5000 visitors, several feature areas and over 200 exhibitors over three days.
Read more...
---
Abrasive Flow Solutions celebrates 1st anniversary
News Valves, Actuators & Pump Control
The company specialises in the design and manufacture of slurry-related valves, and works closely with sister company, BMG.
Read more...
---