printer friendly version
From the editor's desk: The changing shape of optical systems
August 2018
News
A ground-breaking development in smartphone optics looks set to spill over into machine vision and other image-related applications. Unlike the eye, conventional optical systems depend on the movement of solid lens elements to achieve focus and zoom. The eye, on the other hand, works in a different way. Its elastic lens of clear tissue changes curvature to focus on objects at different ranges. A similar principle could soon come to the aid of machine builders faced with the problem of how to mount the relatively large casings needed for the lens components in traditional optical systems. In auto-focus setups, power consumption is another area that would benefit.
The development I am referring to is called liquid lens technology and it promises to enable better, cheaper and smaller optical devices. The idea is that by changing the shape of a liquid, a water droplet for instance, we can manipulate the way it refracts light. Expanding on this, two clear non-mixable liquids can serve as a lens of variable focal length dependent on the curvature at the interface. Add the principle of 'electrowetting' and that curvature can be controlled by means of an electric charge. A liquid lens then is an optical system of variable focal length independent of any moving mechanical parts.
The big advantage is the reduction in physical size achieved by eliminating the need for said moving parts. In fact, liquid lenses can be up to 85% smaller than ordinary camera lenses of similar performance. A handy consequence is that the power required to focus is only a fraction of that required in a standard setup. The small size and high efficiency make this technology ideal for use in mobile battery-powered optical applications, where space and weight are crucial.
For design purposes, the lack of moving parts makes fabrication of the lens inherently robust. Considering the case of a typical industrial camera installed to scan items on a conveyor in use 24/7, the lifespan could be up to two million focus cycles before repair or replacement is required. By contrast, the liquid lens has an expected lifespan in excess of 100 million cycles. The fact that only the liquid interface must be manipulated provides the additional benefit of faster response as well.
Among the early adopters is machine vision manufacturer Cognex, which has equipped both handheld and fixed versions of its barcode readers with the technology. According to the company's website, liquid lens technology enables the readers to adapt to changes in working distances better than older versions equipped with conventional auto-focus systems. With the liquid lens, it does not matter if the code appears nearer or farther away. Even for high-speed lines, the fast response allows the scanner to change focus from part to part quickly enough to scan all barcodes that may be present in the field of view. To learn more about the origins and benefits of this intriguing new technology see 'Nick Denbow's European report: Leaps in technology: implants and liquid lenses'.
Name change for Wonderware
One of the most significant company announcements this month comes from Wonderware. Following the combination of AVEVA with Schneider's industrial software business, Wonderware Southern Africa has undergone a name change and will in future be known as IS³ (Industry Software, Solutions and Support). Pronounced 'eye-es-cube', the transformation makes the company the official AVEVA distributor for the sub-Saharan region.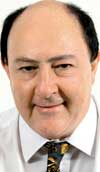 Daily operations will continue as usual, with the supply and support of Wonderware, Citect and the rest of the Schneider Electric software portfolio. The difference being that the IS³ offering has been enhanced by the addition of the AVEVA solutions to close the gap between the operation and project sides of local manufacturing businesses. The extended solution range will allow IS³ to cover the plant's entire asset lifecycle from design and commissioning, through to operation and maintenance, all on a single platform.
The combination of Schneider Electric's operational expertise with AVEVA's IIoT know-how and 3D design tools looks like a formidable partnership, we will be watching with interest. See 'Wonderware Southern Africa undergoes name change to IS³' for more.
Steven Meyer
Editor: SA Instrumentation & Control
Credit(s)
Further reading:
Emerson publishes 2019 Social Responsibility Report
July 2020, Emerson Automation Solutions , News
Emerson combines industry-leading technology and innovation to make a positive impact on employees, customers and communities around the world.
Read more...
---
FIRST Lego League goes from strength to strength
July 2020 , News
FIRST (for inspiration and recognition of science and technology) is an international organisation that aims to generate an interest in mathematics, science and technology through the use of robotics 
...
Read more...
---
Aguru announces successful Safe-Trace Contact Tracing trial at Adcock Ingram Critical Care
July 2020 , News
Aguru Business Solutions (Aguru), a company specialising in automation and digital transformation advisory and project management services, has successfully completed a Proof of Concept (PoC) trial of 
...
Read more...
---
From the editor's desk: Coronavirus pulls the trigger on digital transformation
July 2020, Technews Publishing (SA Instrumentation & Control) , News
The general consensus among economists is that the disruption to global markets caused by the coronavirus pandemic is going to result in economic upheaval of proportions not seen since the disastrous 
...
Read more...
---
Siemens South Africa joins forces with the National Ventilator project community in response to the COVID-19 pandemic
June 2020, Siemens Digital Industries , News
Siemens has been a long-standing partner of the Council for Scientific and Industrial Research (CSIR) in South Africa and have cooperated in various field of research, including manufacturing and mining. 
...
Read more...
---
Endress+Hauser Switzerland turns 60
June 2020, Endress+Hauser South Africa , News
The Swiss sales centre of Endress+Hauser is celebrating its 60th anniversary. Active in Switzerland since 1960, today the global leader in measurement instrumentation, services and solutions for industrial 
...
Read more...
---
How investing in a niche market placed Yokogawa aboard the International Space Station
June 2020, Yokogawa South Africa , News
While the world was abuzz with excitement over the revival of U.S. manned spaceflight, another equally promising space endeavour flew under the radar. On 20 May, the H-II Transfer Vehicle (HTV-9), affectionately 
...
Read more...
---
Siemens and Bentley Systems build digital twin for Indonesian petrochemical complex
June 2020, Siemens Digital Industries , News
Siemens and Bentley Systems will develop the first petrochemical digital twin in Indonesia for Chandra Asri, the country's largest integrated petrochemical complex. With over 27 year footprint, the latter 
...
Read more...
---
Hitachi ABB Power Grids commences operations
June 2020, ABB South Africa , News
In accordance with the agreement signed on 17 December 2018, Hitachi and ABB have announced the completion of all required procedures as planned and the formation of Hitachi ABB Power Grids Ltd. on 1 
...
Read more...
---
Zest grows Africa base with local partners
June 2020, Zest WEG Group , News
"The key to sustainable growth in Africa is partnering with locally owned companies which have proven track records, are technically sound, have strong market knowledge and a business culture aligned 
...
Read more...
---