printer friendly version
Yokogawa launches next-generation field wireless
Technews Industry Guide - Wireless 2015
Industrial Wireless
In 2010, Yokogawa launched its first wireless field products conforming to the ISA100.11a standard and today continues to spearhead the development of industrial wireless technologies.
Recently, the company released a new, large-scale, reliable, next-generation plant-wide field wireless system with the following key features:
• Reliability: reliable high-performance field wireless and redundant technologies.
• Flexibility: flexible architecture supporting the full range, from small to large-scale plants.
• Openness: open ISA100.11a standard allowing third-party field wireless devices to be connected.
Next-generation field wireless systems
Although most field wireless systems are currently installed in relatively small areas, demands are rising to increase the number of monitoring points, covering wider areas, and expanding to process control as well as diagnosis, monitoring and measurement. To respond to these demands, Yokogawa has developed a large-scale, reliable, next-generation plant-wide field wireless system, which can manage up to 500 wireless field devices.
Conventional small field wireless systems are mainly installed as additional monitoring tools in areas with a clear line-of-sight such as tank yards and wastewater treatment facilities. Such systems offer only limited advantages such as improved inventory management, reduced regular visual checking, automated environmental measurement, and reduced wiring costs. In contrast, plant-wide field wireless systems can cover both a large number of measuring points in a small area with a high density of production equipment, as well as the entire plant. This allows customers to set up wireless devices anywhere in their plants and manage data from those devices to improve plant-wide production efficiency.
Several products have been added to the architecture of the new field wireless system including:
• YFGW410 field wireless management station.
• YFGW510 field wireless access point.
• YFGW610 field wireless media converter.
In the new architecture, the YFGW510 serves as an access point and forms the wireless backbone network with the YFGW410 field wireless management station. Therefore, by installing multiple YFGW510 field wireless access points throughout the plant, wireless sub-networks can be built and then connected to each other to create a large-scale, plant-wide field wireless system. The YFGW510 and YFGW410 can communicate via Ethernet, optical Ethernet, wireless LAN, instrumentation cable communication, and so forth, allowing flexible installation in plants. Yokogawa's YFGW710, the existing all-in-one type field wireless integrated gateway, combines all the functions of access points and wireless management, enabling small wireless systems to be easily installed.
Yokogawa's field wireless has excellent receiving efficiency with high reliability of the wireless physical layer (Reliable Radio). The technology enables communication within a 600 metre radius, with a standard antenna if there are no obstacles.
Reliability
The reliability of the network layer is enhanced with the following new technologies:
Duocast
Duocast is a redundancy technology for the wireless path specified in the ISA100.11a standard. In the conventional mesh-topology network, if communication is not established in a path, data is then sent via another path. However, this may affect real-time performance because the data is not sent in the same time slot, but in a later time slot even in the same superframe.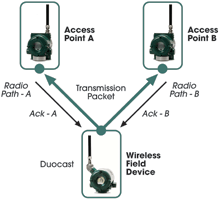 Figure 1. Duocast can overcome failures of either access point as well as errors in a wireless path.
Yokogawa's Duocast technology simultaneously sends two sets of identical data in the same time slot, and provided either data is successfully transmitted, real-time performance is maintained. Therefore, Duocast is ideal for ensuring the redundancy of mission-critical wireless paths and helps improve reliability while securing low latency (see Figure 1).
Dual wireless backbone network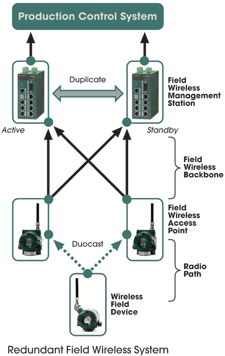 Figure 2. Redundant field wireless system.
The network between the YFGW510 and YFGW410 is called a wireless backbone network. Its redundancy is specified by the ISA100.11a standard to improve the reliability of the network and is achieved by the redundant YFGW410 stations. Either of the dual YFGW410 stations can deal with disconnections and errors of the wireless backbone network, as well as malfunctions of the other YFGW410 stations. One station is set to active and the other to standby and these are connected together via a synchronous communication cable. If a fault is detected in the active YFGW410, the functions and data are quickly routed to the standby YFGW410 to seamlessly continue communication. (see Figure 2).
Further enhancements
The communication quality has been improved with the release of the detachable antenna type model. The extension cable and high-gain antenna can be used with this model. The placement of the antenna can be adjusted with the antenna extension cable without change to the installation of transmitters.
The battery life of the detachable antenna type model has been extended from 1,5 times to 2 times more for a product with low power consumption. The EJX B series wireless differential pressure/pressure transmitter battery will last 10 years with an update time of 30 seconds or five years with a 10 second update. Similarly, the YTA510 wireless temperature transmitter battery will last 10 years with an update time of 10 seconds and eight years with a 5 second update time.
Summary
The flexibility of wireless solutions enables less investment in infrastructure, while providing greater process insights into plant operations where the measurements were previously too difficult or uneconomical to implement. The ISA100.11a's robust security mechanism provides continuous safety in various system operations.
For more information contact Christie Cronje, Yokogawa South Africa, +27 (0)11 831 6300, christie.cronje@za.yokogawa.com, www.yokogawa.com/za
Credit(s)
Further reading:
5G – the wireless network of the future
December 2019, Siemens Digital Industries , Industrial Wireless
Mobile wireless network standards, starting with 1G, have been shaping our mobile communication for years. While previous developments have focused on improved usability in the public sector, the new 
...
Read more...
---
Dome protects communication sticks
December 2019, Beckhoff Automation , Industrial Wireless
With the new CU8210-M001 cabinet dome, the USB port of an industrial PC can be fed out of the control cabinet and still be well protected. In this way, reliable and powerful wireless connections to the 
...
Read more...
---
Instrument Area Network
December 2019 , Industrial Wireless
Modern plant managers and operations professionals can save time and money through a robust condition and preventative maintenance model enabled by wireless Instrument Area Network devices. Instrument 
...
Read more...
---
Yokogawa announces acquisition of RAP International
November 2019, Yokogawa South Africa , News
Yokogawa Electric Corporation has announced the signing of an agreement with UK-based RAP International for Yokogawa to acquire all shares of the company and make RAP a wholly-owned subsidiary. RAP specialises 
...
Read more...
---
Banner Engineering simplifies monitoring of rotating equipment
November 2019, Turck Banner , Industrial Wireless
Banner's Wireless Solutions Kit for vibration monitoring is a fully integrated and easy-to-use solution for monitoring assets with rotating motion. It is designed to make it easy for users of any experience 
...
Read more...
---
AGV systems need wireless networks
November 2019, RJ Connect , Industrial Wireless
In order for factories to perform their tasks efficiently and optimise production, automated material handling (AMH) systems, such as AS/RS and AGVs, need the flexibility to move around on their designated 
...
Read more...
---
Intelligent wireless connectivity
September 2019, RJ Connect , Industrial Wireless
The ultimate goal of most industrial automation applications is to obtain actionable insights from data sources for more precise decision-making. To achieve this, businesses need to make their field data 
...
Read more...
---
Industrial Scientific expands ­connected safety portfolio
August 2019, Comtest , Industrial Wireless
Comtest has announced the expansion of Industrial Scientific's connected safety portfolio to include cellular and Wi-Fi capability in the VentisPro5 Personal Gas Monitor and a satellite communication 
...
Read more...
---
Long range wireless communication for air instrumentation
Technews Industry Guide: Industrial Internet of Things & Industry 4.0, Artic Driers , Industrial Wireless
Artic Driers in association with Suto iTEC of Germany have launched a long range wireless communication system for the comprehensive range of compressed air instrumentation marketed by Artic. Wireless 
...
Read more...
---
Using IS phones or tablets for barcode scanning
Technews Industry Guide: Industrial Internet of Things & Industry 4.0, Extech Safety Systems , Industrial Wireless
Extech Safety Systems worked with Mobexx in the UK to develop the mobXscan mobile application for barcode scanning with mobile devices. The application (https://mobxscan.com) has been released for Windows 
...
Read more...
---