printer friendly version
From the editor's desk: Ignition software, innovation or market disruptor?
July 2018
News
Innovation itself does not transform a company into a market disruptor, but it is forever a prerequisite. According to Forbes, all disruptors are innovators, but not all innovators are disruptors. Generally speaking, disruptive organisations are those that deploy new ideas in ways that completely upset the balance of power in their chosen markets. Innovative companies, on the other hand, simply look to strengthen their position in an existing market through 'doing things more efficiently'.
Airbnb is an example of a disruptive company. What Brian Chesky, Joe Gebbia and Nathan Blecharczyk identified was the opportunity to use an existing communications technology – the Internet – to create an entirely new concept in the hospitality sector. Very soon, every interested homeowner with a laptop and a spare room was transformed into a hotelier. Innovation had created a completely new market which, almost overnight, catapulted the inventor to the status of a global player in the hospitality industry.
However, the disruption did not happen because Airbnb developed an app. It happened because Airbnb identified a growing market demand and was then first to come up with a convenient way of connecting needy travellers to suited hostelry providers, anywhere in the world. The truly brilliant part is how Airbnb seized control of the customer interface without actually ever having to deliver accommodation facilities itself.
According to the ARC Advisory Group, the market for industrial software is another that is ripe for disruption. In the HMI/scada sector, for instance, solutions are evolving from standalone components into integrated platforms designed to improve overall business performance. Despite these innovations, ARC believes the market is fragile, particularly in the areas of ease of use and total cost of ownership.
In response to this potential 'gap' developing in the market, California-based Inductive Automation launched its Ignition technology in January 2010. Ignition is an open industrial software platform with a variety of web-based modules that can be combined to create custom HMI/scada and MES solutions.
According to company founder Steve Hechtman, Ignition is designed to be different. It's a new paradigm in scada, rather than a scada with new features. Most importantly, it addresses the ease of use and total cost of ownership issues identified as vulnerabilities by ARC.
The software, built on Java and SQL, will run on almost any operating system, and since it is web-based, clients can easily be added across the plant network and also over the Internet. It includes ERP, MES, asset management and track and trace capability, and uses either OPC-UA or MQTT protocols for data translation. Deployment times are quoted in minutes rather than hours, and since the system is modular, client applications can be tailored exactly, and modified as and when required.
The licensing model is also revolutionary – one fixed price no matter how many clients or tags are used. Essentially, the software is licensed by the server and provides unlimited free runtime clients, tags and development clients.
On the surface, Ignition has the characteristics of a disruptor. It is unquestionably innovative and brings with it a business model that threatens to turn the established market upside down. What remains to be seen is whether Inductive Automation can wrest control of the customer interface the way Airbnb did. With end users ExxonMobil and others in the Open Process Automation Forum concerned about the status quo in the present market for control systems, it could very well be successful. Craig Resnick's report on 'Inductive Automation's Ignition technology offers potential to disrupt the market' provides a more detailed analysis of the Ignition technology and its potential in the industrial software market.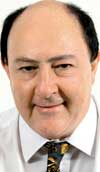 Industry guide
Posted with the magazine this month is the 2018 edition of the Technews Industry Guide: Industrial Internet of Things & Industry 4.0. Whether we like it or not, digitalisation is upon us and underneath the layers of marketing hype that surround it, there are some very real benefits on offer. We hope this handbook serves as a useful reference to help you separate the fantasy from reality.
Steven Meyer
Editor: SA Instrumentation & Control
Credit(s)
Further reading:
FIRST Lego League goes from strength to strength
July 2020 , News
FIRST (for inspiration and recognition of science and technology) is an international organisation that aims to generate an interest in mathematics, science and technology through the use of robotics 
...
Read more...
---
Aguru announces successful Safe-Trace Contact Tracing trial at Adcock Ingram Critical Care
July 2020 , News
Aguru Business Solutions (Aguru), a company specialising in automation and digital transformation advisory and project management services, has successfully completed a Proof of Concept (PoC) trial of 
...
Read more...
---
From the editor's desk: Coronavirus pulls the trigger on digital transformation
July 2020, Technews Publishing (SA Instrumentation & Control) , News
The general consensus among economists is that the disruption to global markets caused by the coronavirus pandemic is going to result in economic upheaval of proportions not seen since the disastrous 
...
Read more...
---
Siemens South Africa joins forces with the National Ventilator project community in response to the COVID-19 pandemic
June 2020, Siemens Digital Industries , News
Siemens has been a long-standing partner of the Council for Scientific and Industrial Research (CSIR) in South Africa and have cooperated in various field of research, including manufacturing and mining. 
...
Read more...
---
Endress+Hauser Switzerland turns 60
June 2020, Endress+Hauser South Africa , News
The Swiss sales centre of Endress+Hauser is celebrating its 60th anniversary. Active in Switzerland since 1960, today the global leader in measurement instrumentation, services and solutions for industrial 
...
Read more...
---
How investing in a niche market placed Yokogawa aboard the International Space Station
June 2020, Yokogawa South Africa , News
While the world was abuzz with excitement over the revival of U.S. manned spaceflight, another equally promising space endeavour flew under the radar. On 20 May, the H-II Transfer Vehicle (HTV-9), affectionately 
...
Read more...
---
Siemens and Bentley Systems build digital twin for Indonesian petrochemical complex
June 2020, Siemens Digital Industries , News
Siemens and Bentley Systems will develop the first petrochemical digital twin in Indonesia for Chandra Asri, the country's largest integrated petrochemical complex. With over 27 year footprint, the latter 
...
Read more...
---
Hitachi ABB Power Grids commences operations
June 2020, ABB South Africa , News
In accordance with the agreement signed on 17 December 2018, Hitachi and ABB have announced the completion of all required procedures as planned and the formation of Hitachi ABB Power Grids Ltd. on 1 
...
Read more...
---
Zest grows Africa base with local partners
June 2020, Zest WEG Group , News
"The key to sustainable growth in Africa is partnering with locally owned companies which have proven track records, are technically sound, have strong market knowledge and a business culture aligned 
...
Read more...
---
Gas control products for Covid-19
June 2020, Fluid Systems Africa , News
Fluid Systems Africa (FSA) is the authorised distributor for Gas Control Equipment (GCE) in Africa, and supplies a wide range of healthcare and high-purity products. The global spread of Covid-19 
...
Read more...
---