printer friendly version
From the editor's desk: Open process automation and digital twins
June 2018
News
The ideas of The Open Process Automation Initiative first challenged traditional process control thinking at the ARC Industry Forum in 2016. The drive began within the ExxonMobil Corporation where a large number of older DCS installations (measured in hundreds not tens) were coming due for replacement as they approached obsolescence. Faced with this critical investment dilemma, the company's engineering and managerial decision-makers resolved to think outside the box. All ideas associated with existing control platforms were thrown out of the window. Instead, they dreamed of a new class of automation solutions that would improve and simplify production processes in the future.
What ExxonMobil's executives hope to crack is the problem of typical DCS retrofits. They generally agree that the newer control platforms do offer value, but the primary obstacle is the cost of transferring thirty years' worth of hard-won process intelligence from one proprietary control system to another. As other end-users identified with this conundrum, the initiative gained momentum. The result today is the definitional work for a new class of automation solutions being conducted by The Open Process Automation Forum (OPAF) and by NAMUR. The scope of their programme is broad and covers all the process control operations traditionally performed by the DCS, PLC, APC and HMI, as well as the tools that support the design and engineering of these functions.
At ARC's 2018 industry event, this coordinated effort finally paid dividends as ExxonMobil unveiled the first public presentation of its proof of concept project.
Designed to demonstrate an architecture that can deliver the required level of vendor interoperability through standards, the proof of concept showed how components may be freely interchanged between vendors without having to modify the underlying logic, or resort to the use of gateways and translators.
The next step is to move to an on-process pilot project later this year. ExxonMobil has already identified an internal site for this with the final goal to initiate field trials of pioneer applications in 2020 and achieve full technical readiness in 2021. See 'Open Process Automation moves to the proof of concept stage' for more on this ground-breaking initiative which threatens to disrupt the established market for process control solutions.
Digital twins
Speaking of disruption, one of the more abstract ideas introduced by Industrie 4.0 is that of the digital twin. Actually, the idea of the twin has been around since NASA introduced the first virtual environment as a way to optimise the performance of assets too far away to manage by conventional methods. For instance, when disaster struck Apollo 13, it was the innovation of mirrored systems here on earth that allowed engineers and astronauts to determine how they could rescue the mission.
However, it is through the IIoT that the technology became cost-effective to industry. A digital twin is a virtual representation of a physical object. In the case of manufacturing, this would usually be a process, or even an entire plant. The digital twin then acts as a bridge between the physical and virtual worlds.
The physical plant (or process) is linked to its digital counterpart through smart sensors, which means that the virtual model contains all the information that could be gained through inspection of its real counterpart. A common use of the twin technology is digital prototyping, which allows equipment to be designed and tested in the virtual environment before anything physical is ever built. Another powerful application is the use of equipment monitoring to implement a predictive maintenance strategy.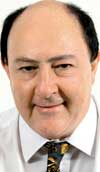 The snag is that a digital twin is not a product that one can go out and buy. Constructing a digital twin is a journey that requires the continuous implementation of platforms, capabilities, processes and human interfaces. Understanding the organisation's business strategy and how this new IIoT technology can support it is fundamental to why a digital twin is needed in the first place. If the prospect of implementing a twin seems overwhelming at this point, contributing editor Gavin Halse's article on 'Digital twins, science-fiction or reality?' may just help to get you started.
Steven Meyer
Editor: SA Instrumentation & Control
Credit(s)
Further reading:
From the editor's desk: Edge, cloud or both?
June 2019, Technews Publishing (SA Instrumentation & Control) , News
In the illusory world of digital transformation, the question of where the applications will best be hosted often triggers a lively discussion. In particular, the cloud vs. edge debate has left many wondering 
...
Read more...
---
Wireless IoT devices in oil and gas reached 1,3 million in 2018
June 2019 , News
According to a new research report from Berg Insight, the number of devices featuring cellular or satellite connectivity deployed in oil and gas applications amounted to 1,3 million at the end of 2018. 
...
Read more...
---
Siemens and Iraqi government sign roadmap agreement
June 2019, Siemens Digital Industries , News
In a move that takes the roadmap for rebuilding Iraq's power sector a step further, Siemens and the Ministry of Electricity of the Republic of Iraq have signed an implementation agreement. This builds 
...
Read more...
---
Emerson acquires KNet software
June 2019, Emerson Automation Solutions , News
Emerson has announced the acquisition of KnowledgeNet (KNet) software from Tunisia-based Integration Objects. KNet's unique analytics application software accelerates digital transformation initiatives 
...
Read more...
---
BI set to add ContiTech belts to its range
June 2019 , News
Bearings International (BI) is set to add to its basket of premium brands following a visit by the ContiTech Power Transmission Group to discuss a local distribution agreement for its belt ranges. These 
...
Read more...
---
Endress+Hauser expands patent portfolio
June 2019, Endress+Hauser , News
The number of patents submitted by the Endress+Hauser Group continues to rise. As reported during the annual Innovators' Meeting held this year in France, the Group submitted 287 initial patents in 2018, 
...
Read more...
---
Hyflo Southern Africa incorporated into BMG's Fluid Technology division
June 2019, Bearing Man Group t/a BMG , News
The Engineering Solutions Group (ESG) of Invicta Holdings has incorporated Hyflo Southern Africa into BMG's Fluid Technology Division. This development is a positive move for both companies and for the 
...
Read more...
---
Festo to go digital at Automation Expo
June 2019, Festo , News
The world is currently undergoing radical digital transformation, which is viewed as an implementation of digital technologies in all sectors, including the automation industry. As a company that continuously 
...
Read more...
---
MESA aligns with Africa Automation Fair to promote next level industry automation
June 2019, Reed Exhibitions , News
MESA Africa has aligned with Africa Automation Fair for the first time this year, to help drive the next level of industry automation in South Africa. Vice chairman, Gerhard Greeff, explains that MESA's 
...
Read more...
---
Future Production Technologies Conference
June 2019 , News
"The Fourth Industrial Revolution will herald the transformation of entire systems of production, management and governance," says Bob Williamson, chair of the Future Production Technologies Conference 
...
Read more...
---