printer friendly version
Koeberg's plant status system
September 2014
IT in Manufacturing
Eskom's Koeberg nuclear power station is a critical asset in the company's portfolio and even more critical to its rapidly-growing customer base in the Western Cape. Managing Koeberg's advanced technology requires expert supervision by qualified engineers and managers who need to know everything from the station's performance and status to prevailing weather patterns in real time, even when not on site.
Each nuclear plant in the world needs a structured emergency plan in place to cope with the event of a nuclear accident. Koeberg has a dedicated group of people that focuses and plans for an event that should never happen. Every year, exercises are carried out to simulate a nuclear accident in order to evaluate the plant's response and the effectiveness of the emergency plan. This does not only include Koeberg, but also the local emergency services in Cape Town. During these exercises Koeberg and Eskom also have the support of Areva and EdF emergency response teams in France. The Plant Data System mimics to be developed by this project would allow these teams to see and access plant information more easily, thereby enabling them to make faster and more informed decisions.
Project scope
Following the requirement of the Institute of Nuclear Power Operations (INPO) AP-913 Equipment Reliability Process, Koeberg needed a tool that would help implement the performance monitoring aspect of the specification. This was to be an enhancement to the ArchestrA-based Plant Data System solution that was already in place and using similar technology to that used at Eskom's Integrated Generation Control Centre at its head office at Megawatt Park.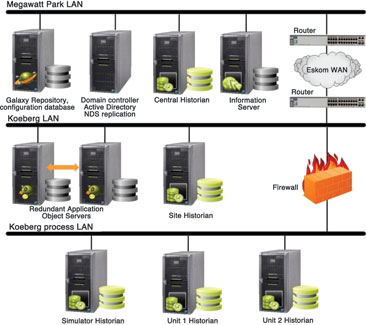 System topology.
In addition, the system would need to provide an overview as well as detailed visualisations of the plant status and KPIs (eg. nuclear core temperatures, cooling temperatures, generated power) to plant engineers as well as senior managers and executives who are not necessarily on site 24/7, or even in South Africa, so that they could remotely monitor the plant and diagnose any issues. The system would also need to provide accurate weather information and plume directions as well as assistance in the training of operators, engineers and managers.
All mimics would have to be displayed in real time and be easily understood, distributable, remotely accessible, web enabled and secure.
Solution selection
Because of a long and successful relationship with Eskom, the company chose Bytes Universal Systems, one of the largest system integrators in South Africa, for the implementation. Bytes is a certified Wonderware ArchestrA system integrator specialising in the EMI and MOM domains, experience that was key to the successful outcome of this project.
"We would be using the existing Wonderware System Platform, Historian and Information Manager for the implementation," says Gerhard Greeff, operations manager at Bytes Universal Systems. "These solutions were initially used on the Plant Data System project and at that time, were chosen for their ability to gather real-time information as well as for enabling the definition and animation of powerful graphics. The Wonderware Information Server is a versatile and key solution for the secure display and distribution of real-time data and calculations to various workstations via the web portal."
System overview
The system is configured for remote monitoring and is available across the entire Eskom business network and on the Internet via a controlled and secure VPN, but is not configured for control of the plant. The mimics are hosted and displayed on the business network, with all the data obtained from the plant's control network.
The system uses redundant Application Object Servers collecting data from the plant as well as redundant Information Servers which are the main portals for everyone accessing the Koeberg mimics. Should one of the Information Servers have an issue, users can switch over to the redundant URL.
The online mimics provide everyone from the plant operator to the plant manager and even the Eskom CEO access to real-time plant status information. The mimics range from easy-to-understand overview screens to more detailed plant areas and weather information. The mimics were a great innovation for the larger Plant Data System project as it set the standard for other sites to follow – they also comply with European standards. They have a main overview that shows a high-level status of the various areas of the plant, from there engineers can drill down for more detailed mimics which focus on operations.
Implementation
"The average template for each mimic took around one week," says Greeff. "After the initial pilot mimics were designed, approved and implemented, they were used as an example for engineers in the various plant areas to describe the functionality and benefits of the technology. Once we had buy-in from them, they assisted with providing information and design for the specific value-adding mimics in their area of expertise. Any changes they suggested were easily made within ArchestrA and republished throughout all the various nodes where the mimics are viewed."
The system was developed within an existing live environment with no effect on production. For the testing of the user displays, a special engineering group was created on the Wonderware Information Server and only selected personnel from both the end user and the system integrator had access to the system for testing purposes before it was made available to a wider audience.
All the required software development (i.e. special calculations and the interface to the weather data) was done within ArchestrA. Bytes had also previously developed a web-based Remote Event Notification solution for mobile devices which is fully integrated with the Wonderware Historian so that engineers and managers can configure their own SMS or e-mail alerts should one or multiple tag values exceed specific conditions.
Once the mimics were made available within Eskom, they spread like wildfire from the control level to top senior managers at both Koeberg and at Head Office where all monitoring mimics that were already implemented for Koeberg in Eskom's Integrated Generation Control Centre were replaced with these new versions.
"The system is being extended to Koeberg's Emergency Control Centre for training purposes as well as to explain how a nuclear power station operates," says Houston Carstens, chief engineer, Koeberg. "The National Nuclear Regulator, Nuclear Emergency Control Centre as well as the City of Cape Town Municipality will also be included in the loop for viewing these mimics."
Benefits
* Easily accessible information to all levels of management reduces decision-making time when an issue is identified as all concerned can work from the same information even if they are not in the same location.
* Early fault identification and escalation prevented a unit shutdown when the mimics indicated an issue of which the plant operators were unaware.
* Visuals are available to assist with performance reviews and diagnostics.
* Local process engineers have remote access to visuals that reduce fault diagnostic times when they are not on site.
* Using the same overview mimics during training (on the simulator) and on the plant ensures proper skills transfer and familiarity with the effects of process control changes.
For more information contact Jaco Markwat, Wonderware Southern Africa, +27 (0)11 607 8100, jaco.markwat@wonderware.co.za, www.wonderware.co.za
Credit(s)
Further reading:
Navigate the fourth industrial revolution with PricewaterhouseCoopers
November 2019 , IT in Manufacturing
Using the building blocks of 4IR to transform business processes into manufacturing advantages requires a holistic approach.
Read more...
---
Artificial intelligence in manufacturing – a practical and simplified view
November 2019, Altron Bytes Systems Integration , IT in Manufacturing
Looking at and interpreting data generated during the manufacturing process to find ways to reduce waste, improve quality and increase yield is not new. However, the increased use of digital technologies 
...
Read more...
---
Intelligent data glasses support production
November 2019, Siemens Digital Industries , IT in Manufacturing
Augmented Reality (AR) has arrived in the workplace: for the last three years, a consortium of six companies and institutions chaired by Siemens has been researching the use of augmented reality (AR) 
...
Read more...
---
Siemens launches report on Dawn of Digitalisation and its Impact on Africa
October 2019, Siemens Digital Industries , IT in Manufacturing
Africa needs a digitalisation strategy to compete in the global economy.
Read more...
---
Integrating IT with Operations Technology - a CIO perspective
October 2019, Absolute Perspectives , IT in Manufacturing
Digitisation projects, spurred on by Industry 4.0 and technological advances, have opened up many possibilities to create new value.
Read more...
---
Real-time data increases metal recovery at Peñasquito mine
November 2019 , IT in Manufacturing
At a recent OSIsoft User Conference in California, ARC Advisory Group had an opportunity to learn about a related project at Newmont Goldcorp's flagship Peñasquito gold, silver, zinc, and lead mine in 
...
Read more...
---
The power of data
October 2019, Throughput Technologies , IT in Manufacturing
Gain access to important information with ProSoft's new OPC UA-based gateway and data logger.
Read more...
---
Securing and managing devices the modern way
October 2019 , IT in Manufacturing
Organisations of all types and sizes are bringing vast numbers of devices into their IT infrastructure and networks. Moreover, these devices are not only smartphones, wearables and tablets because the 
...
Read more...
---
IS3 partners with Izinga Integrated Solutions
September 2019, IS³ - Industry Software, Solutions & Support , News
On 24 July, IS³ – Industry Software Solutions and Support welcomed Izinga Integrated Solutions as a strategic solutions provider for AVEVA's asset performance management (APM) Solutions. Izinga is a 
...
Read more...
---
Reliable gas production
September 2019, Siemens Digital Industries , IT in Manufacturing
Energy supplier uses Siemens technology for optimum information exchange.
Read more...
---