printer friendly version
Building the future of South Africa one robot at a time
August 2014
News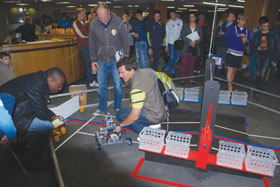 The Industrial Instrumentation Group (IIG) of South Africa is proud to announce that it has donated R100 000 to the FIRST Tech Challenge in South Africa that was launched by Johannes de Vries of the Tshwane University of Technology in May this year.
FIRST (For Inspiration and Recognition of Science and Technology) was founded in 1989 by American inventor/entrepreneur Dean Kamen. Its mission is to inspire young people to be science and technology leaders, by engaging them in exciting mentor-based programmes that build science, engineering and technology skills, inspire innovation and that foster well-rounded life capabilities including self-confidence, communication and leadership.
FIRST is a non-profit charity that designs accessible, innovative programmes that motivate young people to pursue education and career opportunities in science, technology, engineering and math, while building self-confidence, knowledge and life skills. The FIRST programmes include FIRST Robotics Competition (FRC), FIRST Tech Challenge (FTC), FIRST Lego League (FLL) and Junior FIRST Lego League.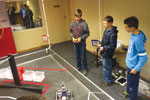 In 2004 FLL was launched in South Africa followed by the Jr. FLL in 2012. Tshwane University of Technology (TUT) was elected as the Operational Partner South Africa in 2008 and has been managing the FIRST programmes since then. The Lego League programmes are designed for children aged 6 to 9 (juniors) and 9 to 16, and developed in partnership between the Lego Company and FIRST USA. The mission of the Lego programmes is to introduce children to the fun and excitement of science and technology, develop their ability to work in teams and to stimulate the use of their creativity in the problem solving process.
The children, who work in teams with an adult coach/mentor, are given a robotics project to build, program and test based on a 'real world challenge' that includes research, documentation and presentation. All completed projects are then presented at the year-end tournament in November where regions compete to go through to the international tournaments.

The main sponsor for the Lego League programmes is SAP South Africa with sponsorship of the operational costs as well as 50 teams and four tournaments. Other sponsors include Tshwane University of Technology (TUT), University of South Africa (UNISA), NMMU, Sci-Bono, KwaZulu-Natal Science Centre and the Cape Town Science Centre.
The FTC was launched at the Tshwane University of Technology in May 2014 and is designed for students aged 12 to 18. This programme is still in its infancy in South Africa, but the fastest growing programme internationally with a 31% growth. The FTC offers the students more engineering experience compared to the Lego League programmes. The pilot programme kicked off in May with 26 registered teams where only 12 teams were initially anticipated. Unfortunately many teams could not be accommodated due to financial constraints.
It is natural for the children to progress through the programmes from the Lego League programmes through the Technical Challenge and finishing off with the Robotics Competition. However, this progress was lacking in South Africa until the launch of the Technical Challenge programme. The success of the Lego League programmes can now be carried through to the Technical Challenge, and hopefully all the way to the Robotics Competition.
The Lego League programmes currently have more than 200 teams with seven tournaments in five provinces. These children will all have the opportunity to progress to and participate in the Technical Challenge programme and further grow to the Robotics Competition, with the help of sponsorships and volunteers from industry. FIRST South Africa wants to expand and grow to give every child in South Africa the opportunity to participate in the FIRST Robotics programmes.
FIRST is about more than robotics. It is a programme that stimulates science, technology, engineering and maths (STEM), innovation, entrepreneurship skills and teaches children other important life and work skills. It changes the way children see and approach problems, helps them to work in teams and opens their minds. It improves their self-confidence, giving them more trust and confidence in what they can accomplish. This programme shows them that they can do science and engineering, cultivating a love and passion for it. And having more children studying towards science and engineering qualifications will definitely influence the future of employment and development in South Africa.
The FIRST Tech Challenge will have its first tournament in August 2014, followed by a championship in November. The two winning teams from this championship will receive an invitation to participate at the FTC World Festival in April 2015 that will take place in the USA. These teams will need sponsorship to participate and travel to the World Festival.
Sponsorships and donations are managed by Tshwane University of Technology and sponsors will enjoy maximum exposure on all the websites, publications, media and at tournaments. Sponsorships are needed for teams, tournaments, trophies and operational costs.
For more information contact Johannes de Vries, Tshwane University of Technology, +27 (0)12 382 4191, devriesj@tut.ac.za, alternatively contact Tessa Lithgow, Adroit Technologies, +27 (0)11 658 8100, tessal@adroit.co.za
Credit(s)
Further reading:
HMA Geotechnical solution for greenfield ammonia plant in Indonesia
June 2020 , News
HMA Geotechnical has supplied its Wisenmeshnet wireless infrastructure monitoring system for one of the largest industrial projects in Indonesia. This is the first time that this system, intended mainly 
...
Read more...
---
Africa Medical Supplies Platform launched
June 2020, Bearing Man Group t/a BMG , News
The Africa Medical Supplies Platform (AMSP), of which local company, Invicta Holdings, is a key supplier, is now officially live as part of a continent-wide effort to contain the Covid-19 pandemic. In 
...
Read more...
---
Africa Automation Technology Fair announces launch of virtual event series
June 2020, Reed Exhibitions , News
The Africa Automation Technology Fair (AATF) organiser, Reed Exhibitions, announced the launch of a series of virtual events to take place from July 2020 on the AATF digital platforms. The event series 
...
Read more...
---
Tektronix and Coherent Solutions partner for integrated optical communications
June 2020, Comtest , News
Comtest has announced that technology companies Tektronix and Coherent Solutions have an exclusive partnership agreement to provide fully integrated optical communications platforms to new and existing 
...
Read more...
---
Artificial Intelligence and Dawn of Disruption
June 2020 , News
Since the phrase Artificial Intelligence (AI) was coined in the 1950s, technology has advanced significantly and transformed our social and work worlds. Some industry luminaries are bullish about the 
...
Read more...
---
Limestone calciner takes command of operations with new control room
June 2020, Rockwell Automation , News
There are few qualities so desirable for a business to have than an ability to adapt to change. Industries evolve, circumstances shift, but what remains over time are those businesses with the foresight 
...
Read more...
---
Africa Automation Technology Fair 2021
May 2020, Reed Exhibitions , News
It's one year until the doors open to Africa's leading industrial automation technology event. Set to take place at the Ticketpro Dome from 18-20 May 2021, the event will be attended by South African, 
...
Read more...
---
Endress+Hauser sees itself as well positioned
May 2020, Endress+Hauser South Africa , News
Endress+Hauser performed well across all fields of activity, industries and regions in 2019. The Group created hundreds of new jobs, invested record amounts and improved in the area of sustainability. 
...
Read more...
---
Comtest trading for 15 years
May 2020, Comtest , News
Comtest, one of South Africa's leading providers of test, measurement and communications equipment, is proud to mark its 15-year trading milestone in 2020. CEO Barend Niemand says, "Comtest has representation 
...
Read more...
---
Hytec Pretoria exhibits at Mining & Technical Expo
May 2020 , News
Hytec Pretoria exhibited at the Mining and Technical Exhibition (MTE) at the Cullinan Sports Ground in Tshwane, the first MTE for the year held in February. The company showcased a wide range of products 
...
Read more...
---