printer friendly version
Building the future of South Africa one robot at a time
August 2014
News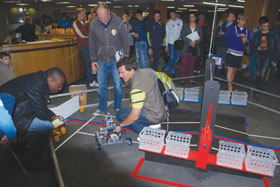 The Industrial Instrumentation Group (IIG) of South Africa is proud to announce that it has donated R100 000 to the FIRST Tech Challenge in South Africa that was launched by Johannes de Vries of the Tshwane University of Technology in May this year.
FIRST (For Inspiration and Recognition of Science and Technology) was founded in 1989 by American inventor/entrepreneur Dean Kamen. Its mission is to inspire young people to be science and technology leaders, by engaging them in exciting mentor-based programmes that build science, engineering and technology skills, inspire innovation and that foster well-rounded life capabilities including self-confidence, communication and leadership.
FIRST is a non-profit charity that designs accessible, innovative programmes that motivate young people to pursue education and career opportunities in science, technology, engineering and math, while building self-confidence, knowledge and life skills. The FIRST programmes include FIRST Robotics Competition (FRC), FIRST Tech Challenge (FTC), FIRST Lego League (FLL) and Junior FIRST Lego League.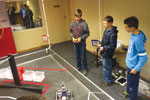 In 2004 FLL was launched in South Africa followed by the Jr. FLL in 2012. Tshwane University of Technology (TUT) was elected as the Operational Partner South Africa in 2008 and has been managing the FIRST programmes since then. The Lego League programmes are designed for children aged 6 to 9 (juniors) and 9 to 16, and developed in partnership between the Lego Company and FIRST USA. The mission of the Lego programmes is to introduce children to the fun and excitement of science and technology, develop their ability to work in teams and to stimulate the use of their creativity in the problem solving process.
The children, who work in teams with an adult coach/mentor, are given a robotics project to build, program and test based on a 'real world challenge' that includes research, documentation and presentation. All completed projects are then presented at the year-end tournament in November where regions compete to go through to the international tournaments.

The main sponsor for the Lego League programmes is SAP South Africa with sponsorship of the operational costs as well as 50 teams and four tournaments. Other sponsors include Tshwane University of Technology (TUT), University of South Africa (UNISA), NMMU, Sci-Bono, KwaZulu-Natal Science Centre and the Cape Town Science Centre.
The FTC was launched at the Tshwane University of Technology in May 2014 and is designed for students aged 12 to 18. This programme is still in its infancy in South Africa, but the fastest growing programme internationally with a 31% growth. The FTC offers the students more engineering experience compared to the Lego League programmes. The pilot programme kicked off in May with 26 registered teams where only 12 teams were initially anticipated. Unfortunately many teams could not be accommodated due to financial constraints.
It is natural for the children to progress through the programmes from the Lego League programmes through the Technical Challenge and finishing off with the Robotics Competition. However, this progress was lacking in South Africa until the launch of the Technical Challenge programme. The success of the Lego League programmes can now be carried through to the Technical Challenge, and hopefully all the way to the Robotics Competition.
The Lego League programmes currently have more than 200 teams with seven tournaments in five provinces. These children will all have the opportunity to progress to and participate in the Technical Challenge programme and further grow to the Robotics Competition, with the help of sponsorships and volunteers from industry. FIRST South Africa wants to expand and grow to give every child in South Africa the opportunity to participate in the FIRST Robotics programmes.
FIRST is about more than robotics. It is a programme that stimulates science, technology, engineering and maths (STEM), innovation, entrepreneurship skills and teaches children other important life and work skills. It changes the way children see and approach problems, helps them to work in teams and opens their minds. It improves their self-confidence, giving them more trust and confidence in what they can accomplish. This programme shows them that they can do science and engineering, cultivating a love and passion for it. And having more children studying towards science and engineering qualifications will definitely influence the future of employment and development in South Africa.
The FIRST Tech Challenge will have its first tournament in August 2014, followed by a championship in November. The two winning teams from this championship will receive an invitation to participate at the FTC World Festival in April 2015 that will take place in the USA. These teams will need sponsorship to participate and travel to the World Festival.
Sponsorships and donations are managed by Tshwane University of Technology and sponsors will enjoy maximum exposure on all the websites, publications, media and at tournaments. Sponsorships are needed for teams, tournaments, trophies and operational costs.
For more information contact Johannes de Vries, Tshwane University of Technology, +27 (0)12 382 4191, devriesj@tut.ac.za, alternatively contact Tessa Lithgow, Adroit Technologies, +27 (0)11 658 8100, tessal@adroit.co.za
Credit(s)
Further reading:
Breathers and spin-on elements form part of BMG's filtrations solutions
November 2020, Bearing Man Group t/a BMG , News
BMG's fluid technology filtration solutions comprise a wide range of fluid power components and systems, which are supported by the team's broad technical capabilities to ensure fluids operate within the required cleanliness standards.
Read more...
---
Emerson appoints Akberet Boykin Farr as vice president of Diversity and Social Responsibility
November 2020, Emerson Automation Solutions , News
Emerson has announced the appointment of Akberet Boykin Farr as vice president of Diversity and Social Responsibility, effective December 1, 2020.
Read more...
---
Endress+Hauser invites you to its virtual trade fair booth
January 2021, Endress+Hauser South Africa , News
Endress+Hauser is breaking new ground by bringing customers closer to its products, solutions and services in a flexible and informative way through a virtual exhibition booth.
Read more...
---
ABB and BI extend partnership to include high-efficiency IE3 motors
January 2021 , News
As an extension of the partnership between the two companies, low-voltage IE3 motors from ABB Africa will now be distributed by Bearings International.
Read more...
---
From the editor's desk: Hardwired to survive, can we beat coronavirus in 2021?
January 2021, Technews Publishing (SA Instrumentation & Control) , News
According to the Smithsonian, it was around four million years ago that our earliest ancestors broke the evolutionary mould and walked upright for the very first time. Over the course of the next few 
...
Read more...
---
AM Systems Integrations
January 2021 , News
AMSI is a specialist systems integrations company whose core offering is in plant optimisation and automation.
Read more...
---
From the editor's desk: Isolation economy could quicken the pace of 4IR adoption
November 2020, Technews Publishing (SA Instrumentation & Control) , News
The coronavirus pandemic has highlighted a problem that the manufacturing industry was already uncomfortably aware of – its traditional ecosystems are too cumbersome to cope with the variety of choice 
...
Read more...
---
Pepperl+Fuchs continues Its Digital Event Series and invites you to its second Online Summit
October 2020, Pepperl+Fuchs , News
Pepperl+Fuchs invites you to its second Online Summit: register now, free of charge, to gain access to this fully digital event, which will be held from 17-19 November.
Read more...
---
Cummins ships 800 QSK60 engines to China for use in data centres
November 2020 , News
Cummins has shipped 800 QSK60 series engines to China, where they will be installed in data centres to help communities stay connected through the reopening of the economy.
Read more...
---
Rockwell Automation and Microsoft expand partnership
November 2020, Rockwell Automation , News
Partnership aims to empower manufacturers with agility, intelligence, and scale to deliver digital transformation initiatives, from the cloud to the edge.
Read more...
---