printer friendly version
SAIMC: From the President's desk
May 2017
SAIMC
How can we lead more fully and with purpose, to make others more powerful?
At the AGM in March 2017 we, the SAIMC leadership, 'awoke' to our context and previously systematised social reality. Although systematised reality in many cases is unconscious, it still remains a reality. We have challenged our unconscious ways of thinking, confronted our ideals (unconscious and conscious), shrugged off unconscious cultural influences and stood upright in virtuous fortitude. We have appointed Annemarie van Coller as SAIMC council member. (See 'SAIMC: Secunda branch' for more.) This was a conscious and deliberate action by the existing council to have a woman as part of the SAIMC leadership.
The 'truth of time' is that women are less empowered because of the unfounded stereotypes and cultural dimensions such as 'masculinity' and 'femininity', which over the years equates masculinity with more and femininity with less. Like in many organisations, there's never a conscious or deliberate intention to keep women away from the leadership roles, but this is never followed by a satisfying account for absence of women in those roles. Mostly, the answer lies in taking a courageous stance to unlearn and let go of many deeply-held beliefs, attitudes and fears, which are often unconscious.
Annemarie van Coller is part of the SAIMC Secunda branch committee, a Pr Eng professional and instrument area leader at Sasol Synfuels and passionate about social entrepreneurship. She is also actively involved in ECSA mentorship at the graduate development programmes at Sasol. Having active partners who continue to drive SAIMC forward, like Jane van der Spuy, Ina Maartens who runs our operations office, and another SAIMC delegate, Hanli Goncalves, who continues to spear the industry forward with events such as Africa Automation Fair, we believe that with the drive to intentionally diversify across all social spheres (e.g. gender), success is inevitable.
The prominent question, why this?
The answer is simple, we hold the belief that the inclusive leadership starts with the intention, a deliberate effort, of wanting to be the best for the world, and not necessarily the best in the world.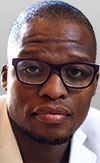 Kurt April, a seasoned leadership professor at the University of Cape Town asserts, "First, the role of the leader is to be the custodian of values, character and resources. Virtue must be understood and used in ways that heal and build the community, as opposed to appealing to old stereotypes. This involves hearing the minority voice, the marginalised stance, the 'other', and widening the conversation to help others cope with uncertainty and ambiguity, and avoiding the trap of absolutes, while teaching compassion (actionable empathy)."
Once again, we want women to help us lead the SAIMC, it does matter!
Yours sincerely,
Oratile Sematle.
Credit(s)
Further reading:
From the President's desk
January 2020, SAIMC , SAIMC
This year, I challenge you to try something that you are truly passionate about. In 2019 I took the plunge and bought an entry level 3D printer. It changed my life completely. I am now only limited 
...
Read more...
---
SAIMC: Durban branch
January 2020, SAIMC , SAIMC
The November technology evening was on the topic of shutdown planning, which was clearly of interest and attracted an audience of over sixty members and visitors to the usual venue at the Durban Country 
...
Read more...
---
SAIMC:Vaal branch
January 2020, SAIMC , SAIMC
The year's last technical evening was sponsored by the SAIMC. Vaal branch manager Juaandré Heyneke gave an in depth presentation on the SAIMC, where he explained the goals of the organisation, both nationally 
...
Read more...
---
SAIMC: Vaal branch
December 2019, SAIMC , SAIMC
At the last technology evening, Robert de Scande from SICK Automation gave a presentation on the subject of IO-Link. IO-Link offers new options for communication between the system control and field levels: 
...
Read more...
---
SAIMC: Durban branch
December 2019, SAIMC , SAIMC
Technology evening
At the last technology evening, Beckhoff Automation's Gareth Taylor (sales engineer, Durban) presented on the topic 'Open PC-based control technology in a world of modular process 
...
Read more...
---
SAIMC: Secunda branch
December 2019, SAIMC , SAIMC
At the technology evening on 10 October, Jacques Parrott, from SICK Automation SA gave a presentation on 'Measurement of green house gas emissions', which also touched on the issue of carbon tax. The 
...
Read more...
---
SAIMC: Johannesburg branch
December 2019, SAIMC , SAIMC
The October technology evening was hosted by Extech Safety Systems. Sales director Gary Friend presented an interesting take on the relationship between new technological advances, and the never-ending 
...
Read more...
---
SAIMC: From the President's desk
December 2019, SAIMC , SAIMC
2019 has been a year of many achievements by our members. Although the SAIMC might not be the organisation with the most members, the unselfish and hard-working team have certainly achieved more than 
...
Read more...
---
SAIMC: From the President's desk
November 2019, SAIMC , SAIMC
The end of the year is almost upon us. Have you taken the opportunity to ask yourself what has really changed for you this year? In some areas we have seen significant and exponential change. Automation 
...
Read more...
---
SAIMC: Tshwane branch
November 2019, SAIMC , News
Industry expert talks about importance of continuous learning
Learning from industry experts is a vital component of any student's training. Such an expert is Thabo Lekgowane, a robotics engineer from 
...
Read more...
---