printer friendly version
Calculating intrinsically safe loop approvals – Part 2
July 2013
IS & Ex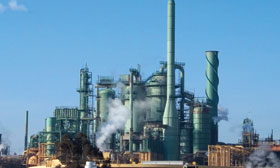 Subsequent to my previous article published in SA Instrumentation and Control on the subject of calculating an intrinsically safe loop approval (www.instrumentation.co.za/7571a), I will now consider the impact of Exic and how to handle long cable runs in IS loops.
ExnL (Energy Limiting) was a technique used for Zone 2 which was effectively 'intrinsic safety in normal operation' i.e. with no safety factor required. ExnL has been reassigned as Exic in IEC/SANS60079-11 and IEC/SANS60079-25. Previously, although not spelt out in the standards, it was generally accepted practice to run ExnL loops in the same trunks as IS loops. With the new standards, it is clear that Exic loops can be run in the same multi-core or trunk as other Exi loops. This means that single multi-core (or trunk) can be used for IS instruments in Zone 0, 1 and 2. NOTE : Shared multicore must be Type A or B in accordance with system standard IEC/SANS 60079-25, that is not subject to faults.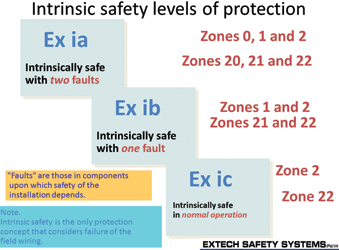 Figure 1.
Further on this topic: CENLEC standard and subsequently the IEC standard changed the capacitive reference curves because of some tests done in Germany. This reduced the allowed cable capacitance from 2002. This impacts plants built between 1995 and 2002 based on earlier ATEX standards where longer cable runs were required.
For a standard 24 V loop (Uo = 28 V) this changed the Co from 130 nF to 83 nF, reducing the maximum cable length allowed. When these plants require a DCS upgrade and a new isolator is to be fitted, the IS loop calculation now fails.
How can we handle this? Firstly, and importantly, there is a misconception that the Co values are defined by the design of barrier/isolator. The Co value is actually defined in IEC/SANS60079-11: 2012 Table A.2 page 96 (102 of 149). So any barrier/isolator with 28 V safety description will have Co = 83 nF (Zone 0/1; IIC). In practice this parameter will define the maximum allowable cable length.
Figure 2 shows an Exia loop with a Co=83 nF. The max cable capacitance Cc=63 nF. With a typical cable capacitance of 95 nF/km, this would equate to a maximum cable length of 660 metres.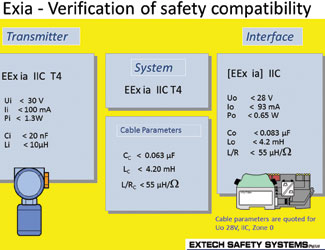 Figure 2.
If the loop were Exic, the Co=272 nF, so Cc=252 nF would theoretically allow 2,5 km of cable i.e. no longer a limiting factor. (The limiting factor in this system is likely to be the operating voltage at the end of the cable still being high enough to allow the transmitter to work). In Figure 3, the system is Exic certified.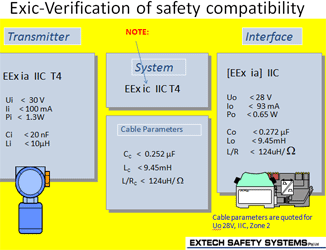 Figure 3.
Conclusions
1. For new installations requiring long cable runs, classifying the area as Zone 2 offers significant benefit.
2. For upgrading existing plants where the new loop approval fails, there are two options:
* Reclassify the hazardous area as Zone 2, then use Exic and make use of the higher Co value. If this is possible it is the simpler option.
* If it is not possible to reclassify, there is an alternative to be defined in the new ARP0108 due out shortly i.e. there is the availability of a 'Risk Assessment' for these loops (Reference in A.10). Note: If a change to loop apparatus results in incompatible safety parameters in accordance with the certification standard, the ATL may consider the use of risk assessment methods and a concession may be issued.
In both cases, Exic offers some flexibility and for upgrades allows for upgrades of old control systems improving safety.
Additional note on equipment for Zone 2: In Europe the ATEX directive allows for Cat 3 self certification (e.g. ExnA non-arcing). Due to the low risk of ignition and high skills proficiency (suppliers and end-users) this is acceptable. Most ExnL ATEX certified products were also Cat 3 self-certified. However with changing to Exic, this is now covered by the third party Exi certification (with minimal extra work or cost), making it an accepted practice in SA.
For reference to Part 1 see October 2012, pages 74 and 75, or refer to www.instrumentation.co.za/7571a
For more information contact Gary Friend, Extech Safety Systems, +27 (0)11 791 6000, gary@extech.co.za, www.extech.co.za
Credit(s)
Further reading:
Fluke's intrinsically safe tools
September 2021, Comtest , IS & Ex
Fluke offers a growing number of intrinsically safe tools, which dampen the available energy at the output terminals and do not produce any static electricity.
Read more...
---
Inventory management for LNG
September 2021, Endress+Hauser South Africa , IS & Ex
Endress+Hauser's innovative instrumentation and advanced inventory management solutions for LNG storage tanks ensure safe operation of plant and high levels of inventory transparency.
Read more...
---
Smart machines improve safety
September 2021, Rockwell Automation , IS & Ex
Manufacturers can harness the power of data to improve their safety compliance and performance using two new smart safety devices from Rockwell Automation.
Read more...
---
Troubleshooting process loops in Ex areas
September 2021, Comtest , IS & Ex
Tracking down problems within a process loop can be a difficult challenge in the best of environments. Doing so in an area that has the potential for explosion takes the degree of difficulty to another level.
Read more...
---
Wi-Fi in South African underground coal mines
August 2021, Extech Safety Systems , Industrial Wireless
In the author's opinion, Wi-Fi and all it offers can dramatically improve safety in all industries, including underground coal mines.
Read more...
---
Monitor access to cabinets
July 2021, Turck Banner , IS & Ex
A gas transfer station of the Villingen-Schwenningen municipal utility company uses Turck Banner's IMX12-CCM to monitor control cabinets and thus offer reliable protection from manipulation.
Read more...
---
Tube connector for Ex areas
May 2020, Parker Hannifin - Sales Company South Africa , IS & Ex
Parker Hannifin has extended its Phastite permanent instrumentation connection range, which is now available in a number of corrosion-resistant alloys (CRAs), including Alloy 825, 625 and Super Duplex, 
...
Read more...
---
How to calculate an intrinsically safe loop approval - updated and revised
March 2021, Extech Safety Systems , IS & Ex
We all know what can happen when the correct techniques are not used when interfacing into a hazardous area.
Read more...
---
Robust safety light curtains
April 2021, Turck Banner , IS & Ex
Ez-Screen LS light curtains are intuitive, easy-to-use safety devices designed by Turck Banner for machine safeguarding.
Read more...
---
Delivering modern SIS for wellhead applications
April 2021, Emerson Automation Solutions , IS & Ex
Keeping the safety and non-safety functions separate while achieving seamless integration.
Read more...
---