printer friendly version
Remote event notification increases productivity
January 2013
SCADA/HMI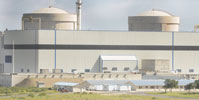 Uninterrupted and reliable electricity supply is uppermost in the minds of all South Africans, making proactive monitoring and rapid response to potentially disruptive events mandatory. At Koeberg nuclear power station, Eskom is going the extra mile by adding another layer of supervision to alert key personnel, wherever they are, of deviations from operational limits.
Why use remote event notification?
Monitoring a critical resource like Koeberg is not a nine-to-five job, people who are in a position to prevent issues from becoming mission-critical need to be appraised of threatening situations wherever they may be, day or night. While this may seem like a trivial exercise of extending scada alarm reporting via SMS or e-mail, it is not as simple as that.
The problem with alarms is that there is normally a flood of them when things go wrong or a continuous stream even when things are running reasonably smoothly. For plant operators this is acceptable as they (mostly) understand the reasons and know what to ignore. In addition, to add or change alarms in the automation system requires knowledge of that system or scada and the normal process engineer or plant manager may not have that knowledge. To use automation alarms to notify managers is therefore not a practical solution for providing managers with critical information. A trend that has recently become popular is to pull specific events and alarms from the plant floor and push them towards the groups or individuals who would require the information. This new trend has resulted in the concept of remote event notification (REN).
This facility gives individuals the power to configure custom events and to send an e-mail or SMS notification to themselves or a group of users. This configuration can be based on simple ON/OFF signal changes, or even on more complex events where specific values are greater than, less than or equal to certain limits. In certain situations, it may also be required to build more complex AND/OR expressions so that events that meet the criteria during shift-down periods can be ignored, or events that are critical when certain variables meet specific conditions are identified and notified.
Each event notification can then be configured to be valid for a specific time period, after which it will expire. This enables close monitoring of specific processes or plant areas during, for instance, plant or process changes without major configuration effort required to remove these events later.
"This configuration is completely independent of the alarms and events already configured in the scada/PLC/control system and any changes on the REN system will not have any effect on the existing alarming system of the plant," says Gerhard Greef, divisional manager at Bytes Systems Integration, the system integrator chosen by Eskom for this project. "The REN system will then notify personnel of specific process status conditions on a 24/7 basis. This ability to send automated event-based notifications on exceptions together with the functionality to escalate notifications based on changing conditions is the most sought-after feature required by customers."
Eskom's perspective on REN
"With the ever-increasing demand for reliable electricity, troubleshooting and effective decision making is vital to speedy resolution of plant issues that could threaten electricity supply," says Houston Carstens, system engineering manager, Koeberg. "Remote event notification is a key initiative that allows plant engineers to monitor performance of key equipment and parameters and know of any deviation or variation in real-time. This allows for more informed decisions based on real-time plant data."
Kobus Mostert, chief engineer at Koeberg has this to say: "Two years ago, plant engineering started a drive to improve the monitoring and trending performed by plant engineers. We compiled a new guide to compile system monitoring plans, which are reviewed on a yearly basis to ensure that any gaps identified during the year have been addressed effectively. We are working towards a point where we can predict failures before they actually occur. Therefore, unexpected failures should be limited to a minimum, or hopefully never happen if we are on top of our game.
"Considering the limited time engineers spend in front of their computers during working hours, plant engineering management has done some international benchmarking and decided that an alarm notification system would improve the way we are doing our business. This would ensure that the engineer or manager or any individual who has access can set a threshold for when he wants to be notified of a changing condition. When this predetermined threshold is reached, the 'owner' of the threshold setting would be notified automatically via SMS, pager or cellphone of the changed condition. This would ensure that action could be taken long before a critical set point is reached. This system ensures that plant engineers are notified not just during working hours but also have the ability to get feedback from the plant 24/7 without having to spend long hours at work or in front of computers to check equipment performance parameters. The system can also be used to provide useful information for station management and not just for the engineers. For example, if management needs to know when one of the reactors trip resulting in a unit shutdown, a power output parameter can be selected by all the managers who want to be notified of the trip," says Mostert.
Implementation
Since Wonderware solutions were already used on site, what Eskom wanted was a user-friendly GUI where users without Wonderware-specific skills could select Wonderware system tags and configure multiple event triggers and notifications on the same parameter, or on a combination of system parameters and constants. Event notification and information had to be delivered via e-mail and SMS.
Based on these requirements and enlisting the help of end-users to define the required functionality, Bytes Process Management and Control (PMC) used the Wonderware ArchestrA Toolkit to develop a WREN (Wonderware REN) solution. This initial implementation, which was developed in less than a month and rolled out in a day, combines the powerful architecture of the Wonderware software, with the flexibility and extensibility of the ArchestrA-based System Platform to deliver real value to Eskom.
"The major challenge was to deliver a system in a very short space of time that allowed users without Wonderware skills to be able to configure event notifications for themselves," says Machiel Engelbrecht, system engineer at PMC. "This was done by using standard Wonderware functionality and extending it with the Wonderware Object Toolkit and the Microsoft DOT NET environment. Users only need knowledge of the plant and the tag naming convention. In order to make the rollout to more sites easier, an ArchestrA object was developed with the ArchestrA Object Toolkit. A user-friendly ASP.NET web page was also developed to enable users to configure events. The Wonderware Information Server is used to navigate to this web page and to allow for security."
Data is mainly sourced from the Koeberg Wonderware Historian and the Historian Client is used to do root cause analysis. Plant engineers configure events by using the Web user interface. Events can be configured at all levels of the organisation, from plant level to management level. The system is essentially reporting exceptions and is used to highlight a plant condition that is moving away from the norm. Event notifications are sent via email or SMS 24 /7 365 days a year to smartphones, tablets or laptops.
Any KPI configured on the system can be used to set up a notification. The system is integrated with the company's intranet which in turn is connected to the Internet via VPN. This allows for full remote monitoring and configuration. All network-based communications are done via Eskom's countrywide WAN.
Business benefits
* Reduction in maintenance cost by minimising response time to breakdowns.
* Increased production by minimising breakdowns due to early warning of developing problems.
* Based on improved quality and availability of information regarding plant challenges, a solid platform for improved decision making is established.
* Improved profitability by early detection of plant anomalies.
* By establishing a broader community of informed persons focusing on a common goal, collaboration is enhanced through all levels of the enterprise.
Operational benefits
* Key decision-makers are up to date with plant status information that is available for their areas of responsibility.
* Reaction time of individuals responding to events happening in the plant is reduced to a minimum by informing key stakeholders immediately when a situation develops, thus minimising the impact on the operation.
* Faster access to the information that matters by the people most qualified to resolve specific issues.
* Better awareness by a larger qualified community promotes a greater degree of inter-personal consultation and cooperation.
* Being continuously aware of the plant constraints emerging, alternatives can be explored in time to maximise plant throughput.
For more information contact Jaco Markwat, Invensys Operations Management, +27 (0)11 607 8100, tech@invensys.co.za, www.iom.invensys.co.za
Credit(s)
Further reading:
IS3 partners with Izinga Integrated Solutions
September 2019, IS³ - Industry Software, Solutions & Support , News
On 24 July, IS³ – Industry Software Solutions and Support welcomed Izinga Integrated Solutions as a strategic solutions provider for AVEVA's asset performance management (APM) Solutions. Izinga is a 
...
Read more...
---
Will the IIoT kill scada, or lift it to new heights?
Technews Industry Guide: Industrial Internet of Things & Industry 4.0, Adroit Technologies , SCADA/HMI
Dave Wibberley, managing director, Adroit Technologies, shares his views on where scada is headed in the era of the Industrial Internet of Things.
Read more...
---
A technology evolution unfolds at X-Change 2019
May 2019, IS³ - Industry Software, Solutions & Support , News
IS
3
and AVEVA reimagine asset optimisation and new ways of work in tomorrow's digitally enhanced manufacturing plants.
Read more...
---
Collaborative robots
Africa Automation Fair 2019 Preview, Cobots , SCADA/HMI
Cobots is showcasing its range of collaborative robots. These robots make it simple and affordable for humans and machines to work together without a safety cage. Cobots can easily be implemented in small 
...
Read more...
---
Management overview of assets
Africa Automation Fair 2019 Preview, IS³ - Industry Software, Solutions & Support , IT in Manufacturing
IS³ is showcasing the Integrated Command and Control Centre, which can be used as a management overview of assets. This features AVEVA Software Solutions, including Predictive Analytics, AVEVA Net, Control 
...
Read more...
---
Machines that manage real-time resources
Africa Automation Fair 2019 Preview, Motion Control Systems , SCADA/HMI
iBOS Industrial is changing the way we maintain and respond to machine level events with technology that effectively manages real-time resources (people) from the machine level.    Health and safety, 
...
Read more...
---
Understanding how predictive analytics tools benefit power utility management
Technews Industry Guide: Maintenance, Reliability & Asset Optimisation 2019, IS³ - Industry Software, Solutions & Support , IT in Manufacturing
This paper reviews how predictive analytics tools can be applied to both utility operations and maintenance.
Read more...
---
Be part of the ultimate journey at X-Change 2019
March 2019, IS³ - Industry Software, Solutions & Support , News
The 4th Industrial Revolution and the New Way of Work through Edge-to-Enterprise solutions.
Read more...
---
IS³ extends portfolio to include AVEVA's Engineer, Construct and Procure software
March 2019, IS³ - Industry Software, Solutions & Support , News
IS³ - Industry Software, Solutions and Support recently signed an extension to the contract with AVEVA, which now extends its portfolio to include the Engineer, Construct and Procure software solutions. 
...
Read more...
---
New benchmark scada software platform
March 2019, Adroit Technologies , SCADA/HMI
MAPS 4, the latest scada solution for control and visualisation from Adroit Technologies, extends connectivity options, adds user tools and increases the scope of its built-in functionality. The result 
...
Read more...
---