printer friendly version
Clouds ... what can they do for manufacturing?
August 2012
IT in Manufacturing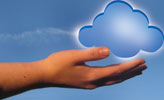 Introduction
For most organisations, IT infrastructure has become the catalyst for delivering both distributed and centrally deployed application services to users. These networked applications, together with the correct information strategies, are essential for mobility and the smooth of core business processes such as customer relationship management, sales force automation, finance and supply chain management, process management control and others. In order for an organisation to gain unparalleled competitive advantage through technology enhancement, it is critical to understand how these networked applications are performing relative to the organisation's requirements and experience.
To ensure their business is still relevant and future proofed, most organisations today have as a priority to boost business efficiency and cut costs and therefore recent technology developments have been focused on collaboration, optimisation, consolidation, doing more with less, consuming IT services as utilities, etc. Within manufacturers' organisations, there has been a profound move by business, the true owners of applications, to take back ownership of the applications while the IT department is tasked with providing an infrastructure that can deliver or make available these applications securely, anywhere and on any device.
This trend is quite evident in employees bringing in their own devices to the office and demanding to have their enterprise applications available on them. Employees and departments are becoming increasingly self-sufficient in meeting their own IT needs. Products and applications have become easier to use and technology offerings are addressing an ever-widening range of business requirements in areas such as video-conferencing, digital imaging, employee collaboration, salesforce support and systems backup, to mention but a few.
The complexity for organisations of how to deliver these new business requirements are removed through a new IT consumption model called cloud. To understand cloud services we have to take a look at the evolution of computing.
Centralised Computing: 1960s –
* Optimised for sharing, industrial strength, systems management.
* Managed by central IT organisation.
* Back office applications involving transactions, shared databases.
* Mainframes, supercomputers, minicomputers.
Client-Server: 1980s –
* Optimised for low costs, simplicity, flexibility.
* Distributed management across multiple departments and organisations.
* Large numbers of PC-based applications.
* PC-based clients and servers, Unix, Linux.
Cloud: 2000s –
* Optimised for massive scalability, distribution of services.
* Managed by central IT organisation, hybrid acquisition models.
* Supports huge numbers of mobile devices and sensors.
* Internet-based architecture.
So what is cloud computing then exactly? It is a new consumption and delivery model inspired by consumer Internet services. Cloud computing exhibits the following five key characteristics:
* On-demand self-service.
* Ubiquitous network access.
* Location independent resource pooling.
* Rapid elasticity.
* Pay per use.
The bottom line is that whilst the technology is not new, the end user focus of self-service, self-management leveraging these technologies is new. Now IT services and applications are being consumed and paid for like we would do for any other utility in the workplace or at home on a monthly basis.
We find cloud services hosted in four formats depending on organisational requirements
Private clouds – these are operated solely for one organisation. They may be managed by the organisation itself or by a third-party and they may exist on premises or off.
Public clouds – these are open to the general public or a large industry group and are owned and managed by a cloud service provider.
Hybrid clouds – this combines two or more clouds (private or public) that remain unique entities but are bound together by technology that enables data and application portability.
Community clouds – infrastructure that is shared by several organisations and supports a specific community; may be managed by the organisations or a third-party.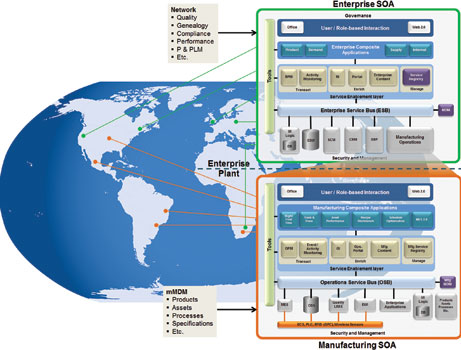 Manufacturing cloud infrastructure concerns
Certainly, there are many success stories in other industries. But the manufacturing industry is slower to adopt with some organisations holding out, but at the 2011 MESA Conference, the theme was around cloud technology. This indicates that cloud is being considered as a key enabler even within manufacturing
"What value can this technology bring to manufacturing?" is the predominant question manufacturing technologists ask themselves. Cloud by nature is virtual and not tied to any specific hardware or site. Security is one of the key considerations when planning your move to cloud services and hence the various formats being adapted. Mission-critical applications and systems might reside on an organisation's own site, in other words a private cloud and the same organisation might decide to move non-critical applications off site like e-mail archiving and data warehousing, meaning a public cloud.
For manufacturing plants specifically, security and availability is a non-negotiable must. But to what degree can manufacturing plants trust technology that absolutely, positively has to deliver all the time. What will happen if the technology fails to deliver? In the case of manufacturing plants, at best it will mean that production stops, at worst someone may die. This is what cloud addresses more than anything else. Backups and redundancy is part and parcel of the cloud architecture. So much so that we can find the same site or infrastructure being backed up to three geographically separated sites. This is done to negate power and bandwidth risks. In actual fact it has moved IT service delivery away from a world where uptime SLAs are established as 99,99999% or five 9s as it is known in an always on world. The choice of service provider is very important and time should be spent to understand the service provider's credentials and ability to deliver.
In South Africa, as with many other countries on the continent, bandwidth is restricted, unreliable and prone to failure. Cloud in its purest form therefore needs to be considered very carefully in terms of reliability and bandwidth needs. If, for instance, the Manufacturing Operations Management (MOM) system is on the cloud, what would happen at plant level when the communication fails? So bandwidth reliability (or lack thereof) is another constraint on acceptance. Again, beyond the fact that cloud architecture is in itself built to be risk adverse it also comes in the four flavours as mentioned above. Highly key or strategic business systems could be hosted on premises. It is important to remember that cloud in essence is not new technology per se, but new in the way we deploy, manage and consume it.
With regards to the application technology available within manufacturing operations, I have some concerns as well. I am not sure how ready MOM technologies are for the cloud, specifically with regards to host server (firmware) or VMWare upgrades, patches and technology upgrades, re-establishing OPC connectivity, not to mention virus and other security updates. For some of these, a server re-boot is often required. How would one go about re-booting a server running somewhere in the cloud in a virtual environment sharing hardware with other applications owned by other companies? Virtualisation takes care of this risk because virtual machines are backed up in real-time so if something goes wrong it is just a click of the button to have business continue on the second virtual machine. In saying that, the application or software needs to be virtualisation enabled or in other words the application should be able to be run on virtual machines.
Manufacturing solution providers are also more frequently releasing applications that run on personal devices such as smartphones and tablets. Some of these applications are specifically structured to live in the cloud. Most of these are only required to deliver KPs or critical event information to executives. Some manufacturers have expressed concerns about the mechanisms of data delivery to these devices and the security of the data. In the beginning I mentioned that the cloud was inspired by consumer Internet services. In other words, cloud was built to deliver to a mobile world.
In light of the above concerns, it should be clear why cloud is not as yet generally accepted at plant level. Does this mean that manufacturing facilities should discard cloud as 'pie in the sky'? My belief is that they can only do this at their own peril. There is much to learn from cloud infrastructure that can be applied to the benefit of manufacturing plants.
On-site architecture
The concepts of 'private cloud', 'on-site cloud' and 'virtualisation' come to mind. Virtualising the plant manufacturing applications from a redundancy and reliability perspective can bring about great peace of mind for plant IT people. Having the infrastructure on-site will alleviate the fears of outside intrusion and remove the constraint of unreliable bandwidth.
With a good virtualisation strategy and infrastructure, manufacturing plants can save capital and add manufacturing value in the long term. With on-site infrastructure, plants will have more freedom to control their own applications and will be more secure in the knowledge that they own their hardware and software. The same applies to manufacturing enterprises that are reluctant to hand the control of their applications and infrastructure to some vendor that lives in the cloud somewhere.
When one looks at Manufacturing 2.0 architecture for larger enterprises, cloud and virtualisation fit right into the basic concepts. On-site cloud infrastructure can deliver on most of the MOM requirements (such as MOM, LIMS and WMS) at plant level in a virtualised environment. It can deliver the role-based user interaction, Operations Process Management, Enterprise Manufacturing Intelligence as well as the basic application services and development administration management. It will also provide the infrastructure that enables the Manufacturing Service Bus and manufacturing Master Data Management. Global cloud infrastructure can deliver the same concepts at Enterprise level for SCM, CRM and ERP applications.
Small manufacturing concerns
When we look at smaller manufacturing concerns, cloud applications and infrastructure as well as Software as a Service may be valid business models to access advanced functionality that are too expensive via other means. It does depend on the specific needs of the manufacturing facility of course, as even for small operations real-time MOM connectivity may still be required. But as a strategy it may be something to consider for smaller operations.
Conclusion
Cloud infrastructure may not be well accepted by the more conservative manufacturing concerns at this time. The technology has not proven itself to the degree accepted by the manufacturing industry, but it may just be a question of time before it does. Cloud also fits in with other concepts being implemented by manufacturing enterprises such as Manufacturing 2.0, so it may just be a question of time before it is adopted.
Events, threats and opportunities are not just coming at us faster or with less predictability; they are converging and influencing each other to create entirely new situations. These first-of-their-kind developments require unprecedented degrees of creativity.
For more information contact Gerhard Greeff, Bytes Systems Integration, +27 (0)82 654 0290, gerhard.greeff@bytes.co.za, www.bytes.co.za
Credit(s)
Further reading:
Digital twin allows process simulations
December 2019, Siemens Digital Industries , IT in Manufacturing
The high-tech company Grenzebach's portfolio includes the simulation of material flow in complex plants in the glass industry, which it achieves using Siemens simulation solutions. Together, the two companies 
...
Read more...
---
Game-changing digital solutions for mines
December 2019, SKF South Africa , IT in Manufacturing
With digitalisation creeping into the mining industry and transforming day-to-day operations, this sector is enhancing its Industry 4.0 operation and process compliancy. As a preferred supplier of premium 
...
Read more...
---
Protect critical infrastructure and manufacturing plants
December 2019 , IT in Manufacturing
As manufacturers around the world analyse and embrace the importance of being more connected to the IIoT, cybersecurity experts caution that the benefits of being interconnected come with a warning, and 
...
Read more...
---
Extending analytics to EAM and operations users
December 2019 , IT in Manufacturing
Today's manufacturing operations and maintenance teams generate vast amounts of data in all forms.
Read more...
---
AI in manufacturing – revolutionary opportunity or well-trodden path?
December 2019, Absolute Perspectives , IT in Manufacturing
Artificial Intelligence (AI) has become a catchphrase used by marketers that attributes the characteristics of human intelligence to a computer system.
Read more...
---
Blockchain technology in the food and beverage industry
December 2019, Schneider Electric South Africa , IT in Manufacturing
Advances in blockchain technology could enable the food and beverage industry (F&B) to enhance traceability. In the US alone, food recalls and food-borne illnesses cost some $77 billion per annum, including 
...
Read more...
---
Navigate the fourth industrial revolution with PricewaterhouseCoopers
November 2019 , IT in Manufacturing
Using the building blocks of 4IR to transform business processes into manufacturing advantages requires a holistic approach.
Read more...
---
Artificial intelligence in manufacturing – a practical and simplified view
November 2019, Altron Bytes Systems Integration , IT in Manufacturing
Looking at and interpreting data generated during the manufacturing process to find ways to reduce waste, improve quality and increase yield is not new. However, the increased use of digital technologies 
...
Read more...
---
Intelligent data glasses support production
November 2019, Siemens Digital Industries , IT in Manufacturing
Augmented Reality (AR) has arrived in the workplace: for the last three years, a consortium of six companies and institutions chaired by Siemens has been researching the use of augmented reality (AR) 
...
Read more...
---
Siemens launches report on Dawn of Digitalisation and its Impact on Africa
October 2019, Siemens Digital Industries , IT in Manufacturing
Africa needs a digitalisation strategy to compete in the global economy.
Read more...
---