printer friendly version
Intelligent data glasses support production
November 2019
IT in Manufacturing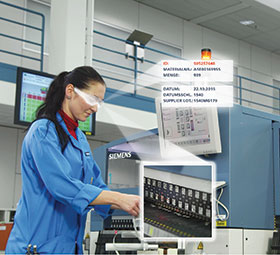 Augmented Reality (AR) has arrived in the workplace: for the last three years, a consortium of six companies and institutions chaired by Siemens has been researching the use of augmented reality (AR) in industry. The aim of the project – known as Glass@Service – was to be able to use intelligent data glasses as personalised information systems by combining them with new types of interactions, such as eye and gesture control, and innovative IT services. The first practical tests in actual production and logistics processes have now been successfully completed.
Digitalisation is increasingly making its presence felt in manufacturing. In some areas, primarily when retooling machines and picking orders, employees are often still working with printouts, printing stocks of labels for marking material, and laboriously recording all the data in the inventory control system at the end of the process. Investigations have therefore been in place for several years now to assess the extent to which AR could be used in these areas. However, it is only now that the technological components required for this, such as micro-displays, controller electronics, 3D cameras, and sensors, have become sufficiently sophisticated that they can be combined to form an innovative human/machine interface and be integrated into the IT landscape of a manufacturing plant. "Siemens wanted to play an active role in shaping this change to the workplace right from the start," explains Frank-Peter Schiefelbein from Siemens Corporate Technology, the Siemens arm of the Glass@Service project.
The practical tests took place in the Siemens Electronics Factory in Amberg and at the Fürth manufacturing site. The AR system's software had to be specially adapted to the demands of each site. In logistics, the primary concern is to provide employees with warehouse orientation aids in the form of wearable devices and to identify, mark, and process the products online without error in the inventory control system. When retooling or maintaining machines, the data glasses can provide invaluable assistance by showing each work step on the display and supporting the employee as he operates the machines. Eye movements are captured with an eye-tracking camera. It is therefore possible to interact with the system through specific control of the line of sight and, for example, to scroll through a data sheet or activate virtual buttons.
For more information contact Jennifer Naidoo, Siemens Digital Industries, +27 11 652 2795, jennifer.naidoo@siemens.com, www.siemens.co.za
Credit(s)
Further reading:
Industrial Ethernet switches reflect ongoing evolution at the IIoT 'thin edge'
January 2020 , IT in Manufacturing
Today's digital transformation strategies require data connectivity throughout the architecture to fulfil the quest for improved operations.
Read more...
---
RS Components introduces 4ZeroBox IIoT development system
January 2020, RS Components SA , IT in Manufacturing
RS Components has introduced the 4ZeroBox IIoT unit from Italian manufacturer TOI. 4ZeroBox is the hardware component of TOI's 4ZeroPlatform, a plug-and-play data gathering, processing and reporting system 
...
Read more...
---
IFS study reveals AI investments looming on the business horizon
January 2020 , IT in Manufacturing
Global enterprise applications company, IFS, has announced the findings of a research study into the attitudes and strategies towards artificial intelligence (AI) among business leaders. The study polled 
...
Read more...
---
New Mindsphere app from Siemens
January 2020, Siemens Digital Industries , IT in Manufacturing
With Predictive Services for Drive Systems, Siemens presents a standardised extension to local service agreements. Based on the new Mindsphere Predictive Service Assistance app, it makes maintenance more 
...
Read more...
---
Motion controller with integrated drive control
January 2020, Siemens Digital Industries , Motion Control & Drives
Siemens has expanded its product portfolio of technology CPUs with the Simatic Drive Controller. The new controller combines a Simatic S7-1500 controller with motion control, technology and safety functionality, 
...
Read more...
---
Schneider Electric brings digital competence to mining applications
January 2020, Schneider Electric South Africa , IT in Manufacturing
Schneider Electric is dedicated to the deployment of digital technologies in mining to address the rising pressures on business sustainability and reduced energy consumption. "The organisation has invested 
...
Read more...
---
Micromine assists mining operations in the Industry 4.0 era
January 2020 , IT in Manufacturing
Global trends such as Industry 4.0 are transforming the traditional methods deployed to extract ore from rock. Mining operations are instead looking at innovations such as automated drilling in high risk 
...
Read more...
---
11th annual MESA Africa conference
January 2020 , IT in Manufacturing
I recently attended the MESA conference held at the Zulu Inyala Country Manor.
Read more...
---
5G – the wireless network of the future
December 2019, Siemens Digital Industries , Industrial Wireless
Mobile wireless network standards, starting with 1G, have been shaping our mobile communication for years. While previous developments have focused on improved usability in the public sector, the new 
...
Read more...
---
Digital twin allows process simulations
December 2019, Siemens Digital Industries , IT in Manufacturing
The high-tech company Grenzebach's portfolio includes the simulation of material flow in complex plants in the glass industry, which it achieves using Siemens simulation solutions. Together, the two companies 
...
Read more...
---