printer friendly version
M&C's stator rewind yield best ever test results
November 2019
News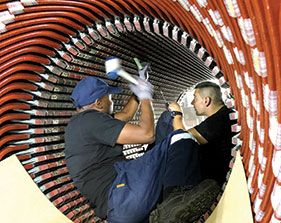 Marthinusen & Coutts recently provided a solution to an irregularity that occurred in the stator of a large 36 MW compressor motor deployed at Sasol's Secunda plant.
Initially, a Sasol maintenance team discovered during a routine inspection that the flux shield mountings on the stator were faulty, whereupon Sasol awarded M&C; a contract to identify the cause of the irregularity and offer a solution.
"We tested the stator winding, which we found to be fine, but confirmed that there was a defect in the flux shield and recommended that it be repaired, as there was a risk of it damaging the winding if left to continue operating in its existing condition," said Rob Melaia, M&C's engineering and technical executive. "To repair the flux shield meant also having to remove the winding and perform a rewind on the stator."
Sasol accepted M&C's recommendation and assigned it to perform the required repairs. "In addition to replacing the old bars with new ones, we did a very specific modification to repair the flux shield to prevent a recurrence of the defect in the future," explained Melaia.
"On investigating the defect we found that the electrical current, instead of flowing only in the flux shield as it ought to have done to prevent the core from overheating, had started flowing in the mounting bolts, so causing wear by electrical arcing in the mounting holes and the mounting studs," he added.
The solution M&C's repair team provided was to fit copper braid straps from several points on the flux shield to the stator body to reroute the current in such a way as to prevent a repeat of the damage as witnessed. To confirm the effectiveness of the solution M&C; arranged to have the refurbished stator tested by local independent test authority H.V. Test Field Services.
The results of the final tests were found to be the best among many conducted on similar equipment over a period of several decades. "We have every reason to be proud of this outcome as it says volumes about M&C's expertise in this field, both in terms of correctly diagnosing and repairing faults in a wide range of large rotating equipment, as well as providing the appropriate and most effective solutions for them," concluded Melaia.
For more information contact Marthinusen & Coutts, +27 11 607 1700, support@mandc.co.za, www.mandc.co.za
Further reading:
The IIoT edge is evolving
January 2020, Technews Publishing (SA Instrumentation & Control) , News
In its IIoT context, the edge is traditionally understood to be a kind of half-way point between the plant and the cloud. Physically hard to define, the edge acts as a repository for data collected from 
...
Read more...
---
University of London opens electronics laboratory based on Tektronix solutions
January 2020 , News
Royal Holloway, University of London, has officially opened its new Beatrice Shilling Building which includes state-of-the-art teaching laboratories in partnership with Tektronix, a leading worldwide 
...
Read more...
---
Rockwell Automation named a leader in Manufacturing Execution Systems
January 2020 , News
Rockwell Automation has announced its recognition as a leader in the Gartner Magic Quadrant for Manufacturing Execution Systems for the second consecutive year. Since the 2018 report, Rockwell Automation 
...
Read more...
---
SKF acquires industrial AI company
January 2020 , News
SKF has signed an agreement to acquire Presenso, a company that develops and deploys artificial intelligence (AI)-based predictive maintenance software. Presenso's capability enables production plants 
...
Read more...
---
Bosch Ulwazi hosts 2019 Engineer in Training function
January 2020 , News
Bosch Ulwazi's 2019 Engineer-in-Training (EIT) Conference was recently held in Mt Edgecombe. At this annual event, graduates are given an interactive platform to showcase the knowledge and skills they 
...
Read more...
---
Smart cities embrace 4IR
January 2020, Schneider Electric South Africa , News
Smart cities rely on smart grid technology that includes traditional and renewable energy sources in its mix of power supply. Driven by the advanced technology of the fourth industrial revolution (4IR), 
...
Read more...
---
North American EtherCAT Plug Fest offers opportunities
January 2020 , News
The 2019 North American EtherCAT Plug Fest recently took place in Denver, USA. Numerous well-known manufacturers of EtherCAT devices came together over two days to test the interoperability of their products 
...
Read more...
---
EM Bloemfontein offers accredited training courses
January 2020, ElectroMechanica , News
The Bloemfontein branch of supplier ElectroMechanica (EM) plans to make significant inroads in the Free State region thanks to its fully-equipped training facility, focusing mainly on automation products 
...
Read more...
---
Cummins boosts production at two glass manufacturers
January 2020 , News
Standby power systems from Cummins are providing extra protection at two glass-manufacturing facilities in Lahore, Pakistan, allowing production lines to always be on, and operations to continue seamlessly 
...
Read more...
---
Schneider Electric announces local manufacturing and reduced lead times
January 2020, Schneider Electric South Africa , News
Schneider Electric South Africa has announced that its PIX Easy Air Insulated Switchgear, previously 100% internationally manufactured, will now have a 68% local finishing process, reducing the customer 
...
Read more...
---