printer friendly version
Vibration measurement in machine maintenance
October 2019
Maintenance, Test & Measurement, Calibration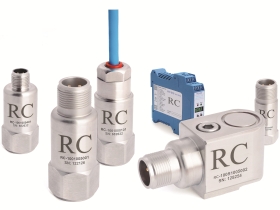 Vibration and temperature are the most common parameters measured on process plants for machine maintenance. Temperature measurement has been around for longer, probably because it was available first and was better understood than vibration analysis. However, vibration analysis gives an earlier warning and can provide more information to assist maintenance engineers in decision making.
Most people are familiar with vibration – a vibrating object oscillates. We experience many examples of vibration in daily life. A pendulum set in motion vibrates. A plucked guitar string vibrates. Vehicles driven on rough terrain vibrate, and geological activity can cause massive vibrations in the form of tremors and earthquakes. There are various ways we can tell that something is vibrating. We can touch a vibrating object and feel the vibration. We may also see the back-and-forth movement of a vibrating object. Sometimes vibration creates sounds that we can hear, or heat that we can sense.
Vibration analysis
Vibration analysis can be useful in helping to determine the exact nature of a machine problem, allowing the necessary spare parts for repair to be ordered well in advance of the scheduled shutdown. The cost of equipment failure is tremendous, so is the lost production due to shutdown, particularly unscheduled shutdown. Also, equipment not running efficiently costs money in extra services like electricity and consumables.
So, the answer is to keep a check on the mechanical health of the machine and keep it in operation as long as possible, and as efficiently as possible. The way to do this is via simple fixed and portable vibration monitoring. Unexpected down-time can create a lot of problems and having good information or early warning as to the condition of the machine, a sound judgment can be made as to whether or not to keep the machine running until a more convenient time.
With today's technology, vibration measurement has become more cost effective and easier to install. User friendly equipment allows simple 2-wire installations that can provide system alarms and also provide data to analysers for exact fault diagnosis. More sophisticated systems can be installed on critical rotating plant to provide on-line, real-time analysis. These systems can also be linked to existing vibration sensors and when made available on an LAN of your choice can be viewed at any point on the plant or even around the country. By making vibration information available plant or country wide it allows the correct people to make the right decision and results in savings on downtime due to unnecessary maintenance and undetected failures.
Historically, many processes have been shut down on a routine basis for visual inspection of the machinery, whether or not an inspection was required. Shutdowns, even scheduled shutdowns, have become more and more expensive in today's continuous processes. By installing vibration monitoring equipment or using portable units on a routine basis we can extend the running time between shutdowns.
R&C; Instrumentation supplies and supports the RC range of vibration measurement products. These instruments are manufactured in Europe and conform to European standards as far as manufacture, quality and reliability is concerned. Apart from the standard range of RC vibration sensors, ATEX certified intrinsically safe units are also available, as well as a sensor with 4-20 mA vibration and 10 mV/°C temperature output. Portable instruments, raw data converters, and programmable vibration switches complete the range of RC products.
Credit(s)
Further reading:
All-in-one documenting process calibrators
Comtest Maintenance, Test & Measurement, Calibration
The multifunction calibrators perform sourcing, simulation and measurement of pressure, temperature and electrical signals.
Read more...
---
Five reasons for force measurement
WIKA Instruments Editor's Choice Maintenance, Test & Measurement, Calibration
Wika takes a closer look at the measured variable of force and gives five reasons to show why force measurement is of particular importance.
Read more...
---
Vibration pen for hazardous areas
R&C Instrumentation IS & Ex
Vibration and temperature are the most common parameters measured on process plants to predict equipment failure or process problems. As part of the extensive range of vibration measurement products and IS rated instruments from R&C Instrumentation, the TV712 series from Time now comes in IS versions for EX Hazardous areas such as coal mines and chemical plants.
Read more...
---
High-quality contact lubricants
Vepac Electronics Maintenance, Test & Measurement, Calibration
CG53A is part of the CG series of contact lubricants, designed as an extension of the extremely popular 2X range. The main advantages of these products are reduced contact resistance, even on extremely 
...
Read more...
---
Pyrometer for hazardous areas
R&C Instrumentation Temperature Measurement
The intrinsically safe version of Fluke's versatile Thermalert 4.0 is fully Ex certified for use in Zones 1 and 2 (gas) and Zones 21 and 22 (dust).
Read more...
---
Field services – beyond break-fix to invaluable organisational insight
Schneider Electric South Africa Maintenance, Test & Measurement, Calibration
An outsourced field services team can assist organisations not only during emergencies but also by providing spares, technical support and 24/7 callout availability.
Read more...
---
Pyranometer for monitoring small-scale PV installation efficiency
GHM Messtechnik SA Electrical Power & Protection Maintenance, Test & Measurement, Calibration
The device's classification level under the ISO 9060:2018 standard guarantees accuracy, reliability, precision and compliance with reference standards.
Read more...
---
Condition monitoring on offshore oil platforms
Beckhoff Automation Maintenance, Test & Measurement, Calibration
The steel structures of an offshore platform are exposed to extreme environmental conditions throughout their entire service lives. Difficult sea conditions ranging up to freak waves and aggressive 
...
Read more...
---
The 'P' in predictive maintenance represents progress, not pain
SMC Corporation South Africa Maintenance, Test & Measurement, Calibration
There are three main types of maintenance: reactive, preventative and predictive. But how do you make sense of these terms? Human health can provide an analogy to machine health. Take diabetes, for 
...
Read more...
---
Precision current loop calibrators
Comtest Maintenance, Test & Measurement, Calibration
The Fluke 709 and 709H mA loop calibrators are built around a user-friendly interface with a quick-set rotary encoder knob.
Read more...
---