printer friendly version
Open-source cloud IoT in a box
Technews Industry Guide: Industrial Internet of Things & Industry 4.0
IT in Manufacturing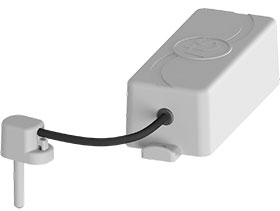 biTid has galvanised the IoT software sector by bringing to market a scalable, open-source IoT cloud platform, developed in South Africa. The platform source code is freely available for download from github and the company strives to keep up with the latest technologies, currently using node.js, angular, mongoDB and Kubernetes, all running on Linux.
Equipped with this platform, biTid offers its services as an out-sourced model based on customised service level agreements, as it becomes your trusted IoT advisor.
Cloud platform features
The architecture allows every aspect to be accessible via well documented Restful APIs, allowing for seamless integration. Data, reports, mimics and alert profiles are shared between users and apps via the OAUTH2 standard. All aspects of the platform make use of this sharing model and APIs are granted access. Firewalling and end to end encryption are also implemented.
The open-source platform provides dashboarding, web-based and traditional scada, Mapping (including geo-fencing), and Android and iOS Apps. Data is presented live on the web via webSockets, eliminating the need for continuous page refreshing. It integrates seamlessly into Google Big Query and Google Sheets, which have AI and machine learning capabilities. A reporting app allows users to easily wrap these data sources into your own branded interface.
Alerts and device management
Alerts are received via push notification to a smartphone app. The alerting module integrates with Slack.com allowing for easy management of alerting groups.
Being hardware agnostic, a variety of functionality has been implemented using Sigfox, LoRa, RF and GSM technologies. The Device Management app monitors hardware health, and manages scaling and naming of I/O, while the Genus app manages IoT installations using GPS coordinates and date stamp to locate devices.
Other features include:
• No licensing fees.
• White label platform and apps to promote your brand.
• Host on any cloud provider such as AWS, Google or on premise.
• One programming language – javascript.
• biTid undertakes to integrate legacy hardware/sensors into the platform at no cost.
For more information contact Shane Bowyer, biTid, +27 82 886 3782, shane@bitid.co.za, www.bitid.co.za
Credit(s)
Further reading:
Get full value from factory floor data with data sciences
October 2021, Omron Electronics , IT in Manufacturing
Valuable information needs to be extracted from the data and presented to the right audience, at the right time and in the right way.
Read more...
---
Collaboration in the automation ecosystem
October 2021, EPLAN Software & Services , IT in Manufacturing
Data created in the engineering process must be shared with everyone involved in the process.
Read more...
---
Siemens' software for digital transformation of automotive design
September 2021, Siemens Digital Industries , IT in Manufacturing
Model-based development process and systems are used in Japan and globally to adapt to the biggest automotive transformation in 100 years.
Read more...
---
Is track and trace through the factory a waste of time?
September 2021, Iritron , IT in Manufacturing
Modern track and trace solutions are purpose-built to introduce as little disruption to the existing production process as possible, while also being flexible enough to cater for plants that range from fully manual to fully automated.
Read more...
---
Modularity for scalability
September 2021, RJ Connect , IT in Manufacturing
Businesses are looking for versatile solutions that are easy to maintain to ensure smooth operations while keeping costs down.
Read more...
---
Saryx launches TMP
September 2021, Saryx Engineering Group , IT in Manufacturing
The digital transformation that has swept the world in the past few years has fundamentally altered most people's approach to technology, with an increasing number seeking the ability to manage their 
...
Read more...
---
Secure boundaries enhance industrial cybersecurity
September 2021, RJ Connect , IT in Manufacturing
When enhancing cybersecurity, it is important to understand how industrial systems are exchanging data and how they connect to IT-level systems.
Read more...
---
Siemens drives digital transformation at virtual Smart Mining forum
September 2021, Siemens Digital Industries , IT in Manufacturing
With its motto: 'On the road to the digital future', Siemens hosted its virtual Smart Mining forum from 3-5 August.
Read more...
---
Deep-learning AI made accessible
September 2021, SICK Automation Southern Africa , IT in Manufacturing
SICK Automation has launched a set of deep-learning software and services called dStudio, making artificial intelligence (AI) more accessible to the southern African market. This software works with machine 
...
Read more...
---
How safe are our factories? Part 1: Cybersecurity for operational technology.
August 2021, Wolfpack Information Risk , IT in Manufacturing
If companies are regularly being subjected to cyber hacks overseas, isn't it only a matter of time before someone with enough motivation, skill and resources targets us?
Read more...
---