printer friendly version
Using IS phones or tablets for barcode scanning
Technews Industry Guide: Industrial Internet of Things & Industry 4.0
Industrial Wireless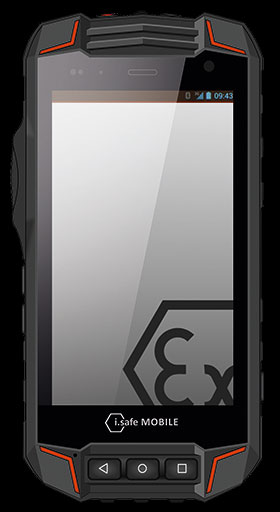 Extech Safety Systems worked with Mobexx in the UK to develop the mobXscan mobile application for barcode scanning with mobile devices. The application (https://mobxscan.com) has been released for Windows 10 and Android offering 100 ms scanning times.
Barcode scanner: mobXscan adds the capability of barcode scanning to any Windows 10 tablet PC or Android device and uses the built-in camera to scan and capture the barcode. Easy to use, the interface makes it simple to add barcode reading functionality.
Easy integration: mobXscan is designed to be as easy to use as possible. Simply open the app and press the scan button to read the barcode and enter it into the device. Alternatively send a simple command from the application to trigger mobXscan.
Clever design: mobXscan makes the use of barcodes easy, but also powerful. It is fully compliant with Microsoft Windows 10 and Android 5.0 and above, but offers some clever features to make it really easy to add to the application, and really simple for the operator to use – the easier to use, the easier operators will accept a new process.
For almost 30 years, South Africa-based Extech has been providing instrumentation, especially intrinsic safety, for hazardous area operations in southern Africa. In recent years, it has signed with several leading industrial networking and mobile communications companies with the view to offer a comprehensive solution for IIoT/Industry 4.0 in hazardous areas.
"MobXscan opens up true 100 ms barcode scanning at a fraction of the cost of traditional IS barcode scanners," explains Extech sales director, Gary Friend. "Extech can offer the AEGEx Windows 10 tablet and/or i.safe Mobile smartphone (IS520.1) or tablet (IS910.1) to allow this application to be used in all hazardous areas."
.As sole agents for MTL, Beka Associates, Extronics, MercuryHMI and authorised reseller for AEGEx, CorDEX, i.safe MOBILE and XPlore Technologies in southern Africa, listed are some of the areas where Extech Safety Systems can assist: IS zener barriers and galvanic isolators; HART interfaces; fieldbus; industrial Ethernet; industrial security; industrial wireless networks; visualisation; displays, indicators, sirens, beacons and lamps; ISafe and flameproof cameras (incl. infrared); rugged IS smartphones and tablets (Android and Windows); hazardous area Exd access points for zone 1; hazardous area CCTV cameras for Group I and II; hazardous area barcode scanners; RFID tracking; surge protection; process alarm equipment; and hazardous area access control systems.
For more information contact Gary Friend, Extech Safety Systems, +27 11 791 6000, sales@extech.co.za, www.extech.co.za
Credit(s)
Further reading:
DEK wireless kit
October 2021, Turck Banner , Industrial Wireless
The standalone DEK wireless kit from Turck Banner includes everything needed for a remote preventive maintenance monitoring solution.
Read more...
---
Unwired unleashes new possibilities
October 2021, RJ Connect , Industrial Wireless
In situations where it is hard to wire or reconfigure industrial operations, wireless LANs (WLANs) provide an ideal alternative.
Read more...
---
Tag-specific requirements in RFID systems for track and trace
September 2021, Turck Banner , Editor's Choice, Industrial Wireless
The BL ident complete RFID system from Turck Banner offers solutions in the HF or UHF range with interfaces for use in a plant or switch cabinet.
Read more...
---
Are you ready for the 2G/3G sunset?
August 2021, Throughput Technologies , Industrial Wireless
With widespread adoption of 4G technology and the growing availability of 5G, older technologies (2G and 3G) are now slowly being phased out.
Read more...
---
DXM series wireless controllers
August 2021, Turck Banner , Industrial Wireless
The robust, IP67-rated housing of Turck Banner's DXM1200E easily installs in most environments without the need for an additional enclosure.
Read more...
---
Wi-Fi in South African underground coal mines
August 2021, Extech Safety Systems , Industrial Wireless, IS & Ex
In the author's opinion, Wi-Fi and all it offers can dramatically improve safety in all industries, including underground coal mines.
Read more...
---
Wireless kit for remote monitoring
August 2021, Turck Banner , Industrial Wireless
Since Turck Banners standalone DEK wireless kit includes everything needed for a remote preventive maintenance monitoring solution, complexity is removed, and installation is quick and easy.
Read more...
---
Siemens makes industrial 5G router available
July 2021, Siemens Digital Industries , Industrial Wireless
Router supports future-oriented applications such as remote access via public 5G networks or the connection of mobile devices such as automated guided vehicles in industry.
Read more...
---
NearFi couplers for contactless power and data transmission
July 2021, Phoenix Contact , Industrial Wireless
By launching NearFi, Phoenix Contact has introduced a new, innovative technology for contactless power and data transmission in the near-field range.
Read more...
---
Pallet power in the chemical industry
June 2021, Turck Banner , Industrial Wireless
Contactless detection of incoming and outgoing goods provides those involved in logistics with considerably greater transparency of stock levels.
Read more...
---