printer friendly version
Using IS phones or tablets for barcode scanning
Technews Industry Guide: Industrial Internet of Things & Industry 4.0
Industrial Wireless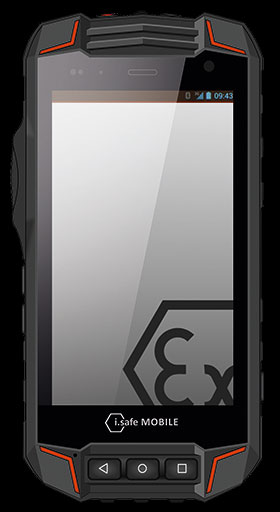 Extech Safety Systems worked with Mobexx in the UK to develop the mobXscan mobile application for barcode scanning with mobile devices. The application (https://mobxscan.com) has been released for Windows 10 and Android offering 100 ms scanning times.
Barcode scanner: mobXscan adds the capability of barcode scanning to any Windows 10 tablet PC or Android device and uses the built-in camera to scan and capture the barcode. Easy to use, the interface makes it simple to add barcode reading functionality.
Easy integration: mobXscan is designed to be as easy to use as possible. Simply open the app and press the scan button to read the barcode and enter it into the device. Alternatively send a simple command from the application to trigger mobXscan.
Clever design: mobXscan makes the use of barcodes easy, but also powerful. It is fully compliant with Microsoft Windows 10 and Android 5.0 and above, but offers some clever features to make it really easy to add to the application, and really simple for the operator to use – the easier to use, the easier operators will accept a new process.
For almost 30 years, South Africa-based Extech has been providing instrumentation, especially intrinsic safety, for hazardous area operations in southern Africa. In recent years, it has signed with several leading industrial networking and mobile communications companies with the view to offer a comprehensive solution for IIoT/Industry 4.0 in hazardous areas.
"MobXscan opens up true 100 ms barcode scanning at a fraction of the cost of traditional IS barcode scanners," explains Extech sales director, Gary Friend. "Extech can offer the AEGEx Windows 10 tablet and/or i.safe Mobile smartphone (IS520.1) or tablet (IS910.1) to allow this application to be used in all hazardous areas."
.As sole agents for MTL, Beka Associates, Extronics, MercuryHMI and authorised reseller for AEGEx, CorDEX, i.safe MOBILE and XPlore Technologies in southern Africa, listed are some of the areas where Extech Safety Systems can assist: IS zener barriers and galvanic isolators; HART interfaces; fieldbus; industrial Ethernet; industrial security; industrial wireless networks; visualisation; displays, indicators, sirens, beacons and lamps; ISafe and flameproof cameras (incl. infrared); rugged IS smartphones and tablets (Android and Windows); hazardous area Exd access points for zone 1; hazardous area CCTV cameras for Group I and II; hazardous area barcode scanners; RFID tracking; surge protection; process alarm equipment; and hazardous area access control systems.
For more information contact Gary Friend, Extech Safety Systems, +27 11 791 6000, sales@extech.co.za, www.extech.co.za
Credit(s)
Further reading:
Do all wireless solutions solve real industry problems?
September 2020, Festo South Africa , Industrial Wireless
By using modern, standards-driven wireless technologies, designers and machine users have access to new tools that can help transform and simplify their working lives.
Read more...
---
Wireless vibration monitor
September 2020, Emerson Automation Solutions , Industrial Wireless
Emerson's AMS Wireless Vibration Monitor makes it possible to monitor motors, pumps, fans and other critical plant equipment to reduce downtime and achieve more reliable operations.
Read more...
---
Real-time location system
September 2020, Extech Safety Systems , IS & Ex
With worker safety becoming an ever-increasing focus for many businesses operating within process industries, iTAG X30 delivers a solution that allows high levels of location accuracy across their entire site.
Read more...
---
Pump control at a distance
September 2020, Omniflex Remote Monitoring Specialists , Industrial Wireless
The ability to control a pump remotely over distance and without using wires is simple using Omniflex Teleterm Radio RTUs over a licence free band, avoiding administration of radio frequency band use. 
...
Read more...
---
SMC launches wireless valve bank in SA
July 2020, SMC Corporation South Africa , Industrial Wireless
In response to customer demand for a reliable communication system, which could limit the number of cables needed to communicate between multiple valve banks/field sensors and a PLC, a wireless communication 
...
Read more...
---
Vibration sensor for prescriptive analytics
June 2020, Emerson Automation Solutions , Industrial Wireless
Emerson has introduced the AMS Wireless Vibration Monitor, a low-cost, easy to deploy vibration sensor that performs prescriptive analytics on vibration data using native software to automatically identify 
...
Read more...
---
Essential monitoring solutions
June 2020, Extech Safety Systems , Maintenance, Test & Measurement, Calibration
Meteor Communications' MCE-MRC-EX is powered by MeteorCloud, a one-stop end user application for complete data visualisation, outstation device control and reporting activities. The remote monitoring 
...
Read more...
---
A new approach to wireless networks
June 2020, EOH Process Automation Solutions. , Industrial Wireless
The Instrument Area Network (IAN) has been developed by Schneider Electric as a cost-efficient and flexible industrial wireless network as an alternative to more costly systems. Bluetooth communication 
...
Read more...
---
High-speed dependable underground communication system
June 2020, Becker Mining South Africa , Industrial Wireless
Becker Mining South Africa's Electronics Division specialises in automation and communication systems, which are designed to enhance productivity and improve safety in the mining sector. The company 
...
Read more...
---
Rugged wireless gateway for Ex areas
April 2020, Comtest , Industrial Wireless
Comtest – local representative of Industrial Scientific, a global leader in gas detection – has introduced the RGX Gateway, which enables designated safety contacts to receive real-time alerts for gas 
...
Read more...
---