printer friendly version
Taking the air out of dairy
May 2019
Mass Measurement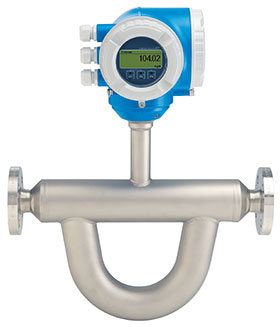 The dairy industry has been plagued for years with the challenge of accurate flow measurement in both processing and offloading applications. Often, the most common cause of inaccuracies in flow measurement is the degree of entrained gas, which adversely affects the fundamental measuring principles. Coriolis mass flowmeters are usually only used for single-phase fluids, i.e. either liquids or gases. Production facilities have been dealing with this challenge by implementing 'correction factors' in their control systems to compensate for these discrepancies. Whilst the flowmeters are accurately calibrated and certified, the complete loop integrity is compromised due to these 'factors' that are introduced.
Milk delivery and receiving
Accurate flow measurement of milk is required during the unloading from tanker trucks into processing plants. Milk's protein and fat structure tends to trap air easily, causing errors in batch unloading. This air can be introduced in different ways:
• Agitation from within the trucks while travelling.
• Being drawn in through loose process connections or leaking seals.
• Pump unloading when gravity drainage is not possible.
• Insufficient settling time in tanks or improperly sized air eliminators.
An Endress+Hauser customer located in the Western Cape, needed to support its facility with fair and equitable measurement in order to maintain the proud relationship enjoyed with local farmers. Renowned for producing a wide range of cheese and dairy products with an excellent reputation for superior quality and flavour, this state-of-the-art manufacturing facility is strategically located to ensure milk is delivered to the factory with minimal delays. The high-quality milk is sourced from the nearby local farms, where free range cows graze in the lush green pastures of the Garden Route.
The producer embraces a culture of innovation in order to meet the changing requirements of today's discerning consumers. Having realised that the key to success is reliant on the efficiency of its operations, the priority at the plant is a reduction of milk losses as part of an efficiency drive. As a socially responsible organisation, this manufacturer does not believe in passing unnecessary costs along to the consumer, but prefers to look internally for ways to eliminate waste. It was in this spirit of innovation and efficiency that Endress+Hauser was approached for a solution to reduce milk losses in the processing area. The existing flowmeters were proving to be inaccurate in this application, which has become notorious in the industry due to the varying degrees of entrained gas that can become trapped, causing measurement errors during batch offloading and downstream processing.
Local sales engineer, George Dyman, visited the site and recommended using the latest Promass Q from Endress+Hauser, which is specifically designed to measure entrained gas. The unique multi-frequency technology employed allows for the measurement of entrained gas and it can therefore be compensated in the flow measurement to deliver superior accuracy in milk applications.
The site engineering manager indicated that the issue of entrained gas had been causing significant quality and financial issues for the organisation. He requested that Endress+Hauser provide a formal confirmation stating that should the Promass Q not measure accurately in this application; the flowmeter would be returned without cost. Local flow product manager, Frans van den Berg, with support from Endress+Hauser's Flowtec offices in Switzerland, committed and offered the customer a written guarantee confirming confidence in the product's suitability for this application. The trial Promass Q was installed and run in conjunction with the existing meters so that any accuracy improvements were comparable.
The trial was completed successfully and delivery on the set assessment criteria exceeded customer expectations. The success of the trial led to the purchase of additional flowmeters for use in another high-loss application area – milk reception and offloading.
For more information contact Anban Pillai, Endress+Hauser, +27 11 262 8000, anban.pillai@za.endress.com, www.za.endress.com
Credit(s)
Further reading:
Temperature profiling in hydro processing units
October 2021, Endress+Hauser South Africa , Temperature Measurement
Precise and reliable temperature mapping of densely packed reactor catalyst beds makes an essential contribution to stable and profitable unit operations.
Read more...
---
Endress+Hauser integrates concentration measurement specialist
September 2021, Endress+Hauser South Africa , News
SensAction was founded in 2008 and has been part of the Endress+Hauser Group since 2017.
Read more...
---
Endress+Hauser honours its inventors
September 2021, Endress+Hauser South Africa , News
More than 500 inventors gathered virtually for Endress+Hauser's 21st Innovators' Meeting.
Read more...
---
Inventory management for LNG
September 2021, Endress+Hauser South Africa , IS & Ex
Endress+Hauser's innovative instrumentation and advanced inventory management solutions for LNG storage tanks ensure safe operation of plant and high levels of inventory transparency.
Read more...
---
Ready for use anywhere
August 2021, Endress+Hauser South Africa , Level Measurement & Control
The first 2-wire loop-powered compact transmitter enters the market.
Read more...
---
Smart solutions for digital transformation
Technews Industry Guide: Sustainable Manufacturing 2021, Endress+Hauser South Africa , IT in Manufacturing
Endress+Hauser fully embraces industrial digitalisation by applying new technology and communications, while leveraging its profound application expertise and know-how.
Read more...
---
Top rating for sustainability
Technews Industry Guide: Sustainable Manufacturing 2021, Endress+Hauser South Africa , News
Endress+Hauser improves further in independent EcoVadis audit.
Read more...
---
Endress+Hauser opens vaccination centre
July 2021, Endress+Hauser South Africa , News
As part of a model project, Endress+Hauser is operating a vaccination centre for employees in Maulburg.
Read more...
---
A new generation of sensors for liquid analysis
May 2021, Endress+Hauser South Africa , News
Endress+Hauser introduces the next generation of Memosens digital technology for simple, safe and connected liquid analysis.
Read more...
---
Endress+Hauser holds its ground despite the pandemic
June 2021, Endress+Hauser South Africa , News
Endress+Hauser weathered the 2020 pandemic year well. The Group created new jobs and expanded its global sales and production network.
Read more...
---