printer friendly version
New benchmark scada software platform
March 2019
SCADA/HMI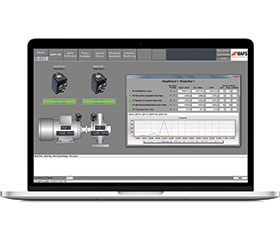 MAPS 4, the latest scada solution for control and visualisation from Adroit Technologies, extends connectivity options, adds user tools and increases the scope of its built-in functionality. The result is a software suite that can reduce the time taken for project development and integration, while also enabling users to realise Smart Factory objectives.
Built on a strong Service Oriented Architecture (SOA), the full MAPS 4 process suite delivers flexibility in automating, controlling, verifying and auditing processes. It provides a full life-cycle planning, management and integration platform for applications from manufacturing to infrastructure. There is also a dedicated HMI version available for machine builders and customers that require a more lightweight scada solution for localised control and visualisation tasks.
Features
The scada software suite has useful everyday features such as an MS Excel bulk-configuration tool, which, for example, enables Excel users to create a large part of a scada project – for instance Tag databases, logging and alarm definitions – in an intuitive and easy to use environment. The user also benefits from the many copy/paste and mass-configuration functionalities in Excel.
In addition, there are extensive libraries for Mitsubishi Electric factory automation hardware and more than 100 other PLC and RTU drivers to make routine configuration quicker and more efficient. Use of pre-configured Object Template models, as well as easy creation of new, individual models, also support a fast, optimised integration process.
Project changes can be deployed centrally providing a single point of engineering that reduces costs and increases usability. Secure data sharing and cross platform connectivity are both high priorities for many process management applications. Therefore, the scada solution can be hosted locally, in the cloud, or privately. It can also be connected seamlessly to other third-party cloud-hosted environments.
IIoT ready
Developed around popular industry standards such as OPC DA and UA, MQTT and BACNet, the entire software suite is effectively Industry 4.0 and IIoT ready. It combines the compatibility advantages of built-in OPC UA and DA support, with the openness of an HTML5 web client. Secure web connections provide easy browser-based monitoring and operation for PCs and mobile devices.
The scope and scalability of the product mean that project engineering and development costs for both large and small applications can be significantly reduced. The amount of physical programming required is kept low, even when the complexity of the application increases. This has benefits for the end user and the system integrators as both can become more competitive as a result. The investment is also better secured because the solution remains flexible for updates and new projects.
For more information contact Adroit Technologies, +27 11 658 8100, samanthab@adroit.co.za, www.adroit.co.za
Credit(s)
Further reading:
Intuitive solution for process engineering
ASSTech Process Electronics + Instrumentation SCADA/HMI
With the aid of various Jumo smartWARE features, an integrated solution can be implemented from the sensor to the cloud.
Read more...
---
Ultra-robust HMIs with IP67 protection rating
Turck Banner SCADA/HMI
Turck Banner's TXF700 series enables cabinet-free operating and installation concepts at operating temperatures between -20°C and +55°C.
Read more...
---
One-size-fits-all HMI platform
Pepperl+Fuchs SCADA/HMI
In the process industry, the requirements for product quality are extremely high. HMI devices, which are used for operating and monitoring the processes, also must meet the highest demands. Pepperl+Fuchs 
...
Read more...
---
HMIs for food industry and outdoor areas
Turck Banner SCADA/HMI
Turck Banner has expanded its TX700 HMI/PLC device series with new variants for food and beverage applications, as well as high-brightness displays for sunlight readability.
Read more...
---
Control software library for sugar producers
SCADA/HMI
ABB has launched its latest release of ABB Ability Sugar Library, enhanced with new functionalities to serve as a control engineering inventory for sugar manufacturers. It helps to reduce engineering 
...
Read more...
---
Adroit connection to solar powered VSDs
Adroit Technologies Motion Control & Drives
Adroit Connect is a simple and cost-effective solution that allows users to remotely monitor their Mitsubishi solar VSDs, change parameters from anywhere and save unnecessary trips to site.
Read more...
---
Robust HMI devices with all-round IP67 protection
Turck Banner SCADA/HMI
Turck Banner's new TXF700 series offers an ultra-robust HMI series with complete all-round protection to IP67 for use at temperatures between -20°C and 55°C.
Read more...
---
Turck Banner expands HMI range
Turck Banner SCADA/HMI
Turck Banner has expanded its TX700 HMI/PLC device series with new variants for food and beverage applications, as well as high-brightness displays for sunlight readability.
Read more...
---
Will the IIoT kill scada, or lift it to new heights?
Adroit Technologies SCADA/HMI
Dave Wibberley, managing director, Adroit Technologies, shares his views on where scada is headed in the era of the Industrial Internet of Things.
Read more...
---
Bridging the gap to the Industrial Internet of Things
Adroit Technologies IT in Manufacturing
The Adroit Enterprise IIoT platform is a customisable software platform that enables users to deploy and integrate cloud-based sensor data with normal telemetry data using protocols such as MQTT, Sigfox 
...
Read more...
---