printer friendly version
Improved supply chain efficiency and energy saving at Namibia Breweries
February 2019
IT in Manufacturing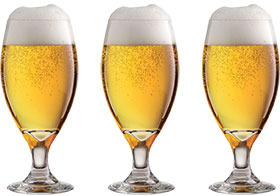 Established in 1920, Namibia Breweries is one of the leading beverage manufacturing companies in Namibia and southern Africa. Today, with the stated vision to be the 'most progressive and inspiring company', NBL leads the domestic beer market and has a significant share of the premium beer category in South Africa.
While the company's main focus is producing beer, its other portfolios include soft drinks, fruit juice and water using raw materials such as malt, hops and water. NBL's notable achievements include energy saving projects such as the biomass boiler, on-site solar plant, and personal boreholes, as well as winning 10 consecutive gold medals at the Deutsche Landwirtschafts-Gesellschaft (DLG) Quality Evaluation Awards. NBL has also managed to double its production output on average every 10 years over the past three decades.
To keep this momentum going, the integration of MES with ERP systems and other business applications has become mission-critical for plant operations. It enables agile, short-term production planning and flexible update schedules and improves supply chain visibility and decision support by updating business applications with production responses in real time.
Access to real-time, centralised information
NBL MES specialist Annemarie Kruger explained: "From a process perspective, NBL had a challenge when it came to sending real-time process orders automatically to its ERP system, versus sending a process order that needs to be verified by human interaction first.
"These time delays, as well as having too many different sources of information and systems, led to our malt orders, a key ingredient in the brewing of beer, not being generated correctly. The result of this is a potential situation where not enough malt is delivered on time, meaning the business may have to stop production at times. Production loss in brewing can cost the organisation more than NAD one million per day.
"Alternatively, too much malt could be delivered on site due to an incorrect order placement. This type of error has resulted in an estimated NAD two million loss in demurrage fees over the past year due to delayed operations in unloading. In order to avoid these predicaments, NBL decided to roll out Wonderware Enterprise Integrator and Wonderware Skelta BPM."
Wonderware Enterprise Integrator
Wonderware Enterprise Integrator enables message exchange and automatic data synchronisation between multiple business and plant applications. It is a commercial off-the-shelf software that allows business and manufacturing systems to complement each other, in a loosely coupled yet highly reliable manner.
Wonderware Skelta BPM
Wonderware Skelta BPM helps organisations perform intelligently, effectively and in a governed manner. Through its powerful functionality and model-driven framework, this solution offers a strong platform for effective modelling across the enterprise for improved productivity and rapid delivery of new business applications.
One centralised location, one version of 'the 'truth'
The combination of the two solutions has allowed the brewing company to integrate its PCS and ERP systems, putting the correct system-related controls in place and ensuring that logistics and procurement staff can use current (near real-time) information, with less manual intervention, in order to plan accurately for the next malt and raw material shipment. As well as ensuring data integrity, all of the people, processes and systems within the organisation that need access to this information can retrieve it from a single source.
"We are now one step closer to becoming a fully functional 'single version of the truth' business through the use of these Wonderware products to integrate our ERP system with the plant control solutions," concludes Kruger. "NBL has improved its efficiency by providing a platform where business- critical information is captured and stored in a central location."
For more information contact Clarise Rautenbach, IS³ – Industry Software, Solutions & Support, +27 11 607 8473, clarise.rautenbach@is3.co.za, www.is3.co.za
Credit(s)
Further reading:
Security certified IIoT edge gateway
Omron Electronics IT in Manufacturing
The DIN-mountable device can be installed in machine control panels to provide remote access for on-demand, real-time servicing of industrial equipment.
Read more...
---
EPLAN relegates device data DIY to history
EPLAN Software & Services IT in Manufacturing
With the new Data Portal Request Process, customers can order individual device data in Data Standard quality using a credit system.
Read more...
---
Recovering from industrial data disasters
Absolute Perspectives IT in Manufacturing
Aside from bringing production to a sudden halt, there are often safety and environmental implications when shutting down a plant.
Read more...
---
EtherCAT conformance tool updated
IT in Manufacturing
The CTT now allows read and write access to the PHY registers, which is convenient and rarely supported by other tools.
Read more...
---
Carmakers look to AI/ML to achieve sustainable manufacturing
IT in Manufacturing
ML supports component quality inspections using camera data to check assembly processes and sequences in terms of complexity, speed and accuracy.
Read more...
---
The most common cyber threats in the industrial environment
Rockwell Automation IT in Manufacturing
Rockwell Automation's cybersecurity portfolio strategic growth leader delves into this topic in a recent blog post.
Read more...
---
Deploying IT into the factory floor environment
Omniflex Remote Monitoring Specialists IT in Manufacturing
The ongoing debate on whether OT and IT should be integrated has never been more intense. Closing the gap between the two has many benefits, not least of which are efficiency and profitability managed in near real time.
Read more...
---
PACTware further refines user interface
VEGA Controls SA IT in Manufacturing
Optimising a user interface for multiple sensor equipment manufacturers is possible in such a way that industrial users can use it similarly to everyday smart devices.
Read more...
---
EPLAN Marketplace networks users and service providers
EPLAN Software & Services IT in Manufacturing
The free online platform is divided into engineering services, module manufacturing services and general consulting sectors.
Read more...
---
Condition monitoring software gets asset health boost
Emerson Automation Solutions IT in Manufacturing
The newest version of Emerson's AMS Machine Works adds support for embedded, automatic analytics at the edge using patented PeakVue technology.
Read more...
---