printer friendly version
SpotScan gives pyrometers ­scanning ability
November 2018
Temperature Measurement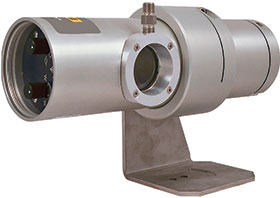 Fluke Process Instruments recently introduced the SpotScan line scanning accessory for the Endurance, Marathon, and Modline ranges of IR non-contact temperature measurement sensors. The accessory features a scanning mechanism that enables users to gather temperature data over a larger area on the target.
SpotScan helps optimise the performance of IR thermometers in applications ranging from metals processing and induction heating, to carbon graphite production.
It is especially well-suited for web and conveyor hot spot or cold spot monitoring. With the accessory, industrial facilities can continue to utilise the advanced optics of their Fluke IR temperature sensors to achieve small spot sizes on the measurement target, but also 'spot sweep' over the target to monitor a larger area, thus obtaining additional information on critical production processes. Users can see a hot spot over a larger area and continuously monitor the analog output for temperature variations that exceed defined limits.
This allows plant operators to employ signal conditioning sensor capabilities to obtain temperature information in a variety of different ways. For example, use of the 'peak picker' function helps identify hot spots over a larger area. The averaging/response time functions provide average temperature over an extended range. In either case, operators benefit from an expanded view and increased awareness of process conditions.
Units are also available with options for sighting the IR instrument and periodically checking sighting accuracy. On-board controls make it easy to manipulate the end or centre positions of the scan, as well as its frequency. For sensors equipped with a laser, the user can simply turn the unit on to see exactly where the sensor is aimed. For units equipped with through-the-lens sighting, scanning at the end points can be stopped to make necessary aiming adjustments.
The SpotScan line scanning accessory utilises the existing sensor DC power supply. Its durable IP65 enclosure is designed to withstand ambient temperatures up to 60°C and an air purge option is available for use in dusty environments.
For more information contact R&C Instrumentation, +27 11 608 1551, info@randci.co.za, www.randci.co.za
Credit(s)
Further reading:
Vibration pen for hazardous areas
R&C Instrumentation IS & Ex
Vibration and temperature are the most common parameters measured on process plants to predict equipment failure or process problems. As part of the extensive range of vibration measurement products and IS rated instruments from R&C Instrumentation, the TV712 series from Time now comes in IS versions for EX Hazardous areas such as coal mines and chemical plants.
Read more...
---
Tubeskin thermocouple assembly
WIKA Instruments Temperature Measurement
The proprietary thermal shield design of the Tefracto-Pad is a patent-pending WIKA innovation in several countries.
Read more...
---
Pyrometer for hazardous areas
R&C Instrumentation Temperature Measurement
The intrinsically safe version of Fluke's versatile Thermalert 4.0 is fully Ex certified for use in Zones 1 and 2 (gas) and Zones 21 and 22 (dust).
Read more...
---
High-temperature infrared thermometer
Comtest Temperature Measurement
The instrument ships with a USB 2.0 computer interface cable, FlukeView Forms documenting software and the standard Fluke 2-year warranty.
Read more...
---
Infrared camera for glass manufacturing
Instrotech Temperature Measurement
The Optris PI 450 G7 allows for the capturing of real-time thermal images of everything from glass beads right up to large panes.
Read more...
---
The evolution of infrared line scanning technology
R&C Instrumentation Temperature Measurement
Instrumentation manufacturers are responding to industry demands by designing IR scanners that not only provide better online performance, but also greater simplicity and ease of use.
Read more...
---
Professional quick-response thermometer
GHM Messtechnik SA Temperature Measurement
The newly designed G 1200 thermocouple quick-response thermometer from Greisinger offers excellent performance at a low price while delivering high-quality temperature measurements via a wide range of 
...
Read more...
---
Ultra-cool field metrology well
Comtest Temperature Measurement
The 9190A is ideal for pharmaceutical, biomedical and food processing applications that demand strict quality control and regulatory process compliance.
Read more...
---
Non-contact temperature measurement in the cement industry
R&C Instrumentation Temperature Measurement
Industrial IR sensors and systems for non-contact temperature measurement are vital to the cement industry and can be employed throughout the plant for process monitoring and predictive maintenance.
Read more...
---
Compact IR camera
Instrotech Temperature Measurement
Instrotech now offers the Optris PI 05M compact IR thermal imaging camera for high temperature applications.
Read more...
---